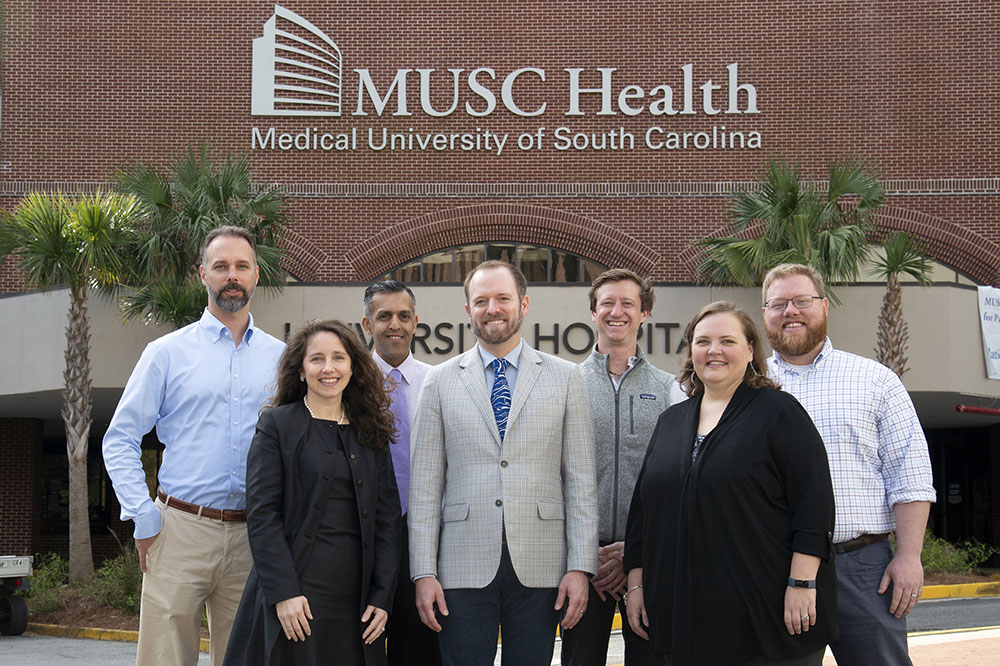 Sponsored by the Office of Innovation, the "I am an MUSC Innovator" campaign is designed to raise awareness of the many forms that innovation can take, to inspire others and to publicly recognize individuals/teams that are making an impact. For additional information, contact Jesse Goodwin, chief innovation officer.
Amanda Giles, OTD, assistant professor, Division of Occupational Therapy, College of Health Professions
Problem — Occupational therapy students voiced a need to access learning materials for continuous review and study.
Innovation —  An accessible app called CON RehabLearning: Goniometry for Clinicians and MOBI mobile app feature high-definition teaching videos and images to help students prepare for quizzes, case studies, etc. Apps available via iTunes and Google Play.
Support From — MUSC Changing What's Possible Through Innovation & Technology Grant (2015), Department of Health Professions.
Nominated by — College of Health Professions Dean Zoher Kapasi, PT, Ph.D.
Matthew Hebbard, Pharm.D., medication stewardship; Scott Person, Pharm.D., pharmacist in charge, MUSC Health Pharmacy Distribution Center; Beju Shah, Pharm.D., and Jonathan Yantis, innovation team, Information Solutions.
Problem — Supply chain for medications uses analytics and workflows that are difficult to leverage to decrease spending.
Innovation — A collaboration between MUSC Health Pharmacy Services and Information Solutions has resulted in tools and workflows that have improved the efficiency of the medication supply chain and reduced medication spending.
Support From — Mark Daniels, Jason Mills, Kyle Lenio, David Habib and Mike Caputo.
Nominated by — Mike Caputo, chief information officer.
Stephen Kalhorn, M.D., associate professor, Department of Neurosurgery and associate program director, Neurosurgery Residency.
Problem — Innovation of surgical solutions to make spine operations less invasive, more efficient and successful in the long term.
Innovation — Working with the Zucker Institute of Applied Neurosciences, the team developed several devices including the TranZform bi-axial expanding biomechanical interbody cage (an implant placed into the disk space of the lumbar spine); VavuClear device designed to unclog suction in the OR.
Support From — ZIAN, the MUSC Foundation for Research Development and neurosurgeon Sunil Patel, M.D.
Nominated by — Mark Semier, CEO of ZIAN.
Michael Miller, RN, shared governance chair, Meduflex Critical Care and Rapid Response Team.
Problem — Families and caregivers of palliative care patients at the end of life often spend long days at the patient's bedside supporting them and leaving the patient's bedside for the simplest things like to buy snacks and beverages. 
Innovation — By providing family bereavement food trays, which include snacks and beverages, family members can comfortably stay close by their loved one's bedside.
Support From — MUSC Meduflex Team.
Nominated by — Heather Craven and the Nursing New Knowledge Council.
Marvella E. Ford, Ph.D., professor, Department of Public Health Sciences, associate director of Population Sciences and Cancer Disparities in the MUSC Hollings Cancer Center.
Problem — African-Americans have the highest cancer mortality rates of any racial or ethnic group in the United States and in South Carolina. SC CADRE was formed as a partnership between MUSC and South Carolina State University to create research to improve cancer health outcomes statewide.
Innovation — The SC CADRE established several multi-core groups and other support teams. The Hollings Cancer Center established a new RMC Clinical Trials Office and was able to expand staff that include two part-time lay navigators as important resources.
Support From — S.C. State and MUSC leadership, SC CADRE leadership at Hollings Cancer Center and S.C. State, Biorepository/Clinical Trials Office Shared Resource staff.
Nominated by — College of Medicine Dean Ray DuBois, M.D., Ph.D.
Amanda Lilienthal, MUSC Physicians Revenue Optimization manager, Revenue Cycle.
Problem — There is an existing need to prepare data for leadership in a useful format. An analysis that works for one area might not work for another.
Innovation — There was a benefit to having Revenue Cycle liaisons become certified medical coders. The team continued with further training to develop critical thinking skills as a way to approach problems and find solutions.
Support From — Katrina Reynolds, Shannon Ravenel, Suzanne Makin and Tess Whitworth.
Nominated by — Katrina Reynolds, chief revenue cycle officer.
Suggest a Story
Have an idea for MUSC Catalyst News? Contact our editorial team and let us know.
About the Author