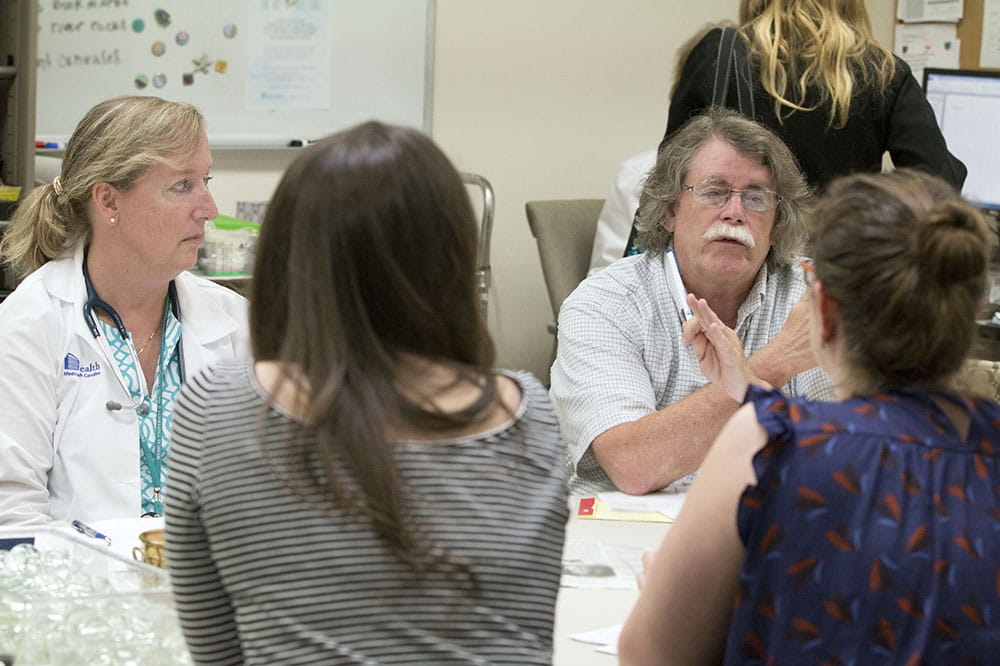 When you work in palliative care, helping seriously ill people live longer and feel better, thanks are usually delivered one-on-one. "I get a lot of hugs," says Pat Coyne, director of the palliative care program at MUSC Health.
But today, his fast-growing team is getting national recognition from the American Hospital Association. The AHA is giving MUSC Health a Citation of Honor through its Circle of Life Awards. The awards honor programs that:
Offer timely, safe and efficient palliative and end-of-life care.
Get creative when it comes to meeting patients' needs.
Help people from all walks of life.
Keep pushing to make palliative care better.
Help people with not only medical care but also spiritual, social, psychological and cultural needs.
Work with other health care organizations, training programs, the community, providers of care and insurers.
Keep track of how the program affects patients, their families and others.
Leaders at MUSC Health made a commitment to expand palliative care in recent years. They hired Coyne, a national leader in palliative care research and treatment, in 2015. And they poured resources into the program. It grew from a couple of clinicians to more than 20 team members.
"Our focus is on improving the quality of life for patients and families with life-threatening illnesses. A lot of our patients are hopefully going to get better. They may get a liver transplant. They may get a new heart. The chemo may work," Coyne says.
"We're really experts in pain and symptom management, easing any pain or discomfort they have. If they have nausea, shortness of breath, anxiety, our job is to help the symptoms get better and then to help the family through a challenging time as well."
Sometimes, the palliative care team has to get creative. Coyne, who has a Master of Science in nursing degree, is a master of finding ways to meet patients' goals.
"Sometimes, we have to adjust goals. Someone may be looking forward to being with their grandkids at Christmas, and we know they're not going to make Christmas. So we have a Christmas party in August. Or there's a guy who really needs to be baptized, and the only way we can pull it off is get him to a pool. We've done weddings. We've helped with graduations. We really try to make sure everyone's needs are met."
Help comes from all over the hospital. "The nurses on every floor jump in to do this. Sometimes they take the lead. Sometimes we do. But we work together to make this happen."
That includes keeping in mind that a person is much more than a diagnosis. "It's not just about their kidneys or their lungs. It's about who they are as a person. We also focus on families almost as much as we do on the patients. They're on that journey with them. We are experts in helping with communication as well, so everyone is on the same page."
Coyne makes a point of reminding people that while palliative care is part of hospice care, they're not the same thing. Hospice care is for people who are no longer getting treatment for their diseases and are nearing the end of life. Palliative care is for anyone who needs to be made more comfortable, whether they're dying or experiencing a life-threatening illness.
Coyne says his team knows how important its job is. "We're a group that works well together, and we try to do our best for everyone." 
Suggest a Story
Have an idea for MUSC Catalyst News? Contact our editorial team and let us know.
About the Author