Curriculum Overview
The Dietetic Internship Program is supported by MUSC's rich traditions of academic excellence, advanced clinical care and research for which it has achieved national recognition. Over 50 percent of our preceptors have either a graduate degree and/or an advance practice/specialty certification such as certified nutrition support practitioner, certified specialist in renal nutrition, and certified diabetes educator, to name a few.
Interns work with excellent instructors in outpatient and community clinics, inpatient acute-care, culinary kitchens, schools, fitness centers, corporate offices, and instructional food settings as they build confidence in professional skills and broaden their understanding of modern dietetics practice. Our curriculum features 3 overlapping modules:
Rotations
Projects/Assignments
Didactic Coursework
About Our Concentrations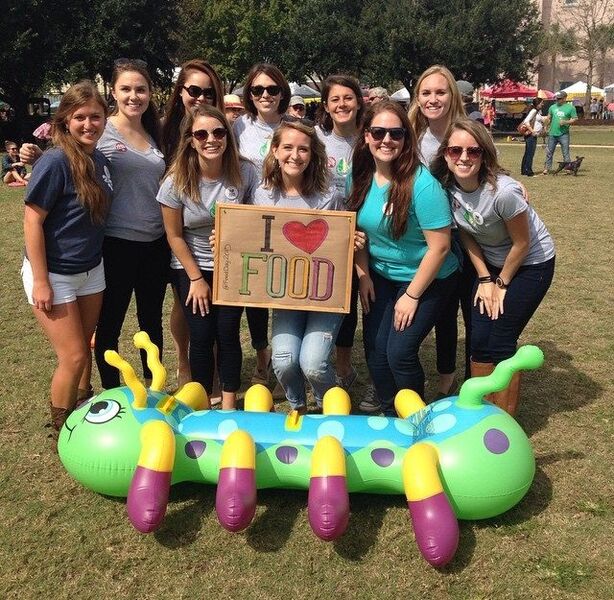 The main differences between our Clinical Medical Nutrition Therapy (MNT) and Community Nutrition Promotion concentration lies in the rotations we offer, both in type and length of time. However, most group and individually assigned projects and didactic coursework will be relatively integrated and shared among all interns. Interns will to choose which projects she/he wants to participate in based on the nature of the project (i.e. more clinically focused vs. community promotion focused).
Clinical Adult Medical Nutrition Therapy (MNT)
In our Clinical MNT concentration, 7-8 interns will complete on inpatient rotations at MUSC on floors and ICUs such as cardiology, transplant, GI, surgery, trauma, oncology, and pediatrics to craft nutrition support recommendations using the Nutrition Care Process. Interns will also see various MUSC and community outpatient specialty clinics in both adult and pediatrics, such as med/surg weight management, diabetes, oncology, cystic fibrosis, dialysis, and neurology. Interns gain experience in evidence-based clinical practices, best treatment modalities, and individualized MNT for a variety of complex disease states. They will also gain well-rounded exposures in traditional venues such as hospital and school food service management and community nutrition. Finally, interns will rotate in non-traditional settings such as corporate wellness, culinary, and research. The last 2 weeks will be dedicated to elective rotations of their choosing. Interns will work with diverse racial groups ranging from the young to the old and the sick to the well. Most projects and non-rotation assignments will also focus on clinical nutrition and medical therapy concepts.
This focus provides approximately 37- 38 rotation weeks planned as follows:
55-60 percent clinical (inpatient & outpatient clinics)
10-15 percent community (health promotion, wellness, public health)
20 percent food service and school nutrition management
10 percent other (i.e. research, elective weeks)
Community Nutrition Promotion
In our Community Nutrition Promotion concentration, 3-4 interns will spend fewer total weeks in the inpatient acute care setting and their rotations will be completed at community hospitals in the greater Charleston area. Like interns in clinical track, you will gain strong experiences in specialty adult/pediatric outpatient clinical settings, such as med/surg weight management, diabetes, oncology, pediatrics, dialysis, and GI surgery. Community interns will also complete rotates in research, culinary, school nutrition, and food service rotations. Our community track emphasizes unique training in community nutrition, health promotion and wellness, including extended experiences in our award-winning Lowcountry Food Bank, pediatric and school-based obesity prevention, and health promotion programs. Interns will work with diverse racial groups ranging from the young to the old and the sick to the well. The last 2 weeks are dedicated to elective rotations of the interns choosing.
This focus provides approximately 37-38 rotation weeks planned as follows:
45-50 percent clinical (inpatient and outpatient clinics)
20-25 percent community (health promotion, wellness, public health)
20 percent food service and school nutrition management
10 percent other (i.e. research, elective weeks)
Newly offered in 2019, our Clinical Pediatric Nutrition concentration (1 intern for 2019-2020 year, up to 2 interns thereon) will learn how to apply the Nutrition Care Process and Medical Nutrition Therapies primarily in pediatric inpatient and outpatient rotations at MUSC's new Women and Children's Hospital/ Services covered include general pediatrics, cardiology, GI, Cystic Fibrosis, neonatal and pediatric ICUs, oncology, and neurology (ketogenic diet therapy). These interns will also learn the NCP in inpatient and outpatient adults settings such as family medicine, adult ICUs, GI medicine, oncology, and dialysis. Like our other interns, our pediatric interns will gain experience in evidence-based clinical practices, best treatment modalities, and individualized MNT for a variety of complex disease states. They will also gain well-rounded exposures in school food service management and community nutrition, focused in pediatrics. These interns will rotate in non-traditional settings such as culinary and research. The last 2 weeks will be dedicated to elective rotations of their choosing. Interns will work with diverse racial groups ranging from the sick to the well. Most projects and non-rotation assignments will also focus on clinical nutrition and medical therapy concepts in the pediatric population. Not wanting to ignore competency in adult populations, interns will also gain exposure in select clinical and community rotations. Similar to the clinical adult MNT concentration, this focus provides approximately 37 to 38 rotation weeks planned as follows primarily in the pediatric population:


~55 to 60 percent clinical (inpatient & outpatient clinics)
~10 to 15 percent community (health promotion, wellness, public health)
~20 percent food service and school nutrition management
~10 percent other (i.e. research, elective weeks)
Additional Information