Rotation Descriptions
First 2 Weeks: Orientation & Bootcamp
During orientation, time is scheduled for fellow interns to engage explore their learning needs and personality profiles, and gain information about available resources on campus and the community. They access parking and badge identification, train on our electronic medical record system and e-mail, and receive pagers.
During boot camp, preceptors review information important to upcoming rotations. Several days are spent reviewing disease states, the nutrition care process, therapeutic diets, and our and meal delivery systems in preparation for clinical and food service rotations based on their concentration (half start inpatient clinical; other half start food service). These two weeks will be focused more specific to either the clinical-concentration or the community-concentration intern's learning need and curriculum schedule, thus one of the reasons they are not held concurrently (clinical intern start 3 weeks earlier). Interns will train at MUSC's "simulation lab" to gain initial exposure to patient anatomy, nutrition support equipment, and physical assessment.
ROTATIONS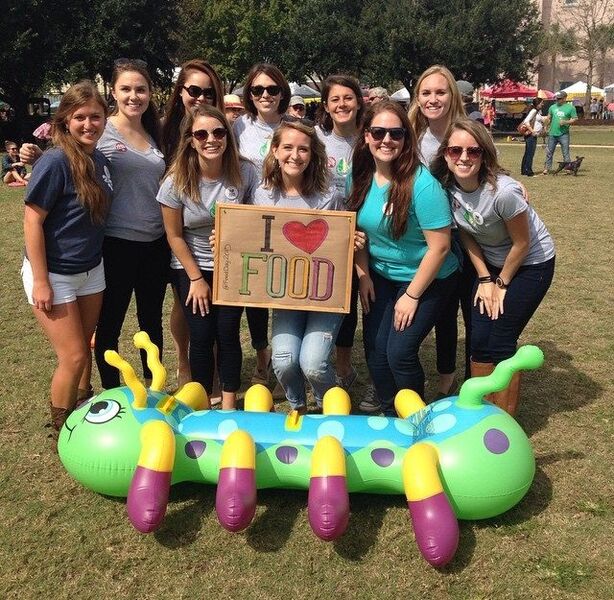 Quantity Food Service and Management:
1. Hospital Food Service Management
Clinical Adult Interns at MUSC University Hospital (5 weeks)
Clinical Pediatric Interns at MUSC Children's Hospital(5 weeks)
Community Interns at Lowcountry Food Bank (5 weeks)
All interns get a large dose team working skills in this rotation. On an average day, MUSC and the Lowcountry Food Bank's commissary kitchens prepares and serves more than 200 meals through its tray service, cafeteria and satellite operations daily. Here, interns receive an in-depth experience within the medical centers or food bank's various meal planning and food-preparation areas. Throughout all food service activities, the atmosphere is one of collaboration and "controlled chaos" as departmental members promote nutritional excellence, develop satisfying menus and apply the methods of modern business management concepts. Examples of skill building activities in this rotation include: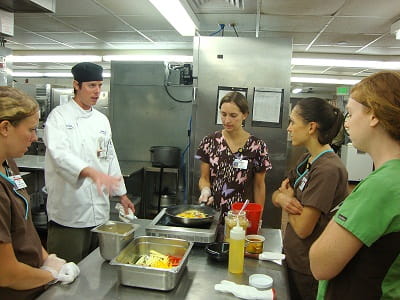 Focus areas: patient services, retail/purchasing, human resources, and financial experience.
Forecasting patient and cafeteria meal services.
Purchasing through standard procurement bidding processes.
Production of meals via institutional food service systems and kitchen layouts.
Facility management and organizational change.
Managing dietetic aspects of a complete patient meal service.
Translating patient-client nutritional requirements into food production.
Conducting Performance Improvement initiative.
Analyzing costs.
Human resources and management skills
Gain culinary skills from renowned chefs at all 3 locations
2. School Nutrition:
All interns (1 week)
Interns will be placed with the Charleston County School RDN to gain understanding of the USDA school breakfast, snack, lunch, and supper feeding program, learn meal planning and procurement procedures, apply the Fresh Fruit and Vegetable program, and participate in other special feeding and nutrition programming:
Hospital Acute-care:
1. Acute-Care for Adults:
Clinical Adult Interns at MUSC University Hospital (12 weeks)
Community Pediatric Interns at MUSC University Hospital (2-4 weeks)
Community Interns at participating local Charleston Community Medical Centers (9 weeks)
Interns will see a majority of these specialty areas, primarily inpatient but will see outpatient in: Heart/Vascular, Trauma/Surgery, General Medicine, Psychology, Gastroenterology, Oncology OB/GYN, Nephrology, Neurology/Neurosurgery, Critical Care/ICU, Diabetes, and Pulmonology
Clinical concentration interns will spend majority/all inpatient rotations at MUSC hospital whereas the Community interns will spend majority of rotations at various other hospitals in the greater Charleston area.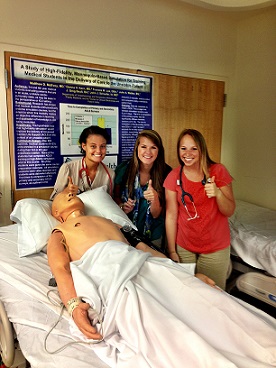 Both types of interns will build skills in:
Preliminary nutrition/physical assessment skills practice among floor/ICU patients at our Simulation Center to better identify and understand equipment, line access, tube feeding placement, etc.
Assess clinical nutrition status of patients using the Nutrition Care Process & Model.
Interpret laboratory data.
Outline nutrition care plans using ADIME format.
Monitor effectiveness of nutritional services provided to patients.
Develop a working knowledge of medical terminology, disease states, and therapeutic procedures.
Serve as a nutrition information resource for Health care professionals and patients.
"Round" with multidisciplinary medical teams.
Opportunity to observe medical procedures and surgeries
Apply the Nutrition Focused Physical Exam
Nutrition diagnose malnutrition
Assess/follow patients on floors and in ICUs.
1-week of inpatient "staff relief" based on prior rotation assignments and intern preference.
2. Pediatrics:
Clinical Adult Interns at MUSC Children's Hospital (2-3 weeks)
Clinical Pediatric Interns at MUSC Children's Hospital (8-10 weeks)
Community Interns at the MUSC Children's Hospital (1-2 weeks)
Clinical interns will see a mix of inpatient (floor and limited ICU) and some outpatient pediatric services at MUSC. The clinical concentration interns will see more floor and ICU settings whereas the community concentration interns will spend time primarily in the milk room and in pediatric endocrinology (inpt and outpt). Community interns will have the opportunity to see pediatrics in outpatient and WIC rotations (described below)
3. Adult Specialty:
Clinical Adult Interns at MUSC University Hospital (2-3 weeks)
Clinical Pediatric Interns at MUSC University Hospital (1-2 weeks)
Community Interns at MUSC University Hospital (1-2 weeks)
Because MUSC is a reputable teaching hospital, we offer many "specialty" treatment programs not typically seen at other medical center elsewhere. MUSC treats patients from all over the southeast in these programs that require advance practice dietitians. We hope to expose all interns to at least ONE of the following specialized programs (based on how these acute-care rotations were assigned) where they will gain specialized exposure in both inpatient and outpatient MNT for the following:
Cystic Fibrosis
Oncology, or
Transplant
Ambulatory and Outpatient:
1. Sub-Acute Care / Skilled Nursing and Rehab:
Clinical Adult interns (1 week)
Clinial Pediatric interns (0-1 week)
Community interns (0-1 week)
Supplemental weeks are dedicated to exposure to alternative sub-acute care settings other than just an MUSC's academic medical center. For instance, post-acute rehabilitation and long-term care settings provide interns with additional clinical MNT skill-building experience NOT specialized at MUSC or other acute-care centers. This rotation also provides exposure to clinical nutrition operations, programs, and dietary services specifically in skilled nursing care and/or long-term rehabilitation care. Here, interns will see a variety of patients (mainly geriatrics), nutrition support delivery (modified textures and tube feeding), therapies (occupational, physical, and speech), and disease states (wounds, dementia/behavioral health, dysphagia, etc).
2. Cardiac Rehab & General Adult Clinics:
All interns (1-2 weeks)
Depending on the concentration of the interns, they will be strategically placed at either cardiology rehabilitation program based out of either MUSC or Roper St. Francis (neighboring hospital). Community interns will go to Roper's new preventive health program where they will gain experience in RD-administered "health coaching" strategies. Clinical interns will see MUSC's state-of-the-art cardio-pulmonary rehab services equipped with a gym, exercise specialists, and of course RDNs. Both types of interns will see patients who are recovering from post-cardiac insults such as myocardial infarction or heart transplantation and learn how to provide MNT counseling related to heart health, weight management, and diabetes. Interns many also see Telenutrition services as well through this rotation.
3.Outpatient Pediatrics, Lactation, & Prenatal Services:
All interns (1 week)
All interns will be assigned to one of 4 outpatient pediatric clinical dietitians in endocrinology, GI, or neurology. Interns will also use time during this rotation to rotate through MUSC's high-risk prenatal wellness clinic, learn milk pasteurization techniques at the North Charleston milk bank, work in the MUSC "milk room" and possibly shadow one or more IBLCEs (international board certified lactation consultant) at MUSC or in the community.
4. WIC/Child Special Services:
All interns (1 week)
All interns will be assigned to local health-departments where they will gain exposure to high-risk WIC consults, home visits, and possibly lactation peer counseling.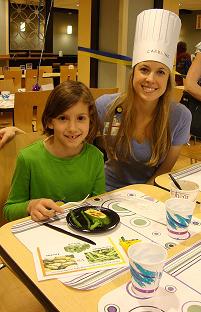 5. Dialysis:
All interns (1 week)
All interns will be assigned to different dialysis dietitians where they will gain exposure to clinic-based and home-based modalities, including hemodialysis and peritoneal dialysis.
6. Weight Management:
All interns (4 weeks)
New for the 2016 year, interns will CHOOSE a 2 week rotation in two of the following treatment areas below. Like their cardiac rehab rotation, intern will gain skills in motivational interviewing based on many behavioral modification models. Interns many also see Telenutrition services as well.
Pediatric Heart Health and Wt Management Program.
Bariatric Surgery Program.
Medical Weight Management
Sports Nutrition
Intuitive Eatining
Eating Disorders
Community & Health Promotion:
1. Healthy Charleston Challenge at MUSC:
All interns (10 weeks)
Interns will participate as health coaches for MUSC's "Healthy Charleston Challenge." This rotation is held 1-2 evenings per week over 10 weeks and runs concurrent with daytime rotations. Interns are expected to coach their team towards healthier eating habits, review their weekly food records, and if possible, work out with their teams. Past interns find this experience to be one of the most challenging and most rewarding experiences.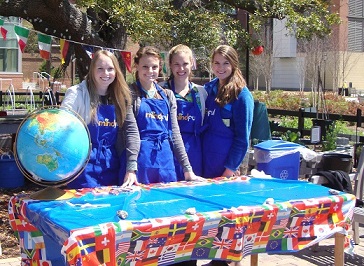 2. Lowcountry Food Bank:
Community Interns only (2 weeks)
New for the 2016 years, only the community interns will work on this RD on various community education and feeding programs at the award-wining Lowcountry Food Bank. Such programs will include the teaching of nutrition education programs (which ALL interns will get to participate in, even clinical interns). Additionally, community interns will gain exposure in government feeding programs, senior services, sustainability, grow-local initiatives, culinary training programs, and partner feeding networks.
3. Charleston Air Force/Navy Base:
Community Interns only (2 weeks)
Interns will work under an RDN to assess body composition and physical performance, conduct individual and group assessments, teach classes, hold special events, and dabble with food service initiatives on base..
4. Food Systems and Sustainability
All interns (1 week)
New next year, interns will work with the College of Charleston to participate in filed trips and receive didactic training in innovative agriculture, sustainibilility, and food sourcing in the local Charleston area.
5. Community Choice
All interns (2 weeks)
All interns are allowed a choice in the following options in Charleston:
Media and public relations
Campus wellness
Private Practice
Public policy
Other Rotations:
1. Evidence-Based Practice
All interns (1 week)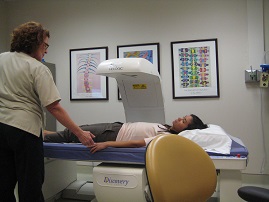 Via in-person workshops and online modules, interns will gain skills in literature searching, analysis, and interpretation of published evidence to improve their ability to apply research findings into "best practices".
2. Advance Practice Electives:
Clinical & Community Interns (2 weeks)
The final two weeks of the program feature advanced practice experiences. This experience helps graduating interns define career objectives and build relationships with their professional colleagues. Once approved by the director, interns have the opportunity to spend some of these weeks anywhere in the US (intern responsible for travel and living expenses). Interns can elect to use this time as either one 2-week rotation or two 1-week rotations.
DIDACTIC COURSEWORK
Not every nutrition topic can be learned from rotations or projects. Didactic time is allocated once per week to supplement rotation experiences, lasting from approximately 9 a.m. to 3:30 pm.
Example of didactic coursework includes: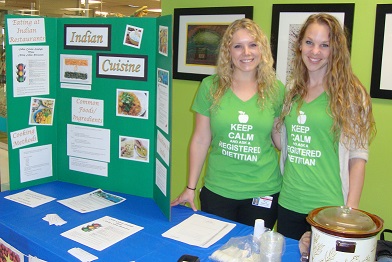 Invited guest speakers on topic areas that rotations or projects cannot cover, such as nutrition assessment in burns, dysphagia, Vitamin D research, health disparities, and sports dietetics.
"Boot Camps" on adult clinical assessment, pediatric assessment
Opportunities for preceptors to orient interns of upcoming rotations.
Opportunities to work on individual, paired and/or group projects.
Attendance to a state-wide nutrition conference and local field trips.
Regardless of concentration, all interns will attend all classes together and receive the same amount of didactic training listed above.
Projects & Special Assignments
The internship considers project and assignment work just as important as rotations as a way to learn "soft skills" in leadership, time-management, teamwork, accountability, and innovation. As interns learn how to plan, implement, and evaluate real-life projects/programs, they also "give back" to MUSC and to the community--a guiding principle that drives this service-learning curriculum. Interns are expected to spend a large part of their time working on projects (after-hours and weekends). Each intern will be given a choice as to which group project she/he will serve as "intern manager." They also get to choose from a list of current research projects that will serve as her/his individual "capstone research project."
Below are examples of projects and assignments that both concentrations will have the opportunity to participate in (at varying levels):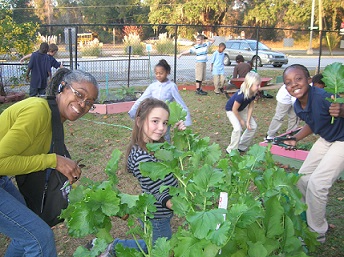 Individual Projects
Case Study Presentation
Capstone Research Project - opportunity to submit/present abstract & poster at the SC Dietetic Association spring meeting
Paired or Group Projects/Assignments
Conduct a grocery store tour.
Plan/implement MUSC or local health fair event.
Participate in legislative and public policy initiatives.
Plan/implement National Nutrition Month®.
Teach evidenced-based nutrition education program called Cooking Matters® to low income populations.
Participate in interprofessional campaigns with other MUSC students.
Complete a "southern diet grocery store" scavenger hunt assignment.