Kelley Martin, MPH, RD, LD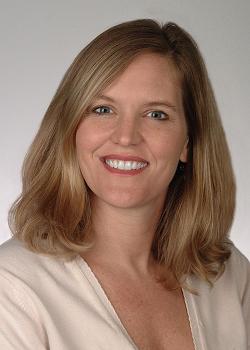 Kelley Martin, MPH, RD, LD became the third MUSC Dietetic Internship Director in June, 2006. She earned a BS in Food Science and Human Nutrition at the University of Florida, and completed a combined dietetic internship and master's degree in Public Health Nutrition from the University of North Carolina-Chapel Hill. Her career began as a public health nutritionist for children with special needs in Columbia, SC. She also volunteered 8 consecutive years as the lead dietitian for Camp Adam Fisher, a summer camp for children with diabetes. Moving to Charleston in 1998, she commenced her MUSC career as a clinical pediatric dietitian, then as the Nutrition Research Manager at the Clinical Translational Research Center, and finally as the Internship Director. She also teaches nutrition to MUSC first year dental students and is closely involved in a grant-funded, school-based obesity prevention program called Junior Doctors of Health. She has managed clinical research trials, officiated on several boards on local and national levels, published several original peer-reviewed manuscripts and book chapters, and mentored over 80 dietetic interns and other MUSC students. In the spring of 2013, she won the South Carolina "Outstanding Dietetic Educator of the Year" award. Finally, in 2014, she helped establish one of the first ACEND-accredited Advanced-Practice Residencies for Dietitians in the Nutrition Management of the High-Risk Infant where she will serve as a curriculum consultant.
Kelley is the proud mother of daughters ages 15 and 10. In her spare time, she enjoys gardening, running, swimming, and being a tourist in her own town.
Dietetic Internship Director
Kelley Martin, MPH, RDN, LD
843-876-4304
martinkl@musc.edu