Dokbot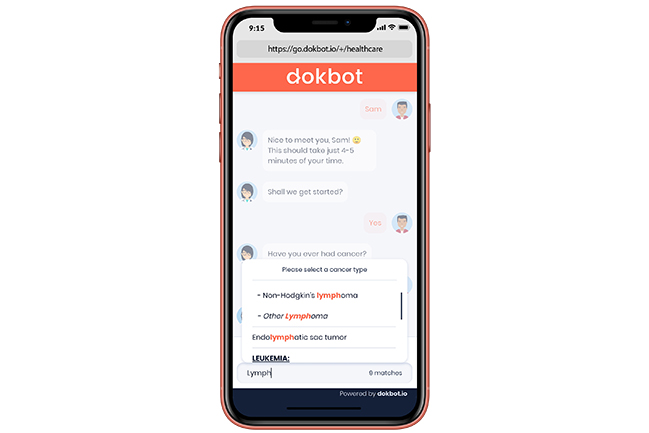 Interactive chatbot improves clinical research collection
Collecting data for clinical research studies can be challenging and time consuming. Face-to-face interviewing yields the best results but is difficult to schedule and can have significant cost barriers. Electronic surveys are faster and cheaper but can be  confusing and have lower completion rates.
To combat this issue, Brandon Welch, Ph.D., assistant professor of public health sciences, and his team at MUSC have designed Dokbot, a chatbot that mimics natural conversation through questions and answers.
"We started exploring ways of creating a user interface that's more like natural conversation, and that's where the idea of using a chatbot came up," explained Welch. "And so, we built this platform called Dokbot that makes it easy to build conversations that doctors might have with their patients."
Dokbot enables physicians and researchers to collect patient data easily and efficiently. It is sent to patients by text message through a simple link, does not require any software download and is HIPAA compliant to ensure patient privacy. Not only is Dokbot safe and simple, but chatbots have been shown to be preferred by patients to traditional surveys. Some patients may even feel more comfortable discussing their health with Dokbot than an actual human.
Dokbot is currently being used with the Trauma Resilience and Recovery Program (TRRP) at MUSC to follow up with patients after discharge regarding both their physical and emotional recovery. Dokbot is easily adaptable to other clinical areas as well. Although his team is currently assisting with interested programs, Welch envisions that researchers will be able to design their questions themselves with Dokbot's user-friendly interface.
Welch and his colleagues are currently working to further optimize Dokbot and improve data collection by looking at response times and testing any potential for questions to be misinterpreted. Dokbot is a new and effective way to collect patient data and has the potential to be implemented in many more healthcare settings in the future.