Promising MUSC Technology Selected for Further Development 
Each year in the United States alone over 300,000 infants are born prematurely and classified as very low birth weight.  Despite the best efforts of parents and clinicians, as many as 25% of these neonates will experience persistent feeding difficulties at their normal birthdate (term ~ 38 weeks gestational age). These feeding difficulties can imperil the proper development of the child and often requires an invasive intervention in the form of a gastronomy tube (G-tube) being surgically inserted through the belly directly into the stomach.  Even if these neonates are able to avoid a G-tube, they still often experience significantly extended neonatal intensive care and hospital stays, and additional complications.  At MUSC, a pioneering team including neuro-stimulation experts and a neonatal translational clinical researcher knew there had to be a better way.
Bashar Badran, Ph.D., an assistant professor in the Department of Psychiatry and a leader in vagus nerve stimulation (the vagus nerve is a large bundle of nerves connecting the brain to the body) joined Dr. Dorothea Jenkins, MD, a professor in the College of Medicine specializing in developing new treatments for neonatal brain injury, to create a revolutionary new treatment for these neonates in need.  In a discovery pilot project funded by NIH and at the MUSC National Center of Neuromodulation for Rehabilitation, they applied the nerve stimulation in a closed loop system to neonates who were struggling to feed.  The system senses when the neonate is trying to feed and applies stimulation to reinforce this behavior and enhance neurological development.  The results have been highly encouraging.  Thus far, more than half of the babies who were initially scheduled to have a G-tube inserted, but were instead enrolled in the trial, have responded to the treatment and were able to be discharged without ever needing a G-tube.  With such compelling results in the most critical of patient populations, the inventors, MUSC and the MUSC Foundation for Research Development (FRD) knew they should further develop the technology so that it could benefit as many of these tiny patients as possible, and also be used at home by the mothers themselves instead of just in the hospital.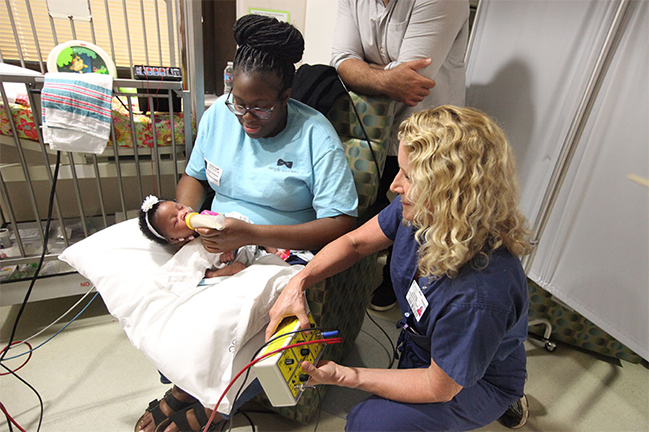 Jayne Johnson feeds her daughter, Emaree Haskell, while she is hooked up to a neonatal feeding system that Dorothea D. Jenkins, M.D., right, is controlling.
Following a presentation to the FRD Board of Directors in April of 2019, the project was selected as a high priority project for FRD.  To ensure that the commercial, and thus translational, potential of this invention remained protected, FRD filed an international Patent Cooperation Treaty patent application in May of 2019.  The inventors and FRD then began developing a strategy to marshal the necessary resources to advance the development of the nVNS Neonatal Feeding System.
A key aspect of this strategy was submission to a new state wide program administered by the South Carolina Research Authority (SCRA).  FRD submitted the nVNS Neonatal Feeding System and it was selected as one of five early-stage technologies to participate in the SC Medical Device Alliance (MDA). The MDA is a multi-stakeholder partnership managed by SCRA to bring medical devices to market that address unmet clinical needs. In addition to accelerating the commercialization of medical technologies, the MDA will also build entrepreneurial capabilities among students, faculty and clinicians, and foster startup formation in the sector to fuel South Carolina's innovation economy. The Neonatal Feeding System is progressing well as it undergoes multiple rounds of rigorous examination by seasoned industry experts to examine commercial viability. As this innovative device advances to Phase III of the program, multi-disciplinary teams will de-risk the technology and its business case by addressing the needs outlined by the Medial Device Commercialization Advisory Panel (MDCAP) and other industry experts. Results will be presented in Spring 2020.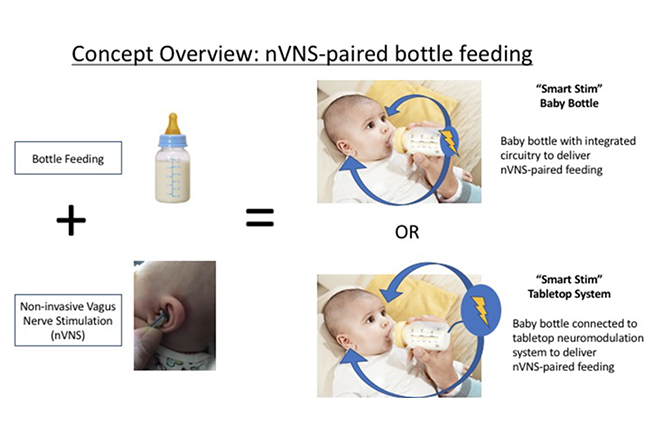 An overview of the system in development is shown above.  While the current embodiment of the system requires a number of wired electrodes, development is underway to create a simplified system comprised of a bottle with sensors to detect feeding behavior paired with an earpiece that can automatically apply stimulation when needed.
In the meantime, energetic development of the technology and system is underway.  In a truly statewide collaboration, Clemson Bioengineering graduate students have now joined the effort and are working closely with the MUSC inventors, FRD and the MDCAP Commercialization Advisor to develop essential components of the technology.  The near term goal is to develop a simplified system that can be applied more efficiently in the MUSC study, and then other neonatal care units, to aid the most vulnerable patients.  This may include creating custom ear electrodes molded from 3D reconstructions of the individual infant's ear.  Long term aspirations include further streamlining of the system for use outside the clinic and at home so that any of the millions of babies born every year can benefit from this technology.  With the potential for such a big impact for such tiny patients there is no time to waste.