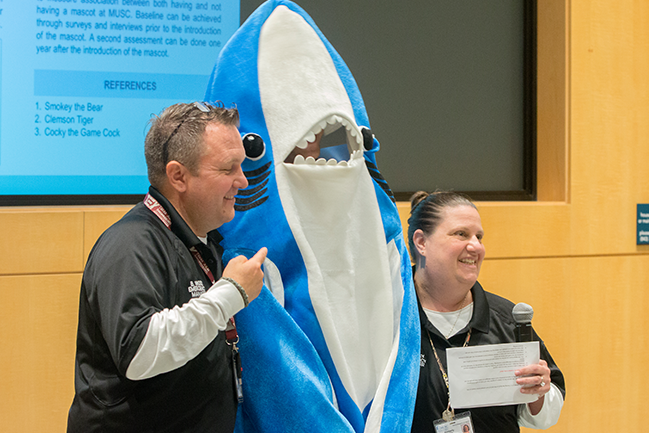 In 2018, the inaugural MUSC Shark tank was hosted by MUSC Health. This competition was created as a way foster innovation throughout the enterprise. It also serves as a reminder that everyone, regardless of where they work or what they do, has the opportunity to create change, lead where they are and be innovative. Thirty-nine MUSC Health teams presented ideas in 2018. The winning team from Hollings Cancer Center won $15,000 to implement their idea.
The MUSC Shark Tank competition and innovation summit was expanded in 2019 to be open to the entire enterprise. Individuals and teams were able to submit their creative ideas in the categories of research, education and care delivery. During Innovation Week, 59 teams from entities and departments throughout MUSC shared their ideas on how to advance MUSC's vision of leading healthcare innovation for the lives we touch. These teams were comprised of students, researchers, administrators, care providers and more.
During the innovation summit, teams presented the posters they created representing their ideas. Members of the MUSC family were invited to attend the summit, review the posters, speak with team representatives about the ideas and then vote on their favorite ideas in each category. The top three vote recipients in each of the categories advanced to the MUSC Shark Tank competition. During the competition, teams presented their ideas to a panel of judges, who then asked questions related to cost, feasibility, impact and more. After a time of deliberation, winners were selected. The winning team in each category received money to develop and implement their idea.   
2019 Winning Ideas
Care – MUSC Health Musculoskeletal Institute Sports Rehabilitation Center
Research - Interprofessional Educational Mobile Application: Manual Muscle Testing
Education – A Novel Perturbation Device to Improve Post-Stroke Walking Balance 
2018 Winners
Hollings Cancer Center's Capturing the 6th Vital Sign team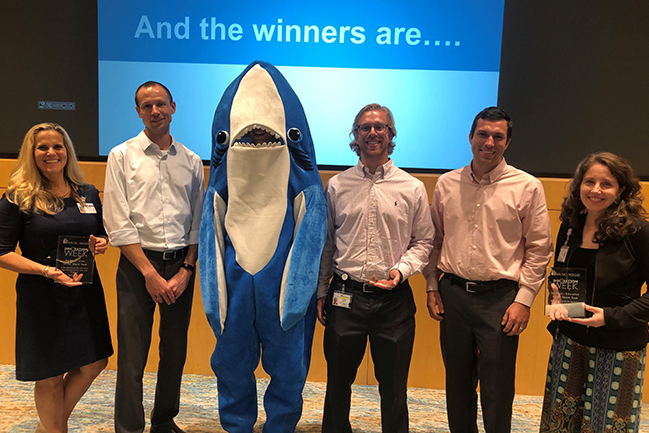 2018 Winners
Hollings Cancer Center's Capturing the 6th Vital Sign team
Shark Tank Video 2018
Hollings Cancer Center's Capturing the 6th Vital Sign team