MUSC Fitness Park
Active use of trails and outdoor exercise equipment for positive health outcomes is being seen more and more by health professionals as an excellent way to encourage people to adopt lifestyle changes that will bring life-time health benefits. Scientific evidence from the CDC's Guide to Community Preventive Services shows that providing access to places for physical activity, such as trails, increases the level of physical activity in a community. There is a significant body of evidence describing how green spaces can contribute to better health and education outcomes. Several studies show that contact with the natural environment and green space promotes good health, while participation in regular outdoor physical activity generates physical and mental health benefits. Physical exercise in natural environments has important implications for public and environmental health.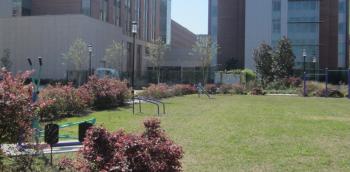 Built environments that facilitate more active lifestyles and reduce barriers to physical activity are desirable because of the positive relationship between physical activity and health. Achieving this goal is challenging in a Health care setting with an extensive built environment that is already in place and often expensive to change. Nevertheless, the built environment is constantly being renovated and rebuilt and new developments constructed, which provides opportunities, over time, to institute policies, and practices that support healthy environments.
Fitness trails and stations combine scientifically designed exercises with walking or jogging to provide a well-balanced physical fitness routine for the entire body. Individual exercise stations with apparatus are spaced along a walking trail or jogging path. The participant proceeds from one exercise station to the next and performs the exercises illustrated at each station. Directions for each station are posted and can be done as a circuit as well. Look for the Greenway Garden Circuit (PDF) sign at the MUSC Fitness Park and explore the benefits of exercising outdoors.
The MUSC Fitness Park is located behind the Drug Discovery and Bioengineering buildings, near the corner of President and Bee Streets.