Physical Activity & Fitness (MUSC Moves)
Making Fitness More Accessible Across Campus
Sitting is the new smoking. Researchers report that the amount of time a person spends sitting each day is associated with a higher risk of heart disease, diabetes, cancer, and death. What is more, regular exercise may not be enough to offset this risk. The challenge for many is that their job responsibilities require them to be seated for most if not all of their work hours. For that reason, it's important that both employees and employers take steps to create an environment that helps them move more.
Through our participation in the SC Working Well program, MUSC Office of Health Promotion has been working to establishing a culture of wellness where being active is the norm by providing access and opportunity for physical activity during the workday. On July 12, 2013, we were awarded the Gold Medal for achieving the highest standards in creating a physically active workplace. Our work in this area has been supported by a resolution passed by the MUSC Board of Trustees, which encourages employees to "participate in healthy activities such as preventative screenings and assessments, physical activity, weight management, tobacco cessation, healthy food, and stress management" during their breaks during the workday.
MUSC Moves. is our physical activity campaign designed to provide changes in policies, improvements in the environment, and increased opportunities and resources to promote physical activity at work. The following programs were designed to accommodate our diverse population in terms of fitness levels, interests, and work schedules so that all employees can participate and benefit from MUSC Moves.
Physical Activity at Work
The MUSC Wellness Center is excited to offer this wellness and physical activity opportunity to employees. Physical activity during the workday can add energy, promote a positive attitude, and improve fitness and cardiovascular health.
Healthy employees result in increased productivity, reduced absenteeism, lower turnover, reduced health care costs, and decreased chronic disease.
Holy Spokes Bike Share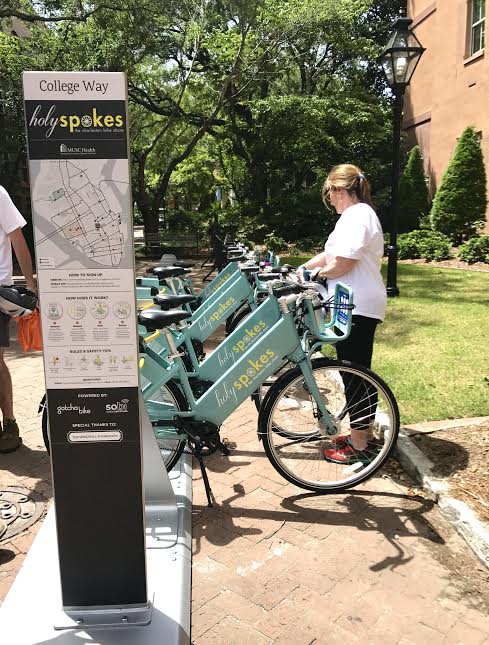 The Holy Spokes bike share program launched in 2017. MUSC Health is the title partner which affords members of the MUSC Community including all current MUSC students and employees with a valid MUSC email address the opportunity to take advantage of this plan:
Annual plan $0 – annual plan fee waived.
60 minutes of free ride time per day ($6/hour after initial 60 minutes)
24/7 Access - Access to 25+ Corrals City-Wide
Corrals on the MUSC campus. View map of all the corral locations.
Sign up at Gotcha Bike/MUSC plan website.
MUSC Medical Mile
Need a break? Try adding a wellness break into your daily routine. Take a walk around campus following the MUSC Medical Mile (PDF). Start anywhere and make a loop back to where you began and you'll clock 1.17 miles.
Indoor Wellness Walk
Talk a walk inside. The Wellness Walk (PDF) total length from beginning to end (from the Dental Clinic building to Rutledge Tower) provides a half mile of climate-controlled walking. A cool one-mile round trip. Start anywhere and end at any point.
Walking with a partner increases your chances of staying with an ongoing walking program. Looking for a walking partner? Post your details on the Office of Health Promotion Yammer page.
Flight for Fitness
Take the stairs instead – you'll add years to your life and life to your years. Add this component to the MUSC Medical Mile or the Wellness Walk for an extra cardio boost.
MUSC Fitness Park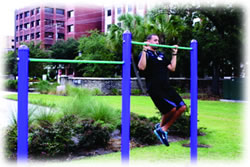 Permanent fitness equipment located behind the Bioengineering Building is open for use anytime to the public. It's perfect for those who want to fit in a workout during a break. Check out the Greenway Garden Circuit (PDF) for workout ideas and how to use the equipment, and explore the benefits of exercising outdoors.
Fit Gyms
As a designated Center of Excellence for the Working Well grant, MUSC Employee Wellness has received a stipend to aid our efforts in creating a culture of wellness across our campus. We have designated part of that money toward the purchase of fit gym equipment. MUSC departments who have an interest in promoting physical activity within their department, and have a dedicated space for this purpose, can apply to have fitness equipment for an onsite Fit Gym. Download the Fit Gym application (PDF) to request equipment. Email the completed form to musc-empwell@musc.edu for review.
Active Workstations
Americans are spending more time than ever sitting in front of screens - at work and at home - which means less time being active. Physical inactivity has a detrimental effect on your health. Studies have shown that inactive people can double their risk of heart disease. We are working with Risk Management to develop some options for you to consider. Please check back.
Physical Activity Beyond the Work Day
Miles to Change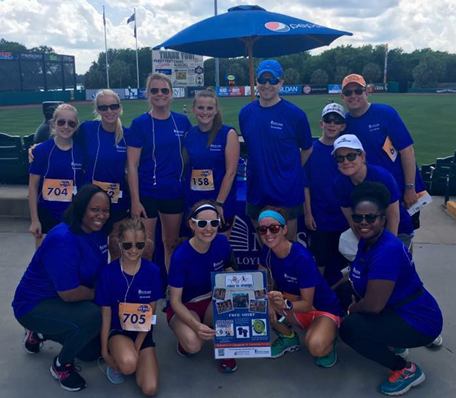 Miles to Change is a running/walking group aimed to improve employee wellness, support, and overall culture of health at MUSC. For details on upcoming events, t-shirts, or to join the group, email milestochange@musc.edu or check us out on Facebook.
Adventure Out

Now in its fourth year, Adventure Out offers free outdoor yoga classes in city parks taught by MUSC Wellness Center instructors. The classes aim to help people turn over a new leaf and discover the many benefits of green exercise.