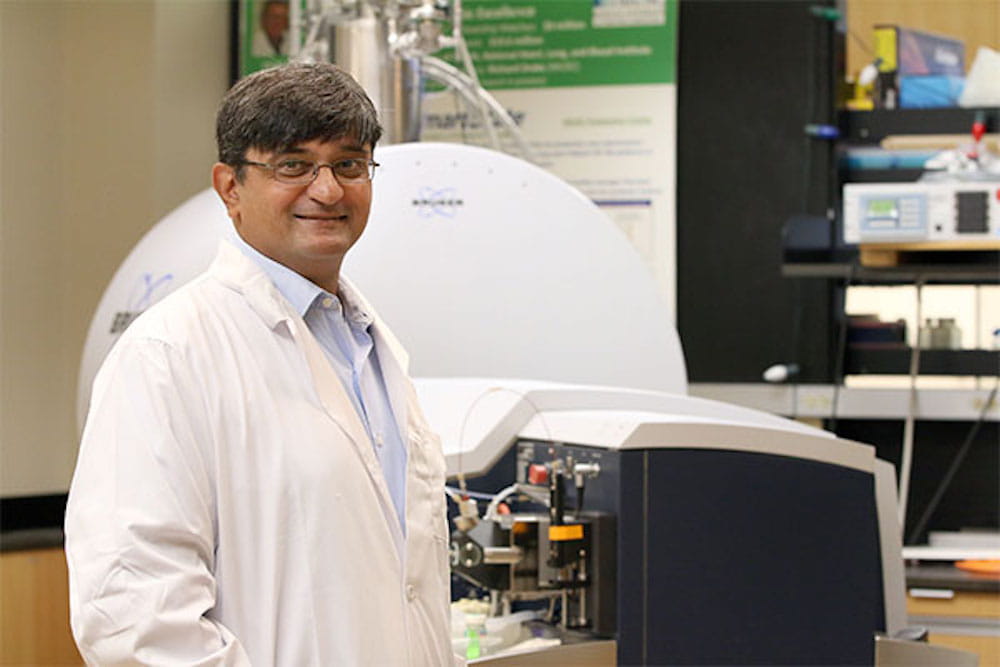 A leader in the development of glycoproteomic technologies for the discovery of novel cancer biomarkers is the new SmartState Endowed Chair of Proteomic Biomarkers at the Medical University of South Carolina. 
Anand Mehta, who received his D.Phil degree in biochemistry from the University of Oxford, joins MUSC and Hollings Cancer Center from Drexel University College of Medicine. 
"We are very excited about Dr. Anand Mehta coming to join MUSC and the Hollings Cancer Center," said Anthony Alberg, Ph.D., interim director of the Hollings Cancer Center.
"There are currently no proven methods for the early detection of liver cancer, and Dr. Mehta's research has yielded promising findings. Dr. Mehta's unique research expertise will synergize nicely with existing expertise within the center to accelerate the tempo of Dr. Mehta's important research."
The research fills an important gap since there are no good early-detection biomarker tests available for liver cancer and those available for later-stage disease are much less accurate. It is expected that this test will be recommended for patients considered at high risk of liver cancer, such as individuals diagnosed with hepatitis B, hepatitis C, fatty liver disease, and those with high volumes of alcohol consumption.
Mehta's work has resulted in 79 peer-reviewed published papers and the identification of over 50 patented biomarkers for the detection of curable early-stage liver cancer and other life-threatening liver diseases. Utilizing the biomarkers identified in his lab, Mehta and team have developed a diagnostic test, currently in commercialization with Glycotest, Inc., a NetScientific portfolio company that shows promise in the ability to detect hepatocellular carcinoma (HCC), the most common form of liver cancer, 90 percent of the time through a simple blood test.
On average, the five-year survival rate for liver cancer is only 18 percent, and the biomarkers currently on the market are only able to detect liver cancer 50 percent of the time.
The Mehta laboratory developed a targeted glycoproteomics strategy to identify novel HCC biomarkers and subsequently developed simple plate-based assays to measure these altered forms in blood, using these biomarkers together with standard clinical factors to better identify those who have cancer. Glycotest Inc. has licensed and plans to commercialize Mehta's biomarkers by the end of the year.
"Moving forward, we hope to use these biomarkers to guide the treatment needed to fight the disease, not just detect it," says Mehta. "Because this test can be commercialized, we can go beyond what we do in a laboratory and bring this to the clinic where it can be used to help people with liver disease."
About the Author