Dietetic Internship Program
At the award-winning Medical University of South Carolina, we are "Changing What's Possible." MUSC is the south's oldest medical school located in historic Charleston. This dietetic internship, accredited by the Accreditation Council for Education in Nutrition and Dietetics (ACEND), is designed to prepare students to become a "Registered Dietitian Nutritionist" (RDN). Upon completion, graduates are eligible to sit for the national RDN exam administered by the Commission on Dietetic Registration (CDR). Both ACEND and CDR are affiliations of the world's largest organization of food and nutrition professionals, the Academy of Nutrition and Dietetics.
Accreditation Council for Education in Nutrition and Dietetics contact: 120 South Riverside Plaza, Suite 2190, Chicago, Ill 60606-6995; ACEND@eatright.org;1-800-877-1600; ext 5400, https://www.eatrightpro.org/acend
Mission & Goals
Our mission is to improve the health of populations through the preparation of entry-level Registered Dietitian Nutritionists through evidence-based clinical, food management, policy, and public health nutrition experiences for South Carolina and beyond.
Preparing graduates with knowledge and skills to be competent dietitians and
Building leadership and public advocacy among the dietetics workforce, particularly in South Carolina.
Program Goals and Outcomes (PDF)
Program Overview
We offer a non-credit, non-degree, post-baccalaureate certification program resulting in a 'Verification Statement' required to sit for the RD exam. This internship is an on-site program for eligible college-degree graduates (see eligibility requirements below). We accept 12 interns per year for this 10.5 month (43-44 weeks including vacation), 1200+ hour, full-time supervised practicum commencing every August. Applications are accepted every February.
This internship is comprised of over 20 rotations in 15 different Health care settings under the supervision of 40+ qualified preceptors. We pride our internship for its large variety of diverse experiences and training opportunities.
We are pleased to offer three concentrations:
Community Nutrition Promotion: accepting 4 interns
Clinical Adult Medical Nutrition Therapy: accepting 6 interns
Clinical Pediatric Medical Nutrition Therapy: accepting 2 interns
Our program runs from the second Monday of August and ends in early June.
Scroll the bottom of this page to view the powerpoint from our latest Open House, and watch a virtual tour of our program.
Eligibility Requirements
The path to becoming a Registered Dietitian/Nutritionist is systematic. Applicants for this internship (all internships in the US) must have prior to our Fall start date:
Bachelor's degree, at minimum,in any field.
Successful completion of an ACEND-accredited "Didactic Program in Dietetics" (DPD).
A DPD consists of at least 2-3 semesters, depending on courses already taken, of hard science prerequisites and core nutrition courses to prepare students for a dietetic internship such as this one. MUSC does not offer a DPD (none in Charleston area). Search for traditional and online/distance DPD programs near you. DPD's cannot be replaced by any other training or certifications, such as nutrition degrees from non-ACEND accredited program, personal training or human performance training, culinary certification, etc. Read more about internship eligibility requirements.
Our Success
We successfully meet program goals. For instance, our past 5-year data indicates:
95 percent of graduates have passed the RD board exam upon first attempt.
Approximately 90 percent of graduates seeking a professional career as a Registered Dietitian after graduation found jobs within 6 months after passing the RD exam.
Of those who found careers, over 35 percent actively practice in South Carolina, a state prevalent in hypertension, diabetes, and stroke.
After working in the field for 1 year, 92 percent of employers of our graduates (and graduates themselves) feel this program provided excellent training for entry-level practice.
Over 75 percent of our graduates become leaders in their field by actively participating in local, state, or national nutrition and Health care organizations.
Program outcome data are available on request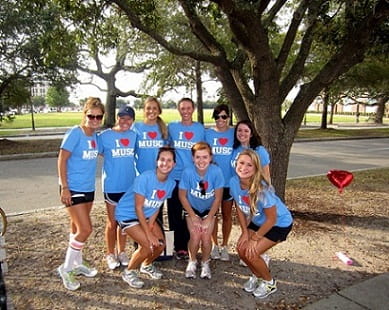 Watch this virtual tour video (produced before the approval of new Clinical Pediatric MNT concentration track)
Candidates may also schedule an individual appointment, in-person or phone, with the Director with at least 2 weeks notice:
Director: Kelley Martin, MPH, RDN, LD