Personal Training
MUSC Wellness Center's certified personal trainers offer just the accountability you need to improve your health and fitness levels. Our personal trainers take the guesswork out of fitness, designing safe and effective exercise programs that are customized to meet your wellness goals.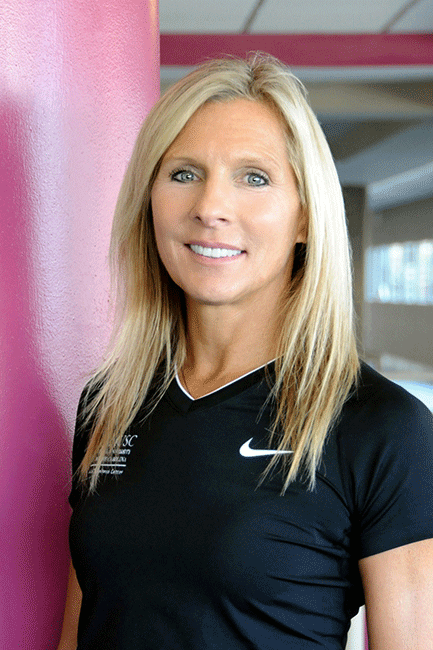 Alicia O'Connor, the center's Director of Personal Training and exercise physiologist has over 25 years of experience in all areas of personal fitness and wellness training.  She specializes in helping people stay injury free and pain free while improving fitness and lifestyle habits.  She loves working with post-rehab and disease management.  Alicia is an athlete spending many hours on the ski slopes the past 20 years as a professional ski instructor. She also surfs, hikes, and stays active as she "walks the walk"!
To contact Alicia O'Connor, Director of Personal Training, for all your needs please call 843-792-1494, or email oconnora@musc.edu
Personal Training
The center has a team of trainers who come from a wide array of backgrounds, which means we can offer a wide range of training specialties, including:
General fitness and weight loss
Sports athletic training
Post rehabilitation
Seniors/healthy aging
Chronic disease management
Our trainers use the latest fitness and health research to develop training programs for you that will make you feel stronger, healthier and able to continue your favorite activities for the rest of your life.
While some members prefer the undivided focus of a one-on-one training session customized to their needs, others prefer group training. Along with the one-on-one training and small group training (2-4 people in a group), we also offer consultation appointments for those who need advice relating to a medical condition, injury, or a specific goal.
Meet the Personal Trainers team
Post Rehabilitation Training
Our post rehabilitation trainers specialize in helping people get safely back on the road to recovery. With an expertise in developing fitness programs for clients with various limitations due to chronic disease, surgery, injury or musculoskeletal disorders, these trainers understand how important it is to keep clients moving despite health challenges.
Post-rehab training also can help people with bad posture or movement limitations that are preventing them from doing activities in life they enjoy. Our trainers have helped clients with an exercise plan after physical therapy for a wide range of health issues, including: joint replacement, rotator cuff tear, spinal stenosis, meniscus tear, iliotibial band and piriformis Syndrome.
Chronic Disease Management program
The Chronic Disease Management trainer develops and oversees an exercise program to help you have the strength and fitness level to continue to enjoy the activities you value in life. We help clients with a wide range of chronic diseases, including: cancer, Parkinson's disease, diabetes, Cardiovascular Disease, Musculoskeletal and Neurological Disorders. We believe it's easier to face a chronic health issue in your life if you remain active and be intentional about adapting healthy lifestyle habits. 
To contact Alicia O'Connor, Director of Personal Training, call 843-792-1494, or email oconnora@musc.edu
Personalized Swim Coach
Our Personalized Swim Coach Program gives you a chance to work on your swim technique one-on-one with Kathleen Wilson. Please email aquaharp@bellsouth.net to schedule your session.
Personal Training Fees:
One Hour Sessions:
1 session                         $60
Packages:
8 sessions                        $400
12 sessions                      $570
20 sessions                      $900
One Hour Duet Sessions:
 (2 participants – price per person)
1 session                    $40
Packages
8 sessions                  $280
12 sessions                $360
30 Minute Sessions:
1 session                      $35
Packages:
8 sessions                    $240
12 sessions                  $330
20 sessions                  $500
Group Training Sessions: 
(3 or more participants – price per person)
1 session                   $30
Packages
8 sessions                 $220
12 sessions               $300
All personal training sessions must be purchased in advance. Training availability is based on current programs and trainers' schedules. A 24 hour cancellation is required or session is forfeited. All packages expire 6 months from the date of purchase.
New Member Package
First 30 days of full membership
Personalized Nutrition:
Cost- $50  ($70 Value) You will receive one nutrition analysis to determine your baseline status.  You will discover any nutrient deficiencies and areas of concern. This package also includes a 30 minute follow up goal session. Please call 843-792-4141 or email baier@musc.edu to schedule your session. 
New Member Personal Training Package: 
Cost $99 ($180 Value) InBody Analyzer: This comprehensive training package includes the InBody testing (as seen at the Mayo Clinic and Johns Hopkins) which provides muscle/fat analysis, obesity analysis, segmental lean analysis, visceral fat level and basil metabolic rate.  An exercise specialist will provide recommendations based on your testing results.Personal Training Sessions:  You will also experience one of MUSC's best personal trainers as they design a personalized program just for you. It is the perfect start on your wellness journey. This package includes two 55-minute training sessions.