About MUSC
Founded in 1824 in Charleston, MUSC is the oldest medical school in the South, as well as the state's only integrated, academic health sciences center with a unique charge to serve the state through education, research and patient care. Each year, MUSC educates and trains more than 3,000 students and 700 residents in six colleges: Dental Medicine, Graduate Studies, Health Professions, Medicine, Nursing and Pharmacy. The state's leader in obtaining biomedical research funds, in fiscal year 2018, MUSC set a new high, bringing in more than $276.5 million. Find out more about our academic programs.
As the clinical health system of the Medical University of South Carolina, MUSC Health is dedicated to delivering the highest quality patient care available, while training generations of competent, compassionate health care providers to serve the people of South Carolina and beyond. Comprising some 1,600 beds, more than 100 outreach sites, the MUSC College of Medicine, the physicians' practice plan, and nearly 275 telehealth locations, MUSC Health owns and operates eight hospitals situated in Charleston, Chester, Florence, Lancaster and Marion counties. In 2019, for the fifth consecutive year, U.S. News & World Report named MUSC Health the No. 1 hospital in South Carolina. Learn more about our clinical patient services.
MUSC and its affiliates have collective annual budgets of $3 billion. The more than 17,000 MUSC team members include world-class faculty, physicians, specialty providers and scientists who deliver groundbreaking education, research, technology and patient care.
MUSC at a Glance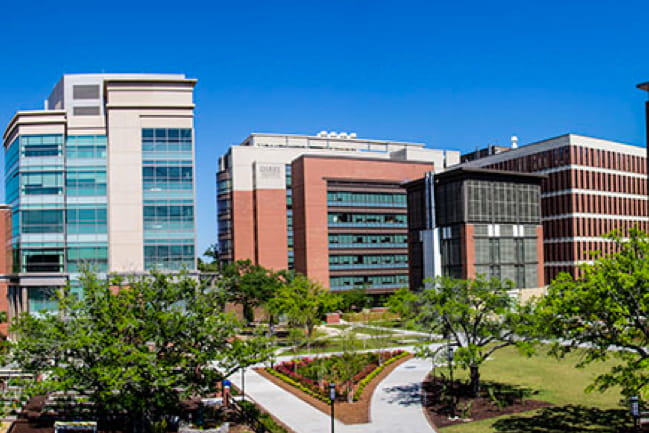 An in-depth history and overview of Medical University of South Carolina.
Research Funding
The Medical University of South Carolina (MUSC) is the premier biomedical research institution in South Carolina, with a record of more than $276 million in research funding in Fiscal Year 2018. This funding reflects the quality of the research and discovery at MUSC, a direct result of recruiting top scientists with a strategic focus to serve the needs of the people of South Carolina. MUSC's South Carolina Clinical and Translational Research Institute (SCTR) focuses on changing the culture of biomedical research, facilitating sharing of resources and expertise, and streamlining research-related processes to bring about large-scale change in the clinical and translational research efforts in South Carolina.
Education
212 Students
490 Faculty (Full & Part-time)
The College of Graduate Studies educates biomedical and behavioral scientists at master's, doctoral and postdoctoral levels by exposing them to innovative research through any of the following programs: a Master of Science or Doctor of Philosophy degree in the biomedical sciences, an NIH funded M.D. / Ph.D. program with the College of Medicine, a DMD / Ph.D. program with the College of Dental Medicine and a PharmD / Ph.D. with the College of Pharmacy for students interested in careers in medical, dental or pharmaceutical research.
296 Dental Students
41 Postgraduate Residents Accepted Annually
83 Faculty (Full & Part-time)
The College of Dental Medicine serves as the state's only dental medicine college and has been recognized as one of the best dental medicine programs in the Southeast, with departments including oral health sciences, oral and maxillofacial surgery, oral rehabilitation, pediatric dentistry, orthodontics, and stomatology.
568 Students (Baccalaureate, Masters, and Doctoral)
140 Faculty (Full-time & Clinical)
The College of Nursing has the only nursing program in the state that is part of an academic health sciences center, boasting pass rates of more than 90 percent, all-time high enrollment numbers, the only nursing program in South Carolina with a 16-month accelerated baccalaureate degree program, and the state-leader using online learning technology to educate nurses as well as those seeking master's and doctorate-level nursing degrees.
789 Total Students
64 Faculty
With high-tech teaching and research facilities, CHP's strategic design allows for long-term stability and growth within these core degree programs: anesthesia for nurses, cardiovascular perfusion, health administration and policy, occupational therapy, physician assistant studies, and physical therapy. Newly developed laboratories include a Motion Analysis Lab, a Neurophysiology Assessment Lab, and an Integrated Physiology Lab. 
768 Students
682 Residents & Fellows
1235 Faculty
Founded in 1824, the College of Medicine was the first medical school in the southern United States. Today, the College of Medicine has 25 departments and over 1200 faculty members who independently and collectively contribute to the education of future physicians, researchers, health care administrators, resident physicians and fellows through classroom education, clinical operations, and a robust research enterprise. In addition to the MD, the College offers a combined MD/PhD program for physician scientists and a Masters of Public Health. College faculty also support the clinical operations for MUSC Health.
321 Students

Founded in 1881, the College of Pharmacy is home to two research centers with renowned endowed chairs. It boasts one of the oldest and largest residency programs in the country and provides a premier pharmacy education by uniting nationally recognized faculty and high-achieving students with the innovative, interprofessional learning opportunities offered at MUSC's academic medical center.
Clinical: MUSC / MUHA / MUSC Physicians
The Medical University of South Carolina (MUSC) is a public institution of higher learning with the purpose of preserving and optimizing life in South Carolina and beyond. The university provides an interprofessional environment for learning and discovery through education of health care professionals and biomedical scientists, research in the health sciences, and provision of comprehensive health care.
Receives Approximately 3 percent from State Appropriations.
As one of the largest employers and providers of care in South Carolina, our mission is to provide excellence in patient care in an environment that is respectful of others, adaptive to change and accountable for outcomes. It is our intention that all our patients and their families feel comfortable as partners and decision-makers in their health care, whether they are with us for outpatient services or inpatient care. For patient specific services, please visit the MUSC Health website.
The Medical University Hospital Authority (MUHA) does not Receive State Appropriations.
MUSC Physicians, the physician group of the MUSC family, provides services ranging from prevention and wellness to highly specialized care at outpatient clinics and facilities both on the MUSC campus and in the community. With the opening of an advanced medical office complex in Mount Pleasant, South Carolina, MUSC now has the widest range of specialty care available at any medical center in South Carolina. MUSC Physicians operates as group practice, thus serving as a resource to attract and support a superior clinical faculty for the education and training of undergraduate and graduate medical and health-related professionals. Patient care is our #1 priority. The success of our operations is dependent on our continuing successful relationships with our patients, particularly as we transition to an electronic medical record.
The Business Operations Office of MUSC Physicians is Operated Separately from the Business Office of the Medical University Hospital and from those Business Offices of the Medical University of South Carolina. MUSC Physicians does not Receive State Appropriations.