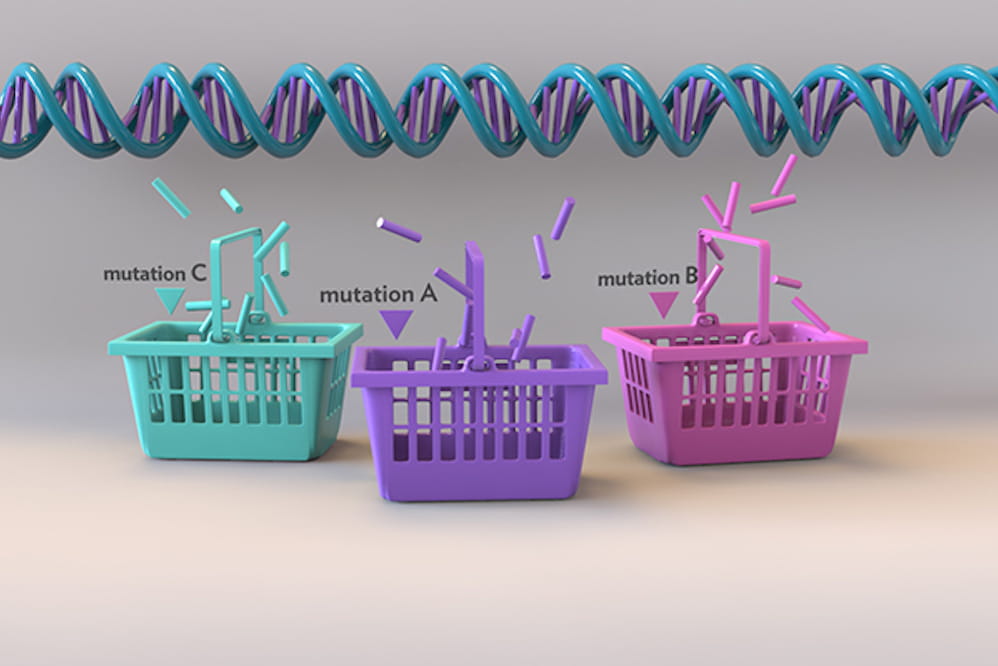 Sometimes it can be life-saving to be a basket case.
Just ask cancer investigators involved with a new way of research called basket studies. Here, they put aside what kind of cancer you may have and its organ of origin. Instead they consider what kind of mutations are driving its growth and what drugs have been shown to treat that mutation with the ability to potentially halt a tumor's growth.
The Medical University of South Carolina is part of a clinical trial, NCI-MATCH or Molecular Analysis for Therapy Choice, that has been described as essentially a basket of basket studies, further harnessing the power of this type of study.
MUSC is taking enrollment in this national study, which for cancer patients means there's a streamlined way to find out if a genomic analysis of their cancer might qualify them for a clinical trial specifically aimed at a mutation they have – one known to have an effective drug treatment.
Medical oncologist Antonio Giordano, M.D., Ph.D., the principal investigator for the trial at MUSC, said the trial requires a wide network of collaborators among different department and the efforts of different physicians at MUSC, including radiologists, interventional radiologists, pathologists and surgeons.
"It represents for MUSC a novel and great opportunity to deliver personalized medicine to our patients affected by advanced cancer."
Giordano, who recently joined MUSC, has been involved in breast cancer research since 2002. During his doctoral program at MD Anderson Cancer Center, he studied the biology and clinical relevance of circulating tumor cells and cancer-initiating stem cells in breast cancer patients and will be starting the first circulating biomarker platform to perform what's known as liquid biopsies at MUSC.
NCI MATCH is another tool in the cancer arsenal. It gives another opportunity to cancer patients who have tried at least one line of standard therapy or for whom no standard therapy exits.
"I also am excited about this study because it affords a unique opportunity to collect information about the prevalence of mutations, translocations and amplifications in genes associated with cancer, and how these tumors respond to targeted therapy when standard treatments have failed. We inherit with one study as many as 24 clinical trials with new targeted therapeutic options."
This trial is for adults 18 years of age and older with any type of solid tumor or lymphoma, cancer in the cells of the immune system, that has returned or gotten worse after standard systemic therapy (oral or intravenous). Patients may also be eligible if they have a rare type of cancer for which there is no standard treatment.
Medical oncologist John Wrangle, M.D., a co-principal investigator, said one benefit of the trial is helping patients with rare types of cancer because of the large pool of people available in the national trial. If a tumor biopsy reveals a patient has a rare genetic abnormality and there is an arm of the trial studying a drug shown to be effective for that mutation, that patient can be enrolled.
This is how the process works.
Doctors submit solid tumor specimens for DNA sequencing to identify any genetic abnormalities that might make a patient eligible. The drugs included in the trial have either been approved by the U.S. Food and Drug Administration for another type of cancer or are showing some effectiveness against tumors with a particular genetic alteration in other clinical trials.
Doctors review the report to see the presence or absence of key mutations and, based on that, determine if there is an open arm of the trial targeting mutations that are harbored within the tumor, he said.
"The thing about breast, lung and colon cancer and every kind of cancer is that even within those supposedly discrete entities there is a wild variety of mutational events under that heading. Trials like this seek to go beyond the generic application of disease state as breast or lung or colon. It's attempting to dissect the nature of the cancer to its most fundamental elements and to target them directly."
As the NCI-MATCH trial progresses, other treatment arms can be added as researchers and drug companies develop promising targeted therapies, said Wrangle, whose research interests focus on the development of novel therapeutic strategies and biomarkers for the treatment of non-small cell lung cancer.
"As opposed to a clinical trial that enrolls lung or breast cancer patients, this attempts to find more unique aspects of patients' tumors and concentrate those unique aspects into a trial for therapy specifically designed for that unique aspect of the tumor. It heralds this coming paradigm shift in the way we run trials as opposed to seeking large populations of patients broadly characterized," he said.
"The narrower focus of the genetic drivers of those tumors may better allow tailored or targeted therapy specifically with which we may have a much higher expectation of clinical benefit."
And it means using potentially less toxic therapies, he said. That's a win-win for the patient.
"A lot of these medications are oral that can be taken on an outpatient basis with a different set of side effects that frequently are more tolerable."
The trial now has a total of 24 arms. Genomic sequencing equipment was upgraded so that NCI has upped its capacity to sequence 100 tumor specimens per week and the turnaround time for sequencing will be reduced to less than two weeks for each specimen.
Wrangle said that points to one advantage of MUSC being an academic research institution. With the latest advances and lowering of costs involved in gene sequencing, there are many places that can provide a very comprehensive genomic characterization of tumors, he said.
"It's not difficult to find a way to generate very detailed, sophisticated reports in terms of DNA mutations and otherwise. The problem is, what you do with that information?"
That's particularly true if the information has a patient going to a clinical trial in another part of the state or country. "The unique aspect of MUSC is that not only can we generate an intensely sophisticated molecular characterization of tumors, but we also have a clinical trials portfolio in our hometown with which we can offer unique therapies for some of those highly complicated and rare mutational events. That's something that's not available in most places."
The trial also accelerates clinical as opposed to basic research.
"We don't open trials anymore without the expectation of direct clinical benefit. The more we focus on and create examples of scenarios where we do rational drug development with targets in mind and have greater successes earlier in the development of agents, then it just rapidly accelerates the enthusiasm and pace of development in drugs in new scenarios."
Wrangle said oncologists often face the frustration of how few drug treatments are available to treat some patients.
"You run out of options remarkably quickly in a lot of diseases. Just having the ability to look for another line of therapy is incredibly useful to the patient and the clinician."
This trial is designed so that it can open, expand or close arms based on the effectiveness of the treatments without the overall trial closing. New agents and concepts can be added as appropriate.
Wrangle predicts this type of trial will become an institution. "It's so much easier to write one arm of a trial and administratively open and close something within the regulatory framework of a much larger trial entity just from logistics perspective. It's just so much easier to test a concept by opening an arm within an existing framework and rapidly bringing in new concepts."
Wrangle recommends cancer patients educate themselves and ask their oncologist about enrollment. The trial pays for tumor testing even if a patient's results fail to meet eligibility for any of the investigative arms.  "It's important to emphasize that 10 percent of patients will be eligible for an arm of the trial, so you'll have to enroll 10 people to get 1 person on."
Despite the low percentage, Wrangle said it's worth the try. "It offers a potential, additional line of therapy for patients with solid tumors. From the perspective of the local practitioner, it gives patients access to an extremely diverse group of innovative agents right in their backyard, and it can be administered here instead of having to fly out somewhere."
Wrangle said there's a paradox in that medical institutions are doing highly innovative trials, but may end up with fewer options for patients because of overlooking something like NCI-MATCH.
"With 24 arms, that's 24 trials that we have overnight for highly specific mutational and genetic events, so we may end up with treatment options that aren't available at other places," he said.
"It brings an enormous number of innovative therapeutic concepts to campus just by the sheer volume it brings in one fell swoop."
(The study, led by the ECOG-ACRIN Cancer Research Group under the sponsorship of the NCI, seeks to enroll 5,000 patients for screening nationwide. MUSC's Hollings Cancer Center is participating in this trial through its membership in the NCI Community Oncology Research Program.)  
About the Author