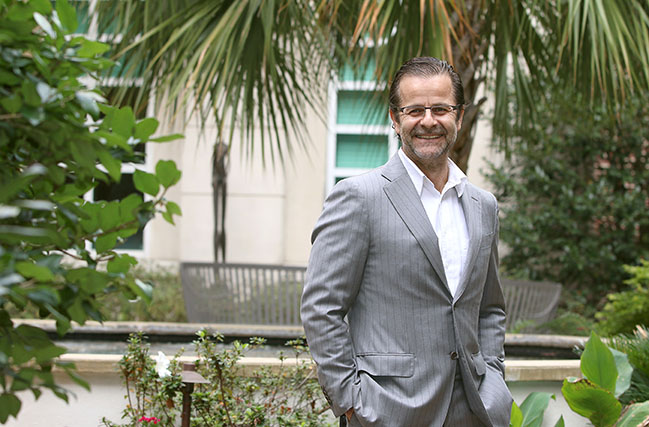 The Medical University of South Carolina named Gustavo Leone, Ph.D., as the new director of the Hollings Cancer Center.
His appointment to South Carolina's only National Cancer Institute-designated (NCI) center begins March 1. In addition to his strong leadership background, Leone is a preeminent cancer research expert with a longstanding record of pursuing innovative and interdisciplinary approaches to cancer research while mentoring and supporting the next generation of cancer researchers.
"We are pleased to have recruited a leader and cancer researcher of Dr. Leone's stature to guide the Hollings Cancer Center in this next phase of its growth," said Lisa K. Saladin, Ph.D., MUSC interim provost. "He brings to MUSC the knowledge and experience to build on Hollings' past successes and take the cancer center to the next level."
As director, Leone will oversee the patient care arm of the Hollings Cancer Center as well as lead cancer-related research efforts in order to achieve and promote transdisciplinary and translational collaborative research. Hollings Cancer Center includes more than 120 faculty-level cancer scientists with an annual research funding portfolio of $44 million. A primary goal for Leone will be to support and enhance the infrastructure key to the center's prestigious NCI-designated status and to build programming and recruitment efforts to attain NCI Comprehensive Cancer Center status.
Leone said he is excited about the many strengths and areas of great potential at the Hollings Cancer Center and MUSC. "I look forward to working with the faculty and staff to do all that we can to make a difference for cancer patients in South Carolina and to expand cutting-edge research in ways that will reduce the burden of cancer in South Carolina and beyond."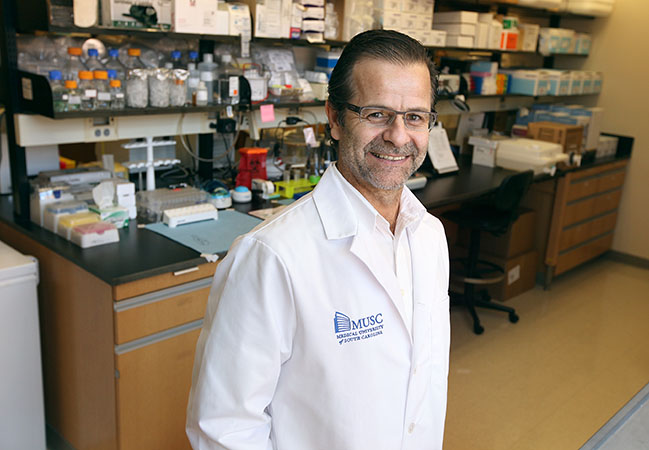 Leone earned his doctoral degree from the University of Calgary and completed a postdoctoral fellowship at Duke University in 1998 before joining The Ohio State University as an assistant professor at the NCI-designated James Comprehensive Cancer Center. Leone advanced to full professor in molecular genetics in 2011 and held the Klotz Chair in Cancer Research. In his leadership positions as director of the Solid Tumor Biology Program and associate director for basic research, he was instrumental in the rise of the James Comprehensive Cancer Center to the top tier of all cancer centers. Leone also expanded mentoring, recruitment and collaborative research efforts as a founding member of the Pelotonia Fellowship Program in Cancer Research, with specific goals to train basic and translational researchers across the cancer continuum.
Raymond N. DuBois, M.D., Ph.D., dean of the MUSC College of Medicine and past president of the American Association for Cancer Research, said, "Dr. Leone is an outstanding leader and cancer researcher who will surely elevate the Hollings Cancer Center to new heights."
DuBois, an active researcher and leader at three NCI-designated cancer centers prior to joining MUSC, added, "I look forward to working with Dr. Leone to further strengthen the Hollings Cancer Center, including the recruitment of additional cancer investigators to further accelerate the strong positive trajectory of the center."
Leone will continue to conduct laboratory and translational research at MUSC, focusing on identifying how disruption of critical cell cycle regulatory pathways contributes to uncontrolled cell growth, a hallmark of cancer. Currently his laboratory group focuses on studying how genes outside the tumor cell affect the community of cells around a cancer cell, a research area that may reveal new cancer treatment strategies. He has authored more than 120 peer-reviewed publications and has received numerous recognitions for his contributions to cancer research. Mentoring the next generation of cancer researchers is a passion for Leone, who has an impressive track record of successful mentorship that includes not only numerous faculty but also hundreds of trainees ranging from college undergraduates to postdoctoral fellows.