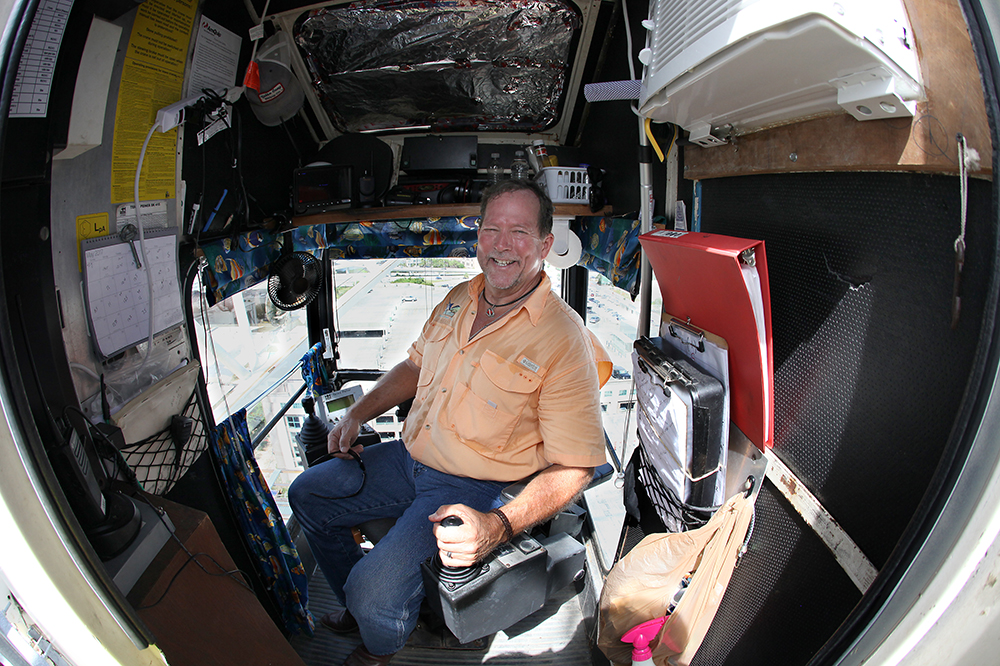 It takes a special person to do Dan Mickow's job – one who has no fear of heights or, it would seem, lightning.
As a crane operator, getting struck by lightning is a job hazard. Though the crane is protected against lightning strikes, it still happens, he says, something he was reminded of recently when he got struck again.
"I heard it and saw the flash, but it's been worse. I've been hit four times, and another time it was like getting hit by a sledge hammer. This time wasn't so bad."
Fortunately, the rain had come back in, and everyone had stepped away from the crane, so no one got hurt.
Mickow, 62, is one of about 200 workers involved with the construction of the $385 million Shawn Jenkins Children's Hospital and Pearl Tourville Women's Pavilion, which is expected to be completed in 2019. Used to doing condominiums and casinos, Mickow says this project is more rewarding.
"It's an honor to come out here and work on this job. Safety is No. 1. They don't let me work unless everything is 100 percent. I'm NCCCO licensed so that makes it easier for me," he says, referring to the certification he's earned through the National Commission for the Certification of Crane Operators.
Being a crane operator is in his blood.
"It's the best seat in Charleston. The view is just awesome," he says, explaining that he's following a family tradition. His grandfather, father and uncles were crane operators, and his son is going down that path.
The crane tower has 22 steps per landing and has eight landings, and he makes the climb through a hollow steel tunnel. He can do it in about three to four minutes. It only takes him about a minute to do the trek down, he says. There's a tricky section at the top, getting from the ladder to the operator cab, that's more free-form, and that area can freak people out who come up to visit, he says.
It's worth the climb, though, and he gets to watch the miracle of the construction happen from a bird's eye view. 
"It's just fun work watching the building come up. Watching us put up 25 to 30 pieces of iron, I can actually see what we did today. It's like working with giant Lego blocks. When you get a good crew, and you're working with the men, you form a trust and bond among all of us. We're kind of like a family in a way."
Up top, it's like his private castle. Mickow loves the cozy seat inside where he plays soft music as he works or just enjoys the peace and solitude. He watches subtle changes in the weather.
"I'll see the storms coming. I'm the first one who knows. It's a peaceful moment when the storms roll in, and you're right there in it. I'll tell them, 'You'll have 10 minutes before the rain hits.'"
Sometimes birds join him on his perch, which can rise up to 240 feet. "On my last job in Florida, I had a big old owl come up and visit.  I'd come up in the morning and would have 10 to 15 birds a day with their heads bitten off. It would sit on the jib next to me and just hang out all day with me. I thought it was some kind of offering for me. I was thinking, 'I don't need this.'"
A big man, not much scares Mickow, except when the storms come in with 70 or 80 mph winds. But even that pales in comparison to his real phobia. "A spider in a crane up there will make me hurt myself. I don't like them. I don't like them. I don't like them," he says, laughing.
 People are fascinated by his job. One of the most frequently asked questions for him is how does he go to the bathroom, particularly since he generally works 12-hour days. The answer: a five-gallon bucket and pulley system. "It's not a big deal."
Mickow says this job is different for him because he's part of building something that will help kids. The father of three likes that. The cranes are needed for about 16 months of the project, so he'll be back home in Florida by the time it is done. "I'll have to come back and see the finished project. It will be cool."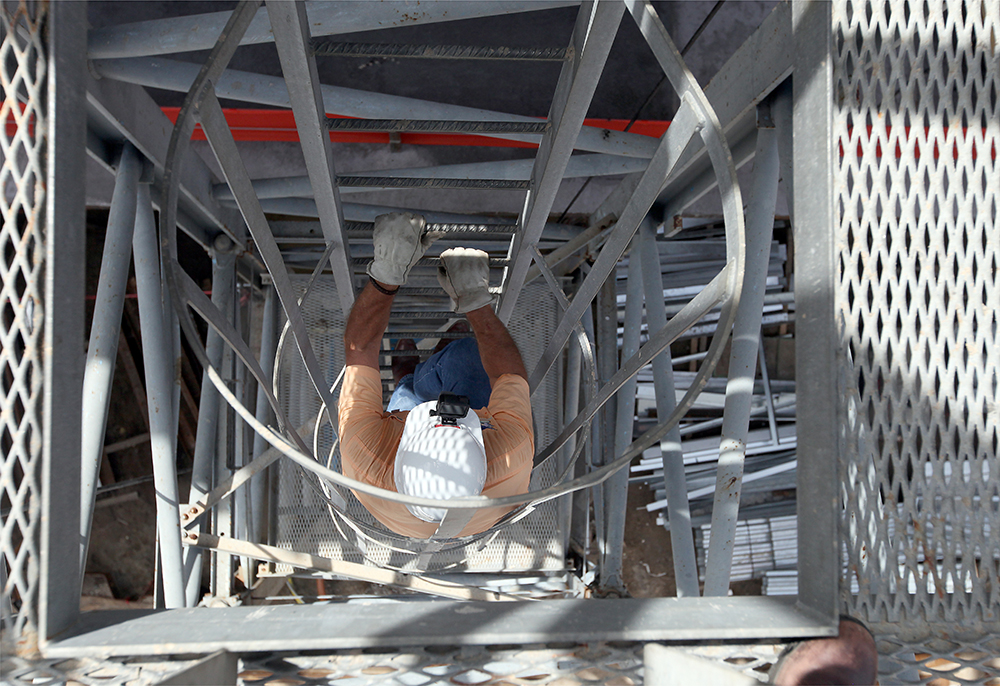 Crane operator's view
Crane operator GoPro
Want to see what it's like working sky-high? Check out this GoPro video with some stomach-dropping moments.
About the Author