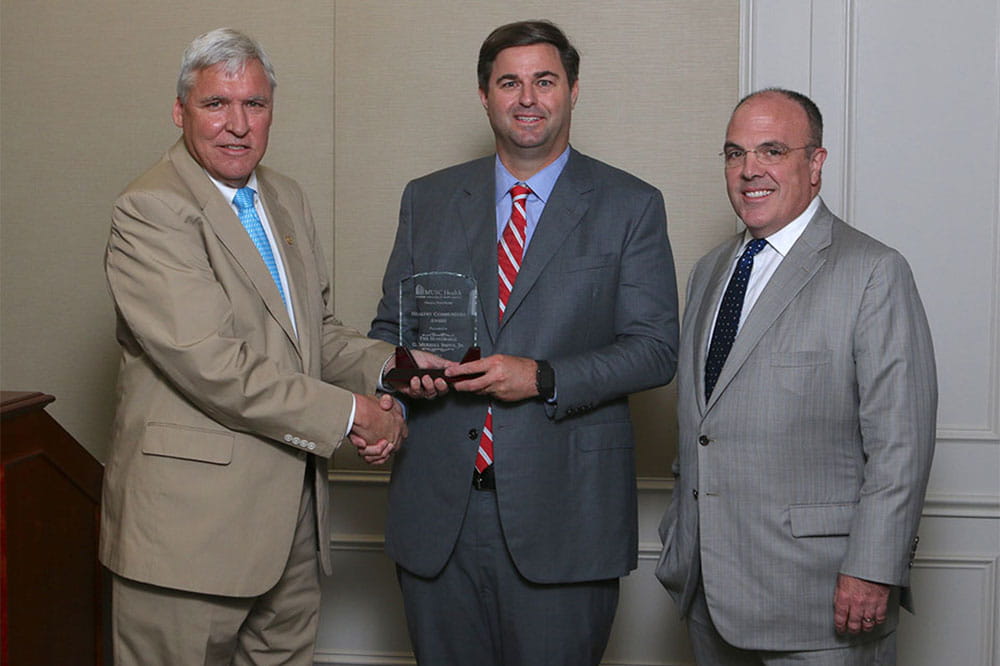 The Medical University of South Carolina issued its 2017 MUSC Healthy Communities Award to Representative G. Murrell Smith Jr. at Palmetto Health Tuomey Hospital in Sumter. Smith received the award for his ongoing support of telehealth expansion to deliver quality health care to those who need it the most, regardless of where they live in South Carolina.  
The MUSC Healthy Communities Award is presented to an individual, group or organization who works to target specific community health issues, demonstrate leadership, and/or collaborate in ways with MUSC that bring about innovative access to the state's only comprehensive academic medical center.
"Representative Smith embodies all that this award represents," said MUSC President David J. Cole, M.D. "To continue using technology to create more access to quality care, we know partnering with leaders in our communities is the best way to accomplish this. We are grateful for the unwavering role that Representative Smith has served as it relates to changing what's possible for the health of our communities."
Smith and the leadership of the House Ways and Means Committee championed the first telehealth appropriation in 2013, including crucial support from committee Chairman Rep. Brian White. Since that time, Smith and South Carolina legislators have provided key funding that has produced an open-access, statewide telehealth network. Now connecting more than 200 sites that deliver multiple telehealth services, one life-saving program is the Telestroke program, which connects 26 hospitals and has provided specialized, expert consults on more than 10,000 patients in life-threatening situations. 
"We're now providing access to rural areas of the state and that's one way that we are improving and innovating health care in South Carolina: by partnering with entities that bring access to care for every citizen of our state," Smith said. "I am honored to receive this award and commend MUSC and the members of the South Carolina Telehealth Alliance for having such an effective and well-coordinated effort to improve the health and wellness of South Carolina's residents."
This is the third year that MUSC has issued the MUSC Healthy Communities Award. Last year's award honored South Carolina Senator Hugh Leatherman for his role in securing state allocations for the MUSC Hollings Cancer Center and advanced tobacco-related cancer research. The inaugural honoree for the award was North Charleston Mayor Keith Summey, for his leadership working with the North Charleston City Council to donate a large parcel of land for the development of an outpatient pediatric facility in that area.
About the Author