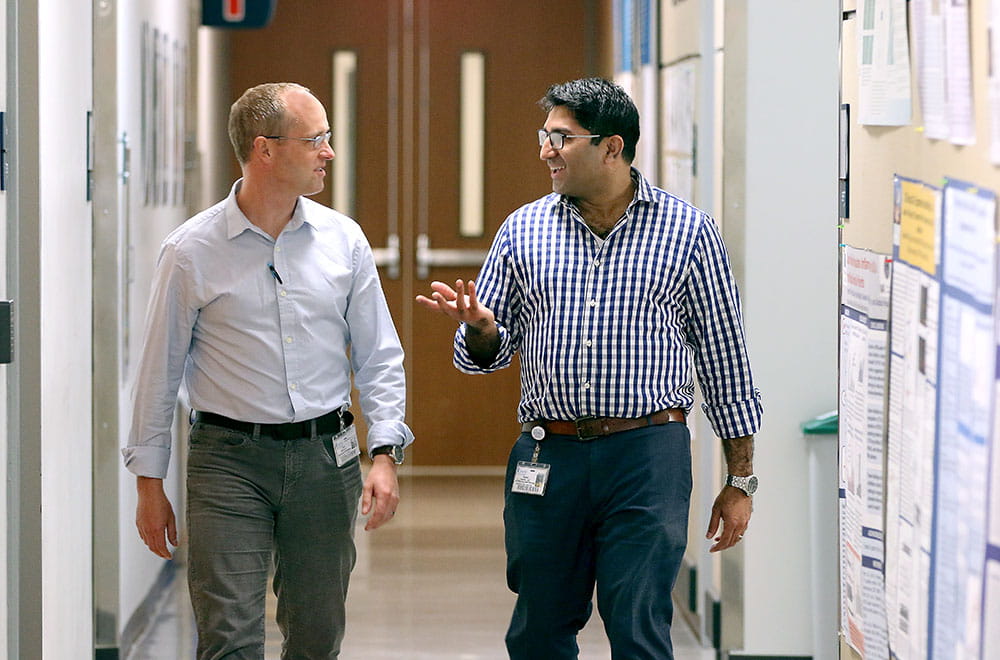 A phone call, a beer test and British connections helped launch a partnership that's bringing a fresh infusion of vitality to the organ transplant program at the Medical University of South Carolina.
"It just seems totally natural," says scientist Carl Atkinson of his professional partnership with transplant surgeon Satish Nadig. Since teaming up about 5 years ago, they've led a huge expansion of the transplant immunology research program at MUSC, become prolific publishing partners and helped create a business that merges bioengineering with medicine. 
It all started with a colleague's suggestion to Nadig in 2013 that he get in touch with Atkinson. Nadig was finishing a fellowship in transplant surgery in Michigan and looking for a research mentor. It had to be somebody he clicked with.
"I call it the beer test. You have to feel like you could go out and have a beer with somebody," Nadig says. "You have to be able to talk with them. You have to like the person."
He called Atkinson, an established researcher at MUSC whose interests included the science of organ transplants. No beer, but there was plenty of rapport on tap. "We got on really well over the phone before we even started," Atkinson says.  
They'd both earned doctorates in England, loved soccer and more importantly, were passionate about solving the central mysteries in the field of organ transplants. What could be done to make organs from brain-dead donors more likely to work well in recipients? Were there ways to create tissue in the lab that could be used to help people who needed transplants but didn't have donors? And were there better ways to keep people's bodies from trying to reject donor organs?  
They both wanted answers. A partnership was born.
"Our mission is to basically push forward the science of transplantation on all fronts," Nadig says.
Labwork
While what happens in the operating room is a crucial part of organ transplantation, a lot of work goes into getting patients to that point. That's where MUSC's Lee Patterson Allen Transplant Immunobiology Laboratory comes in.  
Under Atkinson and Nadig's leadership, the lab's team has grown from a couple of master's degree students and a lab technician to more than a dozen people, including post-doctoral scientists and M.D./Ph.D. students.
It has also grown in scope, Atkinson says. "If you look at each of the stages of transplant, there's room for improvement. Our goal is to be comprehensive."
Their team looks at everything from what happens to an organ as it's prepared for removal to how it's stored to how operations are done. And they go beyond that, exploring new options such as growing tissue in the lab as a possible substitute for donated organs.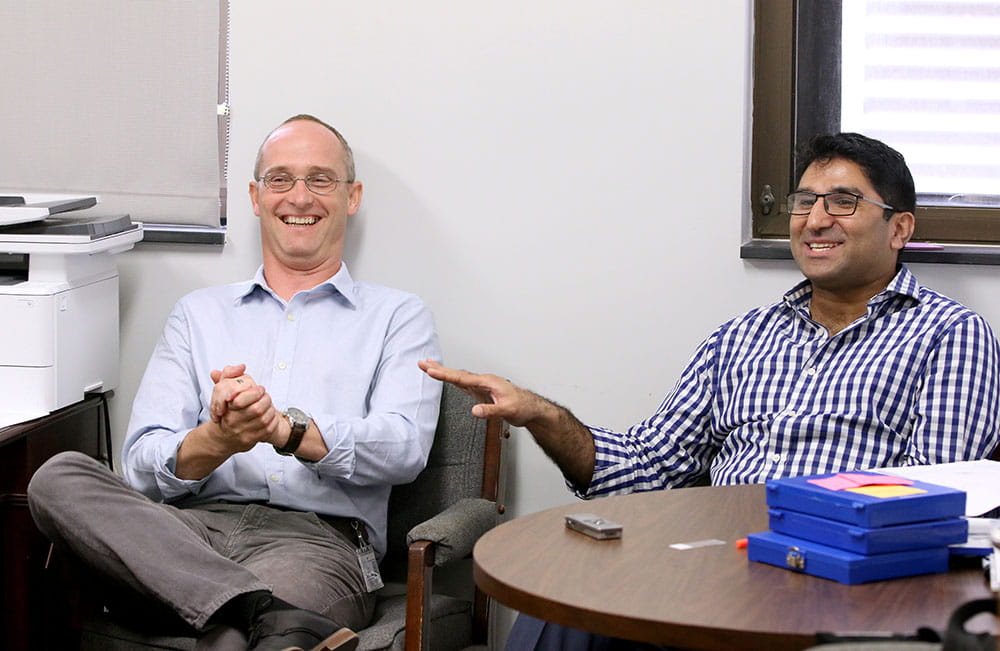 The stakes are high. There are about 115,000 Americans waiting for lifesaving transplants right now, according to the American Transplant Foundation. About 20 people die each day due to a lack of available organs.
But there's plenty of encouraging news, too.  Nadig recently oversaw the first compatible kidney transplant exchange in the state and the first internal living donor kidney transplant chain at MUSC Health. 
His surgical successes are a reminder of the importance of his work outside the lab, something both men are acutely aware of. "I'm always struggling with balancing being a clinician with being a scientist," Nadig says. 
That puts more weight on Atkinson's shoulders in the lab, but it's a burden he accepts. "Ultimately, what Satish is doing in surgery why we're doing the research."
When they can't speak in person because of Nadig's surgical schedule, they pick up the phone. "Unfortunately, his number is on my phone more than my wife's sometimes," Atkinson says, laughing. 
"We communicate a lot," Nadig agrees. "The best days for me are when I'm driving home and I've done a full day of operations on people, or I'm driving home and we have a great piece of data and Carl and I are having this conversation about how we're going to get this into patients or how we're going to get to the next level."
Publishing Partners
Conducting research is one thing. Getting the information out to other scientists, doctors and the public is another. Peer-reviewed journal articles and lectures are the main way to do that. Atkinson and Nadig are prolific in this area as well. In the first four months of 2018 alone, Atkinson and Nadig's names appeared as authors on four articles.
When it comes to giving presentations about their research papers, Atkinson says they emphasize teamwork as well. "You'll notice our lab isn't named for one of us. It's the transplant immunobiology laboratory. That's on purpose. It's bigger than us. It's not one person. It's more impactful than just a person's name on the lab. When we present papers and projects it's the Lee Patterson Allen Transplant Immunobiology Laboratory."
Nadig says they sometimes have heated debates as they prepare to publish, but never lose sight of their overall purpose. "At the end of the day, we both have one entity we are fighting for and pushing for — the patients."
Getting Down to Business
Atkinson and Nadig's professional partnership extends beyond MUSC to a company they started in 2014 with biomedical engineer Ann-Marie Broome. ToleRam Nanotech focuses on finding new, more precise ways to deliver medication to suppress the immune system so that the body doesn't reject transplanted organs.
The company won a National TechConnect Innovation Award in 2016 for its use of new technology that could revolutionize how doctors deliver medications to patients. 
Atkinson and Nadig continue to inspire each other. Atkinson, who calls himself "the quiet one," says Nadig's energy and enthusiasm can be contagious. "He's very dedicated to transplant research and his patients as well. They come first. He also has a lot of respect for the people who work for him in the lab to make sure they move forward as well.
Nadig, who still sees Atkinson as something of a mentor, calls him a genuinely good person. "He wants people to do well. He truly is invested in the people that are working around him and with him. And I've never met anybody so able to articulate scientific processes and research papers, and his knowledge base is fantastic. When you have somebody who's brilliant and actually cares about other people, you get a unique combination. I think that allows for our progress."
About the Author