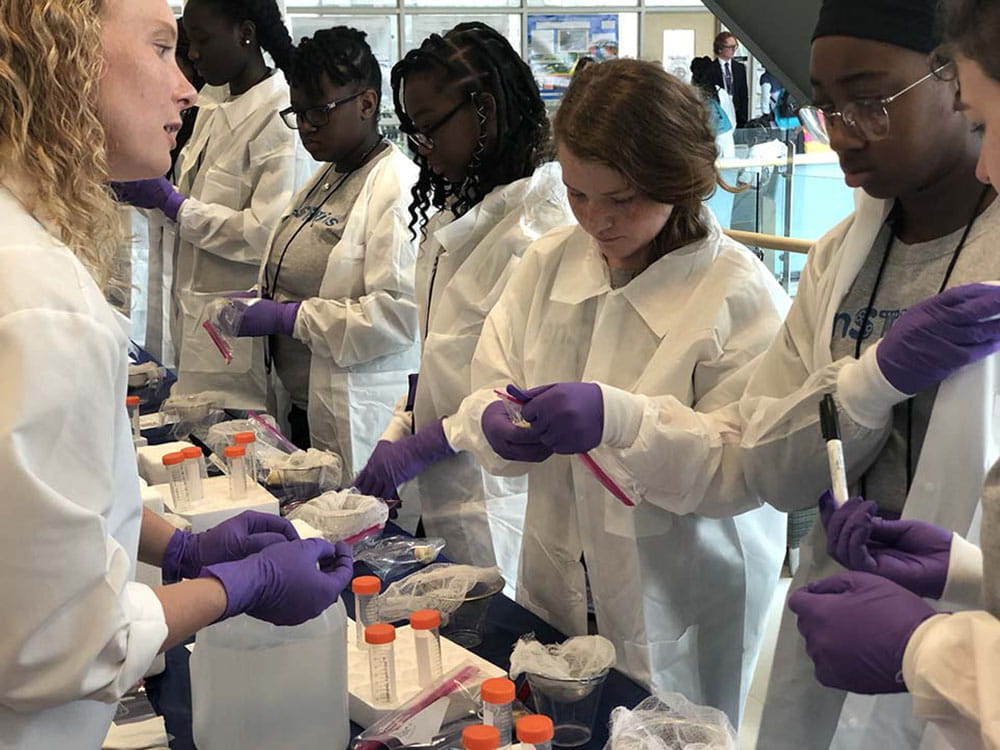 Research is fun. 
That's the message that Carol Feghali-Bostwick, Ph.D., and devoted women volunteers wanted girls to get at a recent STEM-oriented camp at the College of Charleston. STEM stands for science, technology, engineering and math.
And the girls did have fun. Outfitted with lab coats and gloves, they mashed up bananas into a simple solution of materials found around the house and extracted the banana DNA. They even got a banana DNA-extraction recipe to take home so they could replicate the experiment with family and friends.
The free three-day camp, called Girls Day Out, included participation from many STEM-oriented industries around the Lowcountry, including Bosch, Boeing, Nucor, Google and the Space and Naval Warfare Systems Command (SPAWAR). 
Because of Charleston's mix of industries, most people here tend to think first of technology and engineering when they think STEM, but the MUSC group from the Women Scholars Initiative, College of Medicine Center for ARROWS and SCTR showed the girls that science is a viable career as well. Not only did the girls get to do a hands-on activity, but they got to meet women scientists – every person leading the activity was a woman, each with a Ph.D. 
Feghali-Bostwick, the SmartState and Kitty Trask Holt endowed chair and Professor of Medicine in the Division of Rheumatology and Immunology, said she wants girls to see research science as an attainable goal. Girls Day Out was geared toward girls entering eighth and ninth grades –the ages when interest in science tends to drop off for girls, according to studies. 
"That's the age where they start questioning if they can do it," said Feghali-Bostwick, who also serves as chair of the Women Scholars Initiative. 
She credited the new WSI community outreach committee, chaired by Kristine DeLeon-Pennell, Ph.D., with organizing the banana DNA extraction activity. 
Lindsay McDonald, Ph.D.; Lillianne Harris Wright, Ph.D.; Iuliia Polina, Ph.D.; Diana Lee-Chavarria, education program manager at SCTR Institute;, and Rachel Simmons, WSI and Center for ARROWS program coordinator, worked the event while Daria Ilatovskaya, Ph.D., also helped with planning. 
The girls got to take home some MUSC swag, including cute pens with a hashtag that reminds them to #STEMlikeagirl.
The committee wants to do more to introduce girls to research science. Talks are in progress about developing programming with the Girl Scouts or in local schools.
About the Author