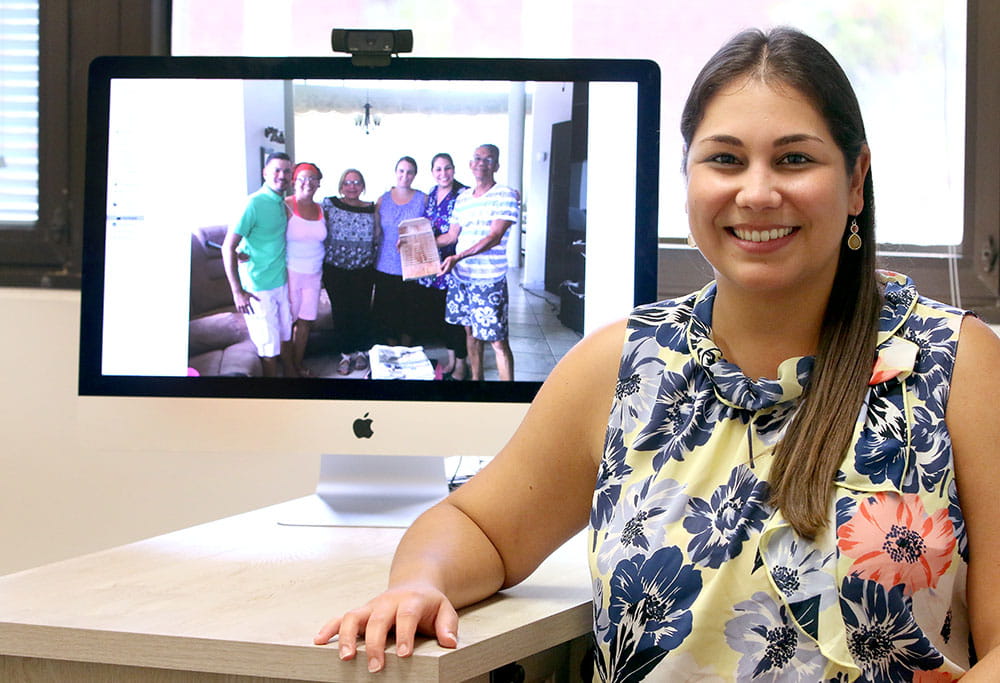 It was early in the morning of September 20, 2017, exactly a year ago. Rosaura Orengo-Aguayo, an assistant professor in the Department of Psychiatry and Behavioral Sciences at the Medical University of South Carolina, was trying to reach her family in Puerto Rico but couldn't get through. It would be two days before she had word of them. When they did connect, she learned that Hurricane Maria wreaked havoc on the island where she grew up. Puerto Rico's governor says the storm led to almost 3,000 deaths. 
Orengo-Aguayo's family survived, but her father's psychiatry clinic was destroyed and her in-laws' house was badly damaged. And her family, along with everyone else in Puerto Rico, dealt with the storm's other effects. Electricity was out, roads were a mess and schools were closed. Even now, traffic lights don't work in most places. 
 The storm's first anniversary is an emotional time. "Yesterday, I talked to my mom and we were thinking about the days that led to the hurricane," Orengo-Aguayo said. "She was telling me last year at this time, she was in a line trying to get some water, thinking this would be like Irma that kind of flew by. She sounded a little bit anxious. It's hard time."
But the past year has also been transformative for Orengo-Aguayo. "I feel this year has been a crash course. I've become a disaster psychologist."
Orengo-Aguayo was already a trauma specialist at the National Crime Victims Research and Treatment Center at MUSC. Maria turned her into a disaster expert. "You follow the need. If you're a servant at heart, that opens doors."
The first door opened right after Maria hit. A friend in Puerto Rico got in touch with Orengo-Aguayo and told her the island's education secretary wanted a plan to help teachers and students recover from the storm. It was perfect timing. Her team at MUSC already had a $1.6 million trauma treatment grant from the federal government to help kids who otherwise wouldn't get the help they need. 
The kids in Puerto Rico definitely fit the bill. Their island saw an increase in anxiety and depression and a spike in suicides after Maria. 
So Orengo-Aguayo and fellow psychologists Michael de Arellano and Regan Stewart hatched a plan to train teachers and other school employees in psychological first aid for themselves and their students. They, along with psychology intern Freddie Pastrana-Rivera, went to Puerto Rico less than a month after the storm struck to get to work.
The MUSC team also wanted to get a big-picture look at what the kids were going through, so they teamed up with the Puerto Rico Department of Education to survey more than 60,000 students about life during and after the storm. Newly-released results show that almost half of the children's houses had been damaged or destroyed. More than 30 percent had struggled to find food or water and thought they could have died. 
Next month, Orengo-Aguayo and her team will return to Puerto Rico to train school psychologists in how to do trauma-focused cognitive behavioral therapy. She said MUSC has been very supportive of their work in Puerto Rico. 
"What I've learned through this is there's a different way to blend academia with real world. I think a top-down approach doesn't work. But when you just say, 'We're here to help. What do you need?' and go from there, the floodgates open."
Orengo-Aguayo will also get a chance to see her family. Her mother, a pediatrician who takes care of kids from low income families, went right back to work after Maria. But it took her father months to get his psychiatry practice up and running again. And everyone is struggling to get insurance to help pay for what the storm did to their homes. 
When Hurricane Florence looked like it might head toward the Lowcountry last week, Orengo-Aguayo said she took it much more seriously than she would have before Maria. Now, she's counting the days till storm season is over. "I want the end of October to get here because that means no more hurricanes."