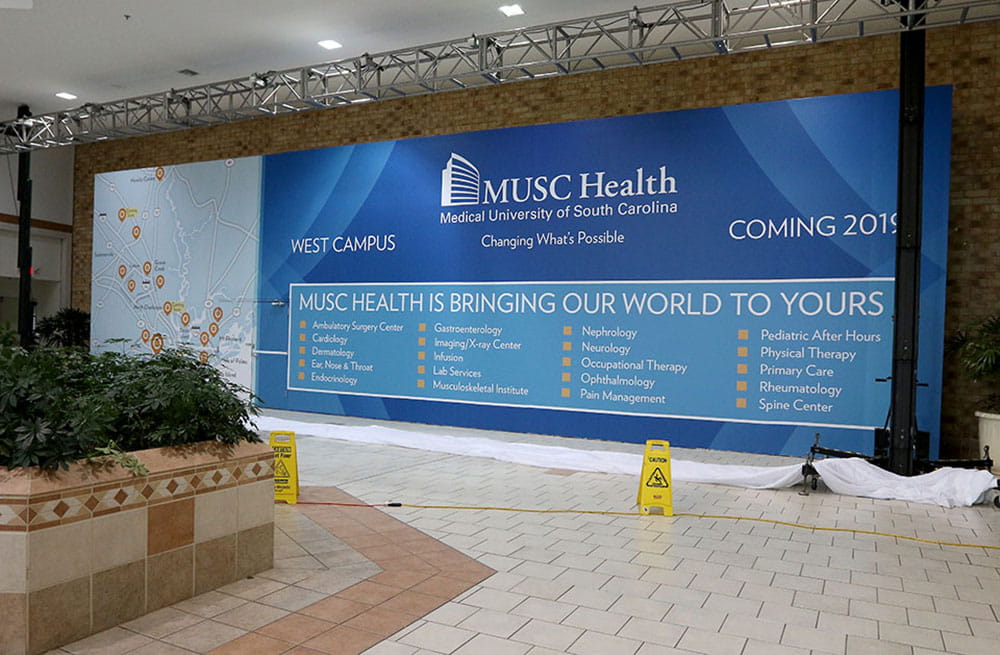 It's an overhaul designed to turn an aging mall into a thriving hub of activity in the West Ashley area of Charleston, South Carolina, and MUSC Health is helping lead the way. The Citadel Mall, which opened in the 1970s, is getting an ambitious 21st century makeover — including a new name. It will be called the Epic Center, and it will house a new MUSC Health campus.
"We've all got to say Epic Center ten times to get the old name out," said MUSC Health CEO Pat Cawleyat a ceremony inside the mall. Cawley, who is also vice president of health affairs at the Medical University of South Carolina, was there to showcase progress on what will become an MUSC Health site.
"Our cause for celebration today is threefold. First is the revitalization of the West Ashley community," Cawley said, to applause. 
"Second is the redevelopment of a mall into a health and wellness district. A vision for an aging mall that will become a community-based model for others to follow. And finally, to formally commence with our opening of the MUSC Health West Campus, which is going to open a little more than a year from now."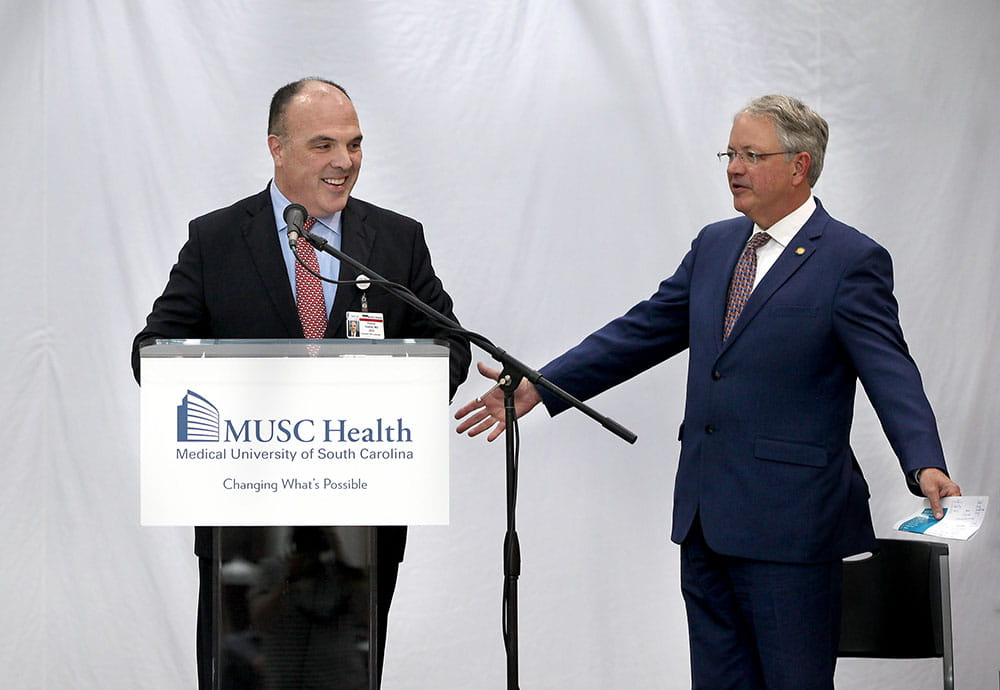 The MUSC Health West Campus will go where a J.C. Penney once stood. Today, construction workers instead of doctors performed their own kind of surgery, removing the remains of the store to make way for the mall-based medical complex.
"Envision that you need to see an orthopedic surgeon, get an X-ray, and even minor surgery. That will all be done on this campus," Cawley said. "If you need to see a primary care doctor; a dermatologist; a spine surgeon; a rheumatologist; an ear, nose and throat provider; you don't have to travel that far to get there. Why? Because we're transitioning the location of our highly specialized, technologically proficient care to be closer to home. We are part of your community."
The West Campus is part of a larger shift for MUSC Health. The goal is to offer care in more locations, so not everyone has to come to the downtown Charleston campus.
It's also part of a larger plan for Trademark Properties, which bought the Citadel Mall about a year and a half ago. The real estate services company's chief executive officer said his team knew they wanted MUSC Health to be a part of their plans for the property.
"We went knocking on the door to MUSC and said, 'Stop. We think we've got a game changer.' The five-star recruit in this area is MUSC," said Richard Davis, making a football comparison. "It's always been the largest employer and the most important employer in the city of Charleston."
The MUSC Health West Campus will offer the following services:
Ambulatory surgery center

Cardiology

Dermatology

Ear, nose and throat care

Endocrinology

Gastroenterology

Imaging center

Infusion

Lab services

Musculoskeletal Institute

Nephrology

Neurology

Occupational therapy

Ophthalmology

Pain management

Pediatric after hours

Physical therapy

Rheumatology

Spine Center
The Epic Center is planning for other non-traditional mall tenants as well, including a sports event space. "We think it's going to be epic," Davis said.