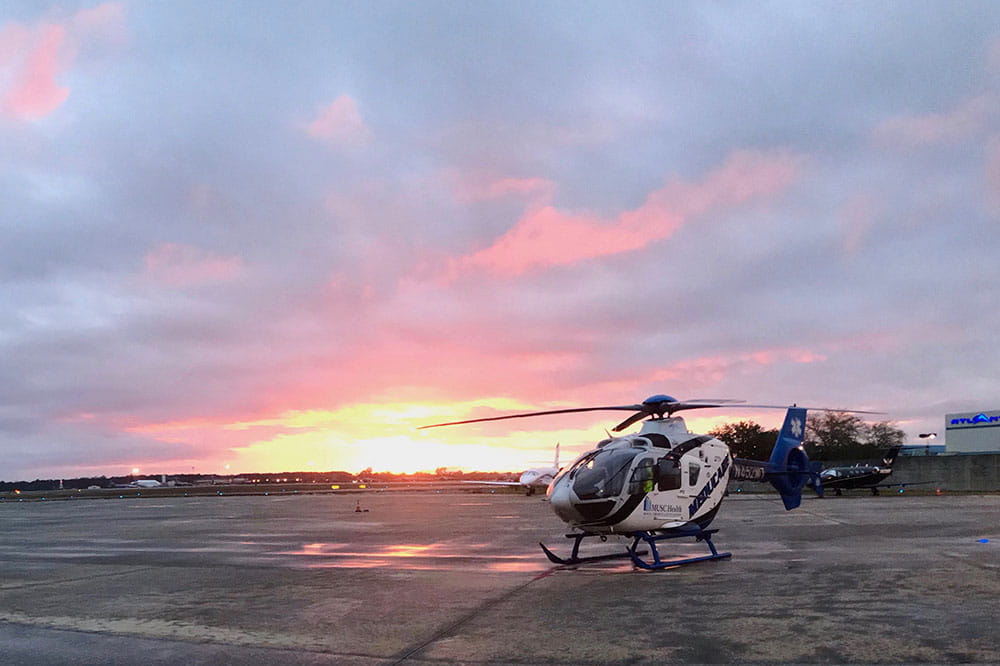 As parents, nothing could prepare them for a moment like this.
It's 5:02 p.m. on a Wednesday afternoon. A mother and father stand in a quiet parking lot in rural Hampton County. As they clutch one another, their gaze is fixed on the sky. Rising above, in streaks of electric blue and white, is a Eurocopter EC135 P2+ helicopter. Inside, a flight nurse, a respiratory therapist and a pilot have been entrusted with the life of their 6-year-old son, who is being evacuated to MUSC Children's Hospital with life-threatening symptoms. 
"I can't even begin to imagine what mom and dad are going through when we leave with their child," explains MUSC pediatric flight nurse Pam Burke, RN. "But in the moment, I'm not focused on that. I'm just thinking, 'What do I need to do to help this kid?'"
Inside the well-designed, yet tight interior of the aircraft, Burke and registered respiratory therapist Jeff Kaiser administer care for the boy, who is having acute respiratory problems. If untreated, they could possibly lead to cardiac arrest – and death. They give him nebulized albuterol through a face mask and carefully monitor his vital signs during the 80-mile flight. Sitting just a few feet away, on the other side of a solid partition, is pilot Mike Ramsey. These three – along with the staff back at MUSC Children's Hospital – are this child's best shot at survival.
As the helicopter becomes smaller on the horizon, the boy's parents wipe away their tears. They climb into their car to make the drive to Charleston, not knowing if they'll ever seen their son alive again. 
It will be the longest two hours of their lives.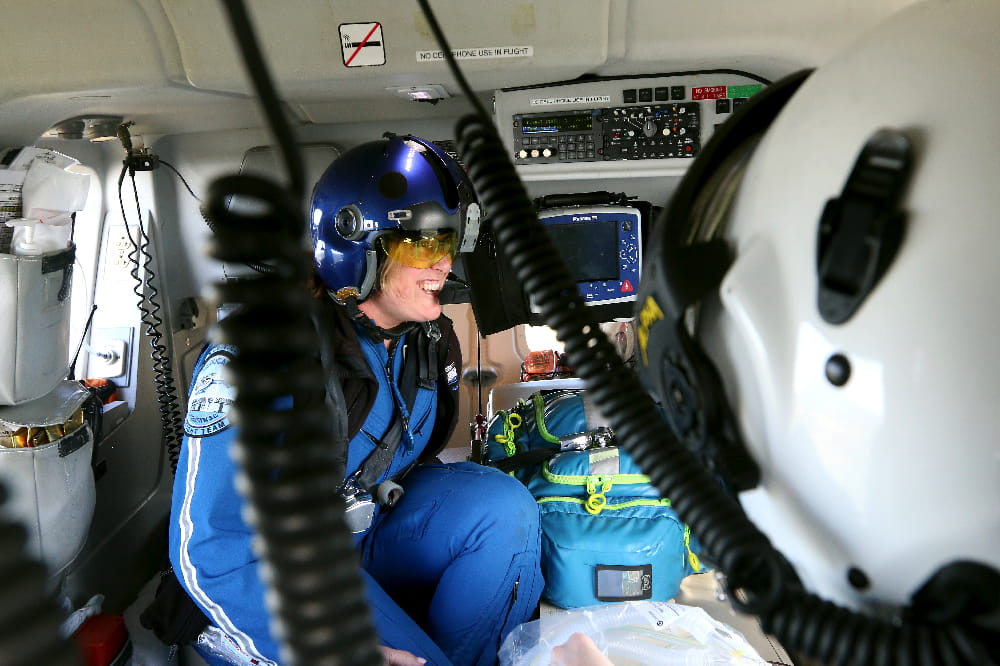 No days off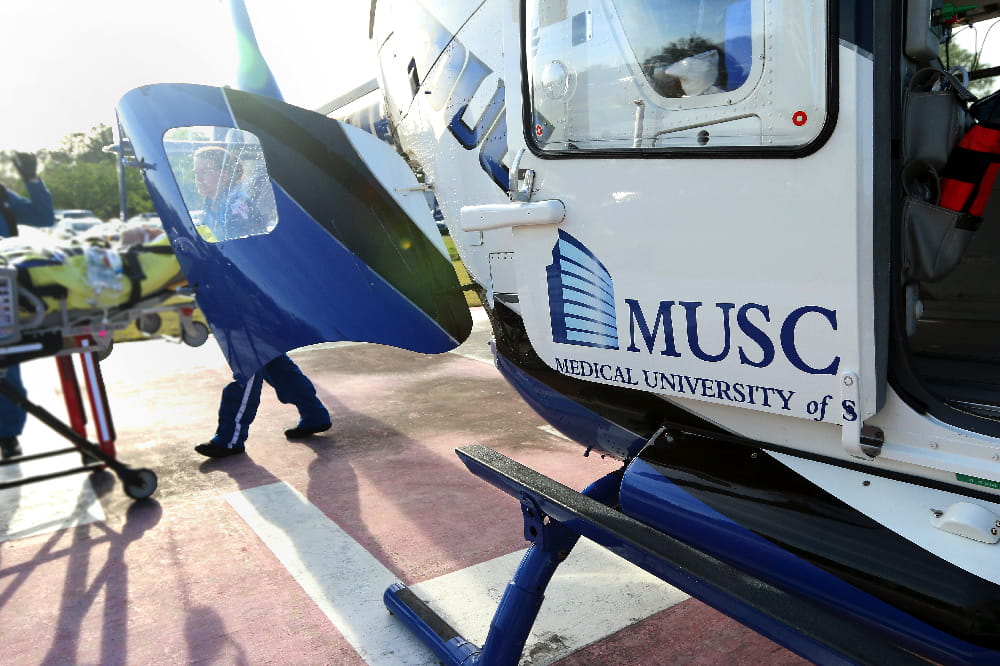 In 1984, the Department of Health and Environmental Control designated MUSC the state's first Level 1 trauma center qualified to treat the most critically ill or seriously injured patients. That achievement inspired leadership to think of more innovative ways to serve its patients. It was that mindset that led to the idea of MEDUCARE: MUSC's emergency response team available for patients in need of urgent medical intervention because of severe, life-threatening or potentially disabling conditions. Whether by ambulance or helicopter, MEDUCARE – in a partnership with Med-Trans, a Texas-based national air medical provider – is at the ready, 24 hours a day, seven days a week, serving the entire state of South Carolina and parts of both Georgia and North Carolina. 
"If we had one of those neon 'OPEN' signs, it would have burned out a long time ago," said Junius Frederick, Med-Trans program director. "There is no such thing as a day off for us."
The MEDUCARE team consists of 26 members – a combination of nurses, medics, therapists and pilots – broken into adult and pediatric teams. On any given shift, mission control at Charleston International Airport general aviation will consist of upward of 10 people. A row of four brown leather chairs in the break room is a popular hangout.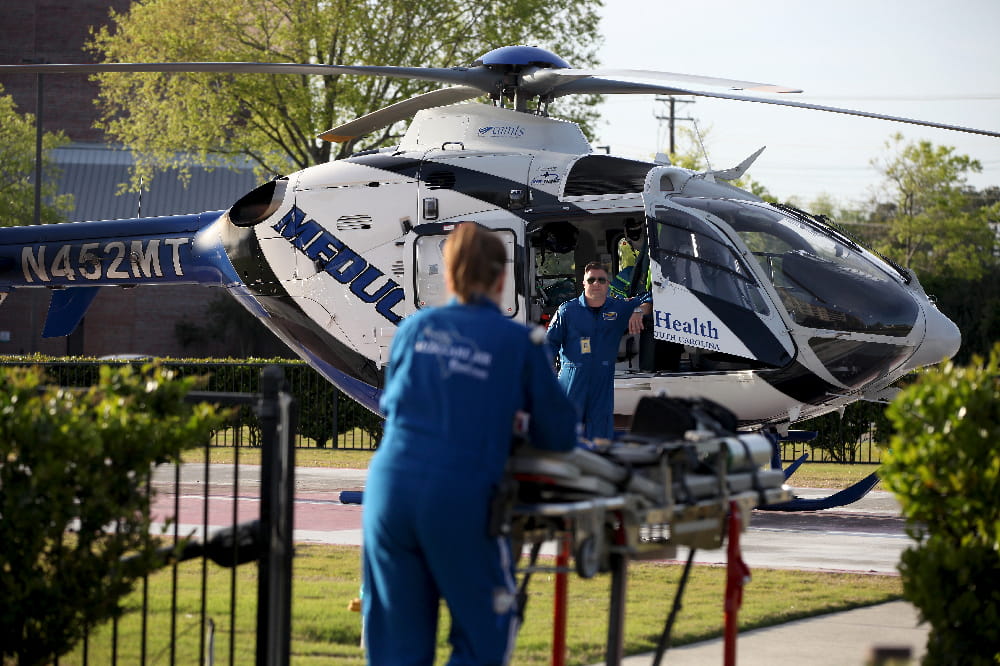 "There are some people here that I trust more than my family," said flight paramedic Abby Detloff, holding a stack of medical charts she's about to review. The mood is laidback and quiet now, but at any moment a call can come in, and the team can be up in the air in less than five minutes. 
"There's no in-between with this job," flight nurse Alice Hulett said with a wry smile. "It's either nothing or full-on." 
Some days are quiet. Some days they might respond to a half-dozen calls. 
"I just have to remind myself when I'm bored that that's a good thing," Detloff added. "It means nobody is dying."
At 3:26 p.m., a call comes in over the radio. It's the boy. 
It's go time.
Headed in the right direction
As the outskirts of Walterboro pass below at 130 miles an hour, Ramsey radios to the control tower that their craft, MEDUCARE 1, has an ETA of 19 minutes. In the rear, Burke checks her notes on the boy. She exchanges a quick glance with Kaiser and then, through the microphones integrated into their flight helmets, asks a series of rapid-fire questions. Kaiser, as if he knew what she was going to ask before she does, immediately adjusts a valve, checks the patient's vitals and gives a slight nod to Burke. Although his heart rate is higher than they'd like, he is stabilizing. 
Though cautiously optimistic, Burke and Kaiser both know that the less time the patient is out of the hospital, the higher his survival rate.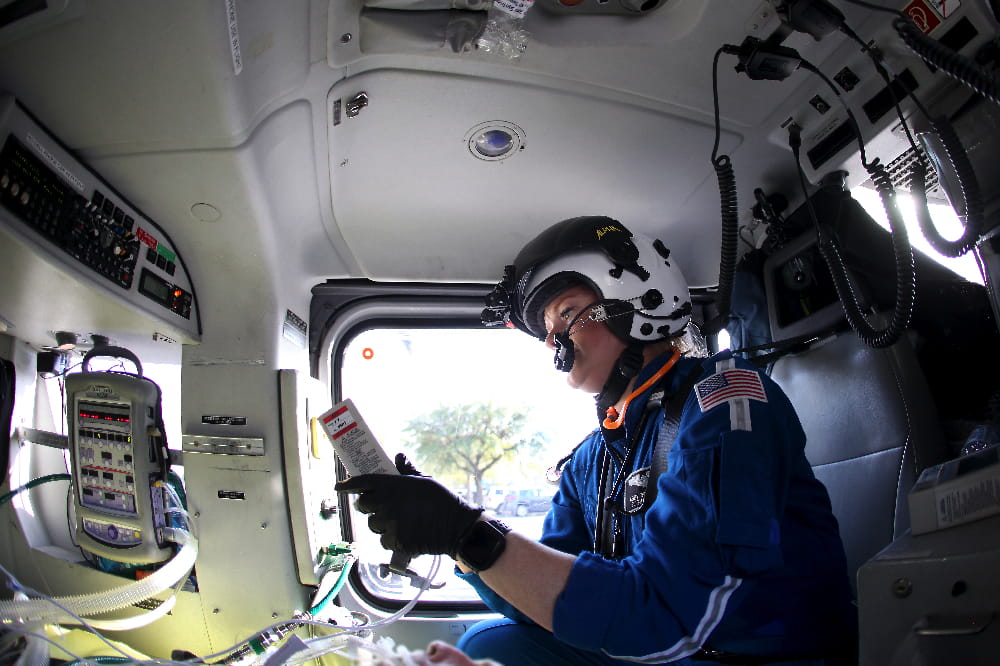 I can't even begin to imagine what mom and dad are going through when we leave with their child. But in the moment, I'm not focused on that. I'm just thinking, 'What do I need to do to help this kid?"

— MUSC pediatric flight nurse Pam Burke, RN
Back on the ground at MUSC Health Children's Hospital, Mark Daniell, RN, operations coordinator of the MEDUCARE pediatric flight team reiterates that sentiment. "Sure, we want these patients in front of our doctors as fast as possible, but the helicopter allows us to initiate MUSC care before they even get here. Sometimes they're too sick to come to the ICU, so this way we're able to send the ICU to the them."
The multi-million dollar aircraft is indeed a marvel. Inside the twin-engine helicopter, which features two sliding side doors and a rear two-door hatch for loading and unloading the patient, are many of the same pieces of equipment you'd find in an emergency room. In fact, MEDUCARE 1 can accommodate almost any type of critical care ICU patient. State-of-the-art technology allows for the continued monitoring of a patient, laboratory tests and administration of medications not offered by traditional EMS – all in-flight.
From a safety standpoint, the craft is in constant communication with the ground-based team and is followed and tracked by GPS. Every three seconds, the aircraft automatically updates dispatch with its current location, altitude and speed. It is equipped with a military-grade ground terrain avoidance system and air-to-air radar. They can even fly into some of the trickiest spots when it's dark, thanks to night vision goggles, which they use during all night operations. 
'Air' apparent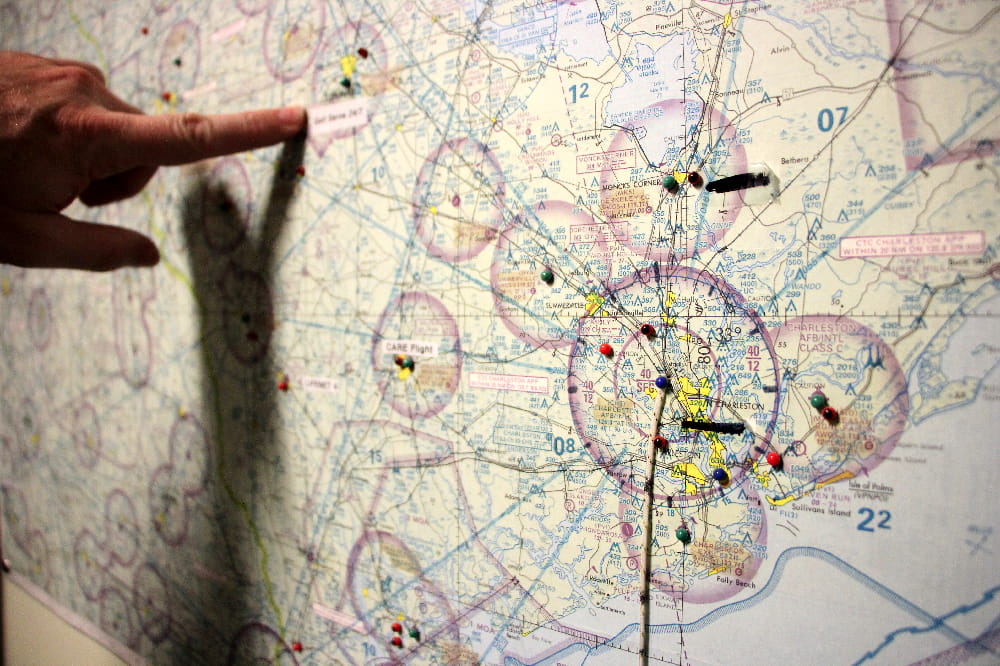 It was late one afternoon when a call came into MEDUCARE. A small airplane had crashed in Summerville after its engine failed, and the wings had been ripped from the plane. The pilot, suffering from respiratory distress and multiple trauma, was still trapped inside the wreckage. 
The team boarded the helicopter and within just a few minutes were on the scene, providing critical care to the pilot. They saved his life.
"Look, our staff is tremendous, but there's no doubt speed is one of our greatest assets," Daniell said. 
Frederick echoes that sentiment. "In a world where time is money, the stakes are even higher for us. Time is life. Being able to get to somebody in the least amount of time gives us the best chance to save their life."
Henry Ward, regional strategic operations director for Med-Trans, remembers an instance when the crew had to land on the beach at Kiawah Island. The patient was in full cardiac arrest, but because they were able to get to him so quickly, he fully recovered.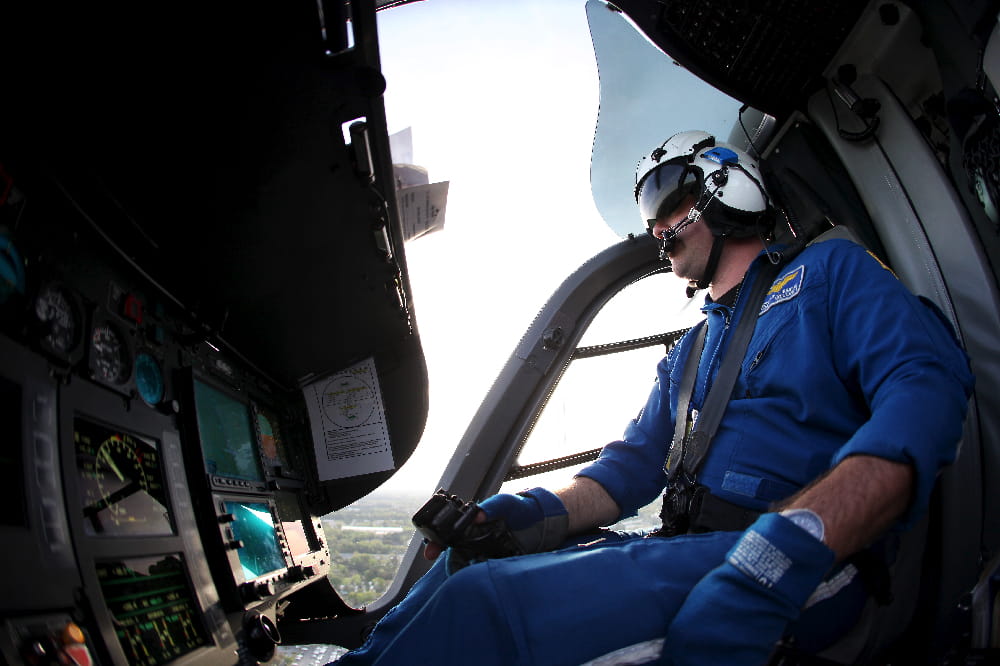 Not to mention, the hundreds of times when, due to poor visibility, MEDUCARE was the only option available to get to a patient, thanks to something known as its IFR (instrument flight rules) capability. In essence, because of the advanced instrumentation in the craft coupled with the skill of the pilots flying it, MEDUCARE is able to take off and land in much lower visibility than most other helicopters.
"There are instances when you might not be able to see the end of the runway, but we can go because of IFR," Ramsey said.
Another shot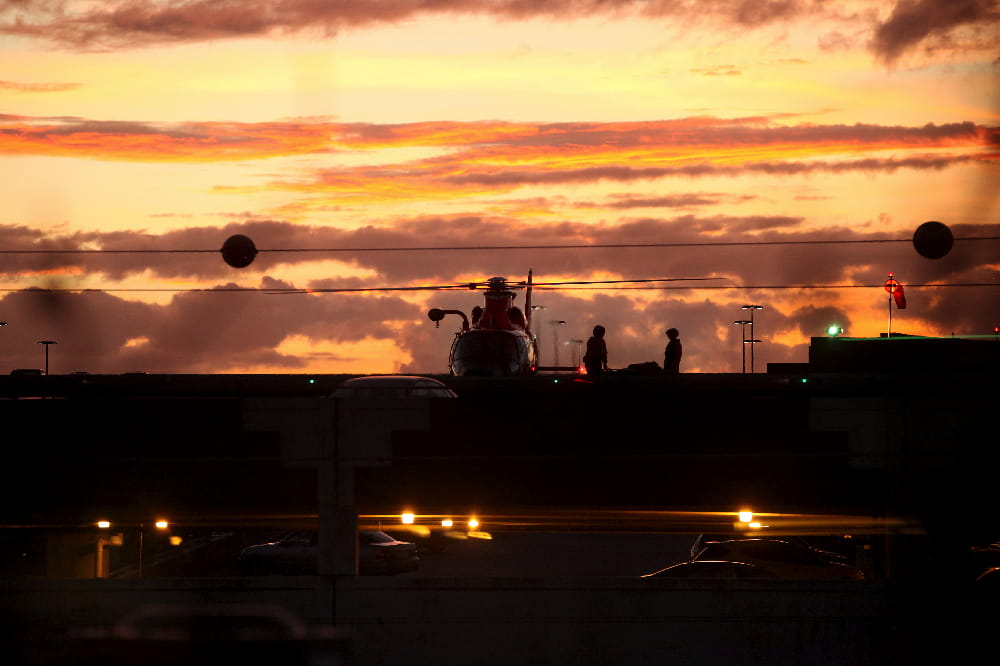 The boy lived.
After Ramsey safely landed the helicopter on the MUSC helipad atop the parking structure at the corner of Cannon and President streets, Burke and Kaiser lifted him out of the craft and wheeled him on a rolling gurney down the ramp to the ambulance that was waiting to drive him the short distance to MUSC Health Children's Hospital.
Inside the pediatric intensive care unit, doctors and nurses took x-rays to check for the presence of pneumonia. Because asthma was suspected to be the root cause of his breathing difficulty, they knew they needed to have a look at his lungs. Fortunately, there were no signs of the illness. They determined it was a viral illness that had set him off. From there, a treatment plan was developed and administered, and the boy quickly began to stabilize.
The next morning, he was sent to the general pediatrics floor. And just three days after being emergency airlifted from Hampton County to Charleston, the boy got to go home with his parents.
Relieved and thankful, this time, mom and dad's car ride was a totally different experience.