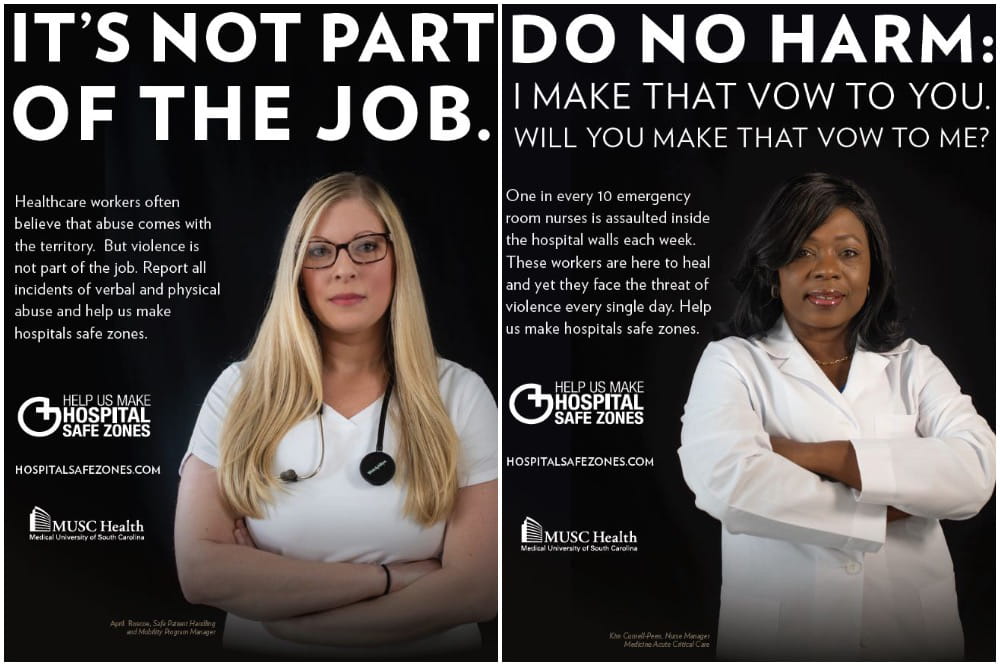 Punched, kicked, scratched, choked – that's not just a night's work for a UFC fighter but for many health care workers across the U.S. 
Health care workers deal with four times the rate of workplace violence as workers in the private sector, according to the U.S. Occupational Safety and Health Administration. A 2016 OSHA report states that health care workers suffer half of all workplace assaults.

"For a long time, people have thought about patient safety. But rarely did we think about taking care of our own," said Elizabeth Mack, M.D., division chief of pediatric critical care medicine for MUSC Children's Health.

However, that is now changing, with divisions within both MUSC Children's Health and MUSC Health working on programs to improve employee safety.

MUSC Health is rolling out new workplace violence initiatives in collaboration with the South Carolina Hospital Association's Hospital Safe Zones campaign and Solutions for Patient Safety. Employees will begin to see posters in their workspaces featuring MUSC Health CEO Dr. Patrick Cawley; 8 West nurse manager Kim Curnell-Pean; and April Roscoe, manager of the safe patient handling and mobility program.

"You report, we support," the poster of Cawley declares.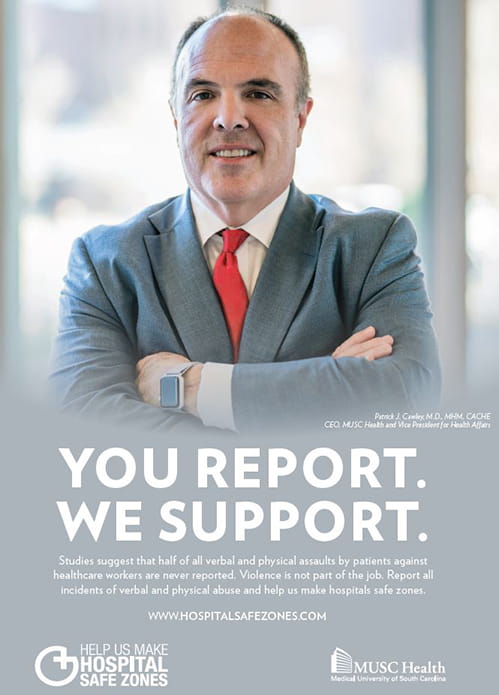 Valarie Bell Wright, Workplace Violence Committee communication lead at MUSC Health, said the hospital wants to raise awareness among staff that violence is not OK, reduce the violence and encourage workers to report incidents via one of the hospital's three reporting mechanisms: public safety, hospital security or an online reporting form on a dedicated workplace violence page on the employee intranet.

Patients commit most acts of violence in health care settings, although staff, family members of patients and family members of health care workers can also be responsible, according to OSHA.

These conclusions are borne out in the types of incidents reported at MUSC Health. According to risk management, there were 133 incidents of workplace violence at MUSC Health in 2018. The majority – 99 – were employee/patient incidents. Twenty incidents occurred between patients. The remaining incidents were in the single digits in each category and included interactions amongst visitors, staff, employee family members and outside parties.

A workplace violence training program team began offering workshops in April 2018 to help employees understand how to defuse tense situations. Cynthia Cathcart, R.N., with the Nursing Professional Development Department, said the program really took off in March, after Cawley talked about workplace violence and de-escalation in one of his presentations. She emailed him to ask if she could use part of his presentation.

"He emailed me back in two minutes and said, 'Please, use whatever you need to get the word out,'" she said.

Cathcart said the workshops usually train groups from a single unit. University actors re-enact scenarios that actually happened on that unit with participation from one or two employees, and then the group dissects what the employees did well and what they could improve. Word choice, such as framing a decision or request as the result of hospital policy rather than a nurse's personal preference, can help avoid setting up a patient versus staff situation, Cathcart explained.

She also encourages everyone on a unit to attend a training, including secretaries and patient care technicians, as they're often the first face seen by patients and families.

So far, more than 500 people have gone through the training, with the program on track to reach 750 people by September.

Even as this training has made progress, the issue of hospital safety has made headlines in South Carolina after two hospital shootings in April – one in Orangeburg and one in Clinton – and when a Roper Hospital patient managed to grab a stun gun from a security guard last month and use it on a nurse.

"It's local, and it's hitting home," Cathcart said. "We hear about people in Massachusetts or Maryland or Wisconsin, and we think, 'Well that's not us.' But when it's Roper or Orangeburg, then it is us."

Some incidents in the Children's Hospital that left employees injured hit home for Mack, too.

"We've got little people who can get pretty feisty, especially kids who have brain injuries or who have had horrific experiences in their childhood, and all they know how to do is fight and attack," she said.  
"It's helpful to staff to let them know we value them, too. We have so much about patient safety – and we certainly haven't perfected that – but we haven't really conveyed, 'We value you and your safety too.'"


Dr. Elizabeth Mack
MUSC Children's Health is part of a consortium of more than 140 children's hospitals called Solutions for Patient Safety. The group seeks to eliminate preventable harm, like infections or medication errors. But the collaborative is also looking at the number of days that staff members have to take time off or work light duty because of injury due to workplace violence; slips, trips and falls; and overexertion injuries.

One of the ideas floated in the network was to use a specialized team model, similar to a code team or brain attack team, to create a behavioral event response team, or BERT.

Mack took the idea and decided to pilot such a team in the inpatient area of the Children's Hospital. The PI-BERT, or pediatric inpatient behavioral event response team, rolled out on May 1 and handled its first call that same day.

The team includes a chaplain, security officer, hospital supervisor and both a pediatric critical care doctor and nurse. But all those people don't charge into the patient's room at once, Mack said. Their goal is to de-escalate the situation and use their collective experience to determine the best course of action.

"Is the best thing to walk away? Is the best thing to give medicine? Is the best thing to get the trigger out of the room?" Mack asked rhetorically, explaining that some patients might react poorly to a particular type of behavior or person after a bad past experience. The group also considers whether the patient needs other resources – perhaps palliative care, a child life specialist, an ethics consultation or psychiatry.

She said the hospital has also started asking patients and families screening questions regarding past violent behavior during the admissions process, with the goal to create an action plan ahead of time for patients who might become violent.

"It's helpful to staff to let them know we value them, too. We have so much about patient safety – and we certainly haven't perfected that – but we haven't really conveyed, 'We value you and your safety too,'" Mack said.

That's the message of the SCHA's Hospital Safe Zones campaign. Schipp Ames, vice president of communications, education and member services at SCHA, has heard stories of violence and abuse from his wife, a nurse. He said the SCHA is working to change a culture that for a long time has "considered that violence and some level of abuse was part of the job."

He added that it's time people realized that frontline health care workers can't be treated that way.

But, he noted, it can be difficult for health care workers to decide to report incidents.

"You've been taught all of your career to put the patient above yourself," he said. "Quite often, particularly if it's a mental health or behavioral health patient, that caretaker is so dedicated to that patient that they don't want to stigmatize that patient by reporting it."

Ames praised MUSC, the first large health system in the state to sign on, for supporting the initiative. A lot of hospitals are reluctant to acknowledge that this is an issue, he said, but part of the SCHA initiative is to standardize reporting so officials have a better idea of how many and what types of incidents are occurring.

Right now, Ames said, there isn't good data for health care workplace violence in South Carolina. Often, there isn't even good data within a single institution, because people make reports to different areas such as human resources, security or risk management, he explained.

In addition to gathering data, the SCHA is going to the South Carolina General Assembly, seeking to change the law to enhance the penalties for assault when the victim is a health care worker.

South Carolina is one of only three states without enhanced penalties for health care workers, according to a report in the New England Journal of Medicine. Eight states have enhanced penalties only for assaults against first responders and EMS workers.
Happening on Facebook
Latest Tweets
Tweets by MUSCatalystNews