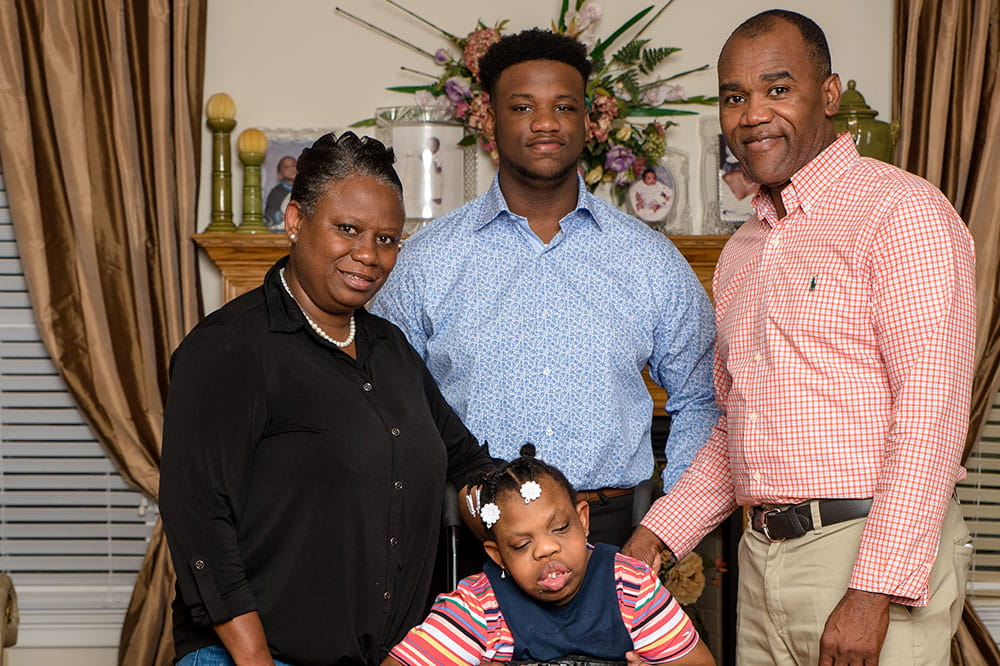 Christine Middleton feels a sense of ownership as she watches the dedication of the MUSC Shawn Jenkins Children's Hospital and Pearl Tourville Women's Pavilion. "I can sit back and say, 'Jazzie, we were part of this.'"
Jazzie, or Jasmine, is Middleton's 15-year-old daughter. Born with the rare genetic condition trisomy 11:20, a chromosome disorder, Jasmine uses a wheelchair and has ongoing health problems, including epilepsy. She's been in and out of the MUSC Children's Hospital since she was a baby.
So Middleton knows a lot about what works well in a hospital and what doesn't. There have been times she felt like she lived in one. "At one point, I really thought that we deserved a suite because we were in the hospital so often and for so long."
One of Jasmine's doctors asked Middleton to be part of the MUSC Children's Health Patient and Family Advisory Council, a team that gives hospital leaders feedback on everything from comfort concerns to potential safety issues.
When it came time to talk about what should go in the new hospital, the council was part of the process. Twenty-six people whose loved ones have been patients at the MUSC Children's Hospital sat down with architects, nurses and doctors to discuss the design.
Middleton was one of them. She and her husband have logged a lot of hours on hospital room sofas to be by Jasmine's side, so making the rooms in the new hospital as comfy and family-friendly as possible was a priority. "We've never left our child in the hospital by herself. She really can't sleep by herself. She needs somebody with her at all times in case she has a seizure."
Thanks to the patient and family council's input, the new hospital's patient rooms are at least 80% bigger than in the current hospital. The furniture in the kids' rooms is more comfortable, too. It's better suited to overnight stays. And families will have access to kitchens, places to wash and dry clothes, showers and a cafeteria that's centrally located so they're always close to their kids.
Middleton also recommended that the new hospital make room for wheelchairs everywhere. "When you go into an exam room, it needs to be able to accommodate a wheelchair. Same thing if you're in a waiting area – if there are several people in wheelchairs, they all need enough space to fit comfortably."
And she told the planners the new hospital needs to help parents take care of children with special needs as they grow up. "They have all those changing tables around the old hospital, but what do you do for a child who's over 50 pounds? You can't put them on a changing table. I did it one time in the dental clinic, and the whole thing collapsed on me."
She and her fellow council members didn't hold back. They wanted to make the new hospital as great as possible, not only for themselves but also for the families who will need it in the future. "It feels really good to be a part of the process, because it enhances service for all involved, and to see it come to fruition makes you feel really good. I think it's going to be a great improvement."
The Shawn Jenkins Children's Hospital and Pearl Tourville Women's Pavilion will open in October.
Suggest a Story
Have an idea for MUSC Catalyst News? Contact our editorial team and let us know.