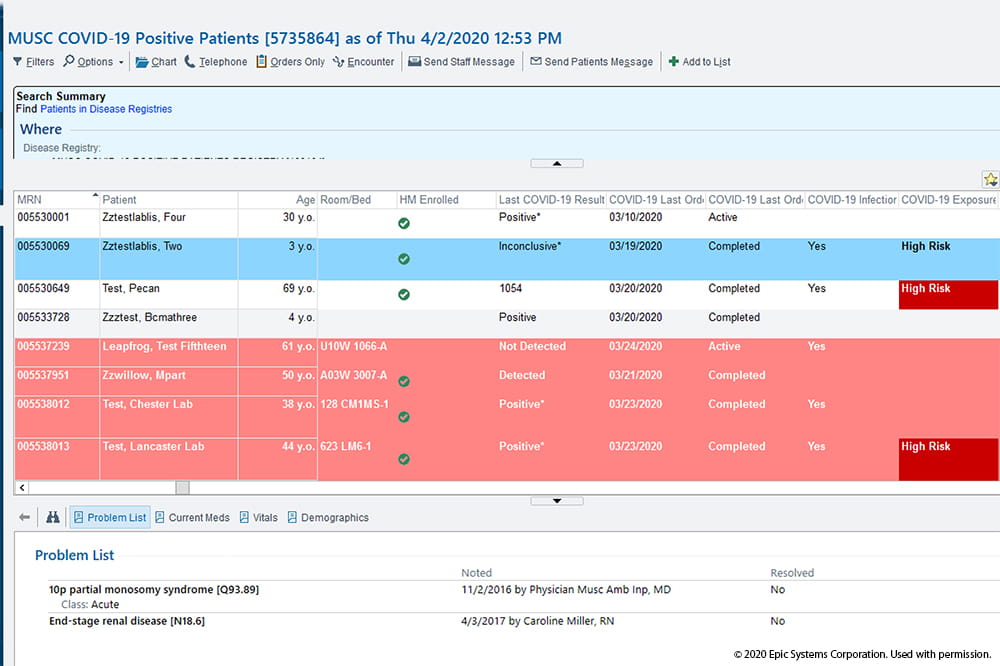 Much of the emphasis in the news about the coronavirus pandemic has centered around testing, with less about what happens after the test. For South Carolina patients, medical oversight doesn't end with a positive result. 
Since March 30, MUSC Health has been offering patients who were tested through its hospital system the opportunity to enroll in a free monitoring service via MyChart, the online patient portal that allows patients to access their medical records and billing statements.

As of April 7, 193 patients have been contacted about the program, and 96 have chosen to enroll, said Emily Warr, R.N., director of operations for the Center for Telehealth.

"It's going well overall. The patients seem to genuinely appreciate the support," Warr said.

On the telehealth side of the screen, nurses can see a list of patients who've tested positive for COVID-19, including if they are considered high risk because of age or underlying health conditions.

On the patient side of the screen, patients get a daily survey with specific questions about how they feel, including their shortness of breath in various scenarios.

Certain answers trigger an alert for a nurse to take a closer look at the medical record and possibly follow up with a phone call to the patient. Warr said that in this first week of use, the nurses have already made a few follow-up calls, and twice, cases were escalated to a doctor.
Warr said she's pulling staff from other telehealth responsibilities to manage the coronavirus patients. If the workload becomes too much, she'll train nurses from other areas to join the effort. Luckily, she said, leaders in other areas have been forthcoming with offers of workforce assistance.

It took about three and a half weeks and five analysts to create this new feature in MyChart, said Bryan "Buck" Rogers, director of Epic Research Operations and Integrations within the Biomedical Informatics Center at the Medical University of South Carolina. 
His group typically builds applications within Epic, MUSC Health's electronic health record, that are intended to help scientists collect and analyze data for research studies. In this case, team members jumped in to help with clinical operations.
Leslie Lenert, M.D., director of the Biomedical Informatics Center, said the group has appreciated the opportunity to offer aid.

"It's been a good way for people to really make a difference when they might have been distracted," he said. "We are trying to do our part, and we hope we can be helpful to the brave clinicians who are out there on the frontlines."

Also in development is a cell phone app for people who don't have or don't wish to use MyChart.
Happening on Facebook
Latest Tweets
Tweets by MUSCatalystNews
Get the Latest MUSC News
Get more stories about what's happening at MUSC, delivered straight to your inbox.