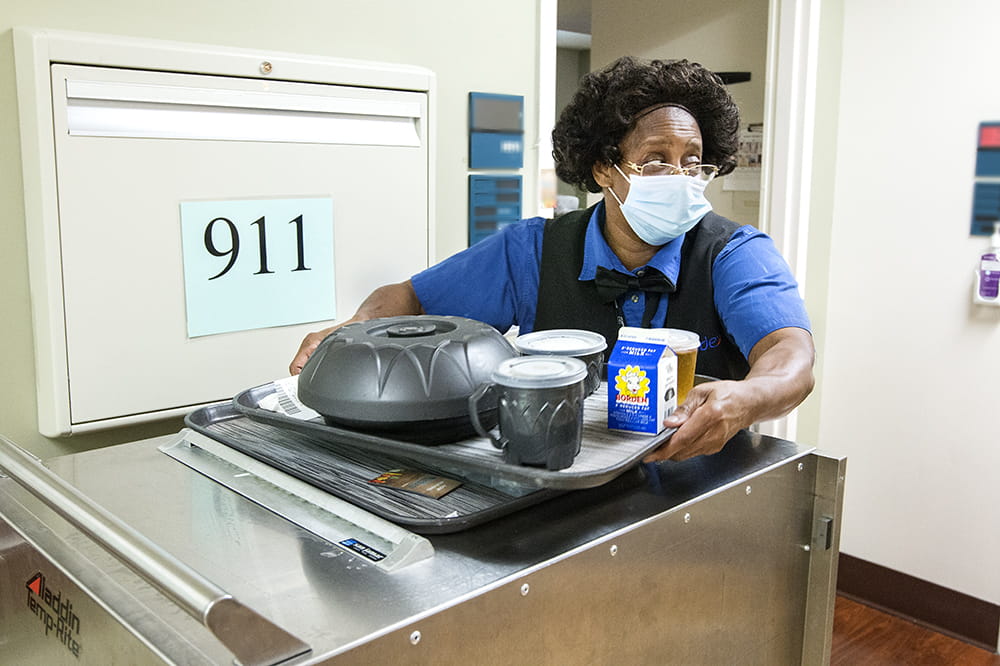 Cheerfully greeting one and all as she zips past them, Clarissa Dwight expertly navigates the back elevators and hallways of University Hospital on the Medical University of South Carolina's Charleston campus. 
She doesn't have time to dilly-dally. She's bringing food – and a smile – to patients, just as she has since 1981. Through hurricanes, floods and now a pandemic, Dwight has shown up to work as a hostess, one of the people who delivers food from the kitchen to patient rooms on demand.

"I love my job. I'm a people person. I love my patients," she says.

Dwight is just one of the many Sodexo food service workers who have continued to work during the coronavirus pandemic, showing up at a hospital – a place that many would avoid at all costs during these times – to ensure that both patients and staff are fed.

"They knock it down every day," says Jolene Love-Hubbard, MUSC Health-Sodexo general manager, of her staff. She oversees food service in University Hospital, Rutledge Tower, Hollings Cancer Center and the Institute of Psychiatry.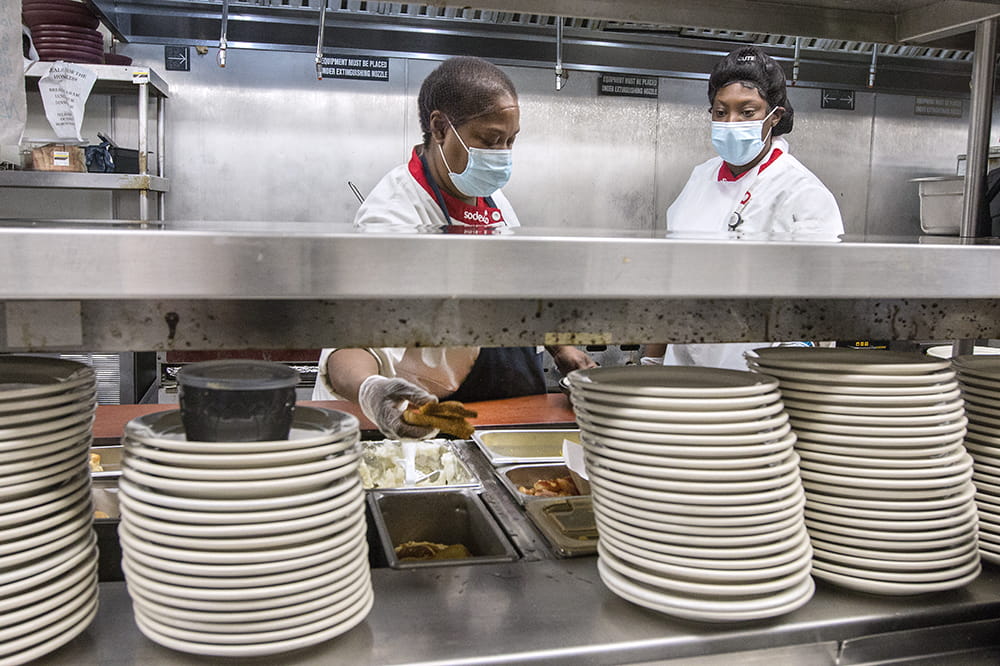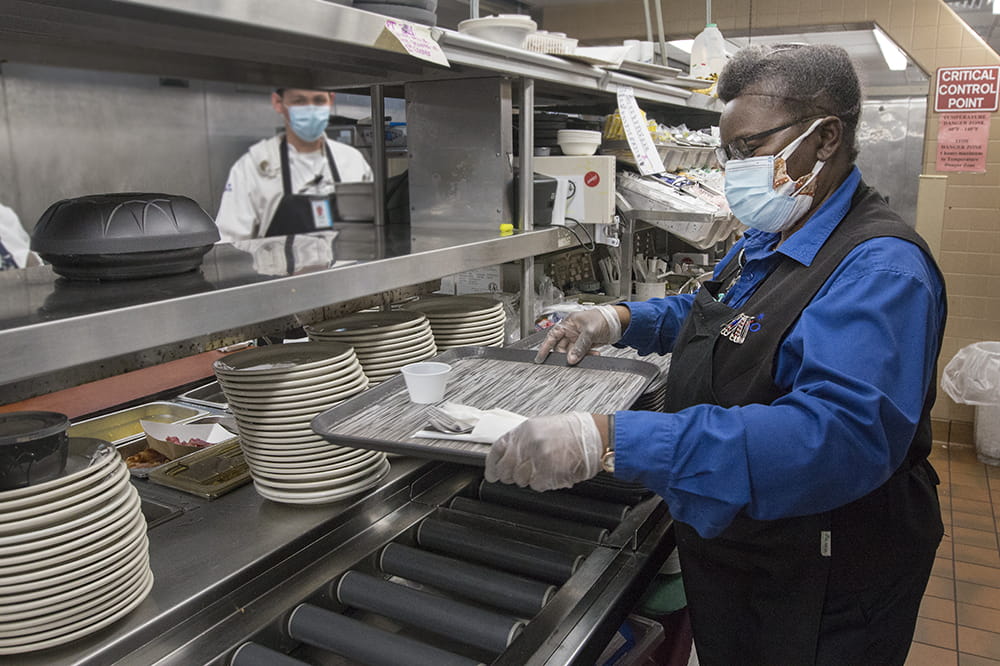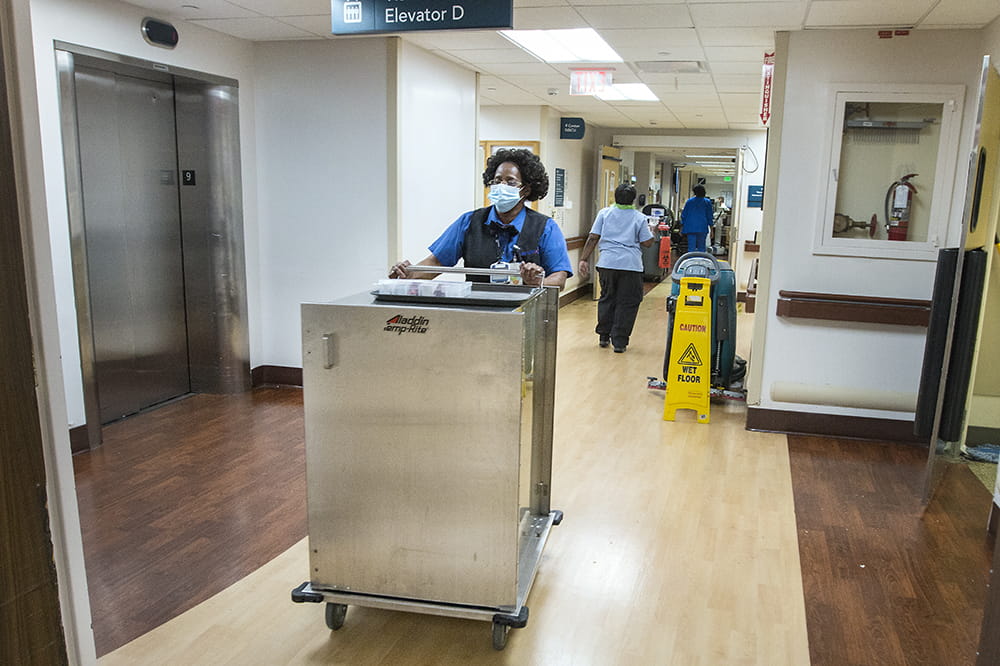 Love-Hubbard came to MUSC Health a year ago after a career serving meals to Marines. She loves the challenge of working in a new food service environment.

Food is central to someone's impression of a place, and that's even truer in a hospital, where food is one of the few things that patients can control, she said. They can't control disease or trauma or how their body responds to medicine, but they can pick up the phone and order off the hospital's room service style menu – and the coffee had better be hot and the bacon just the right amount of crispy.

In February, before children's and maternity services moved to the MUSC Shawn Jenkins Children's Hospital and Pearl Tourville Women's Pavilion and before the pandemic, her crew served an average of 700 patient meals each day. Now the average is slightly less than 400.

That meal count doesn't include food served to staff and visitors in the cafeterias. Separate lines within the kitchen prepare food for the two realms.

Franklin Seabrook, patient line executive chef, said his main focus is on supporting the team and keeping up morale. Luckily, the kitchen stocked up early and hasn't had a problem with food shortages so far, said Seabrook, who got his start as an intern through Trident Technical College's culinary program.

There have been changes, though, particularly in the public cafeteria. Tables are pulled apart to discourage group seating. The self-serve salad bar is gone, replaced by a salad station where the customer requests ingredients while a food service employee assembles them. A new Groceries 2 Go feature allows employees to pick up common grocery items, like milk, bread, eggs and – yes – toilet paper, at a reduced price.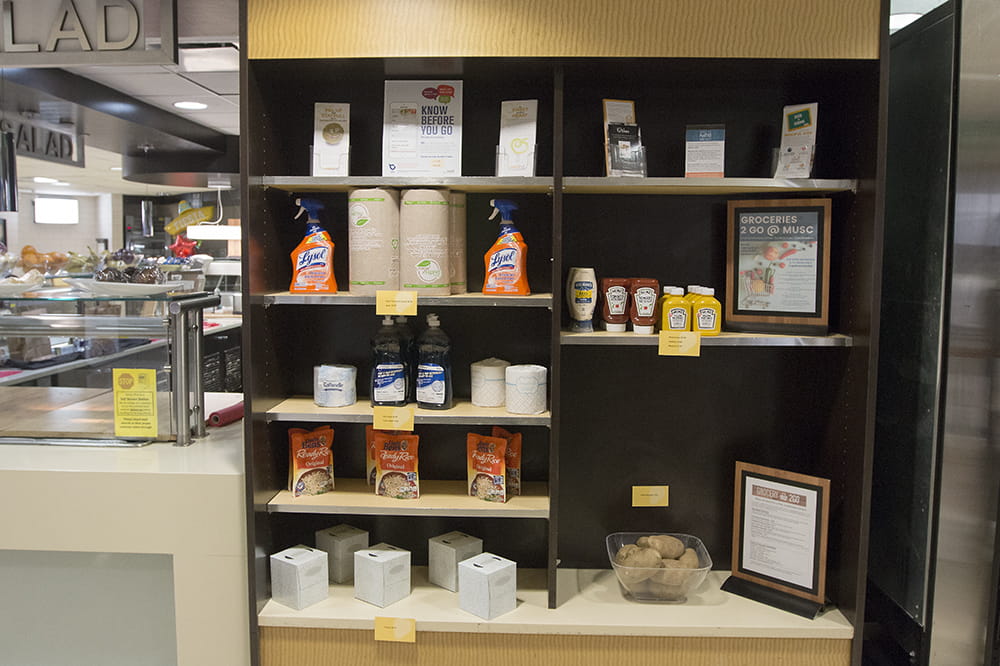 Executive chef Frederick Bennett said the hourly staff, like Dwight and cashier Francena Bell, are critical to the kitchen's ability to respond to customer desires. They're the ones who hear customer requests and opinions – like the recent positive response to Taco Tuesday – and pass the information along to the kitchen staff.

Bell was working the cash register in the main cafeteria on a recent slow-ish Wednesday morning. She's worked throughout the pandemic, though her kids didn't want her to go into the hospital.

"I just trust God," she said. Her sentiment echoes that of Dwight's, whose son also protested that she shouldn't work in the hospital.

"God's got my back, sweetie. It's OK," she told him. Besides, she added, "I've got to pay my bills."

Retail operations manager Caroline Williams said she has only two cashiers per shift now, down from the usual six. The staff has been affected by temporary layoffs enacted in April in response to financial deficits caused by the pandemic, and the cafeteria just isn't as busy as it would be during normal times. There are few visitors, no students, no faculty on exchange from other institutions. Those who can are working from home. Those who are working in the hospital are in and out. Williams said her team is doing its best under difficult circumstances.

"I've got a really hardworking team right now," she said.

Love-Hubbard concurred. Hospital operations are a far cry from a Marine mess hall, but the staff has kept her straight as she's adjusted.

"It's a blessing to inherit a tenured staff," she said.
Happening on Facebook
Latest Tweets
Tweets by MUSCatalystNews