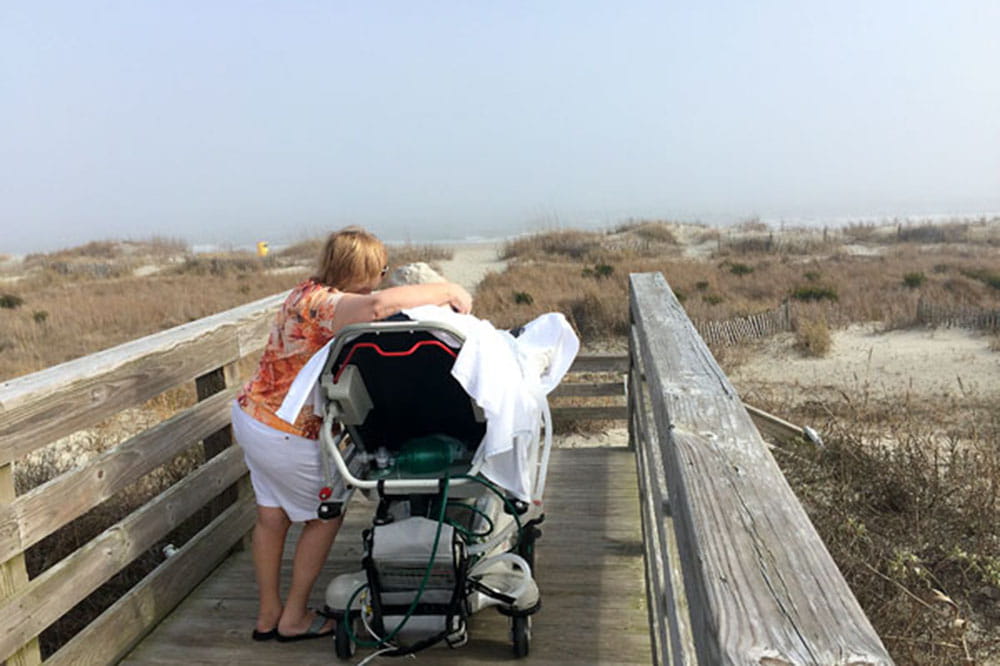 It's a day Medical University of South Carolina nurse Sarah Bucko will never forget. On March 4, she and about 50 other MUSC employees helped patient John Fitzpatrick see the ocean one last time with the new love in his life, Kathy Yanklowski. It was one of his final wishes.
"We waited until the last minute to tell him," Bucko said. She didn't want to disappoint him if the trip didn't work out.
The day got off to a chilly start, but that didn't deter anyone. They had worked too hard to get there, overcoming a series of obstacles. They had to figure out how to get Fitzpatrick from the Medical Intensive Care Unit on the sixth floor of the hospital to a borrowed beach house on the Isle of Palms. They also had to find a way to get enough portable oxygen tanks to the house to keep Fitzpatrick alive. He'd been on life support for months and couldn't live without a ventilator. Finally, they had to convince senior administrators at MUSC that the trip was a good idea.
The planning started about a month ago, which was six months after Fitzpatrick came to MUSC. He was a retiree from West Virginia who moved to Myrtle Beach to be near the ocean. One day at the beach he met Yanklowski, another retiree. Like him, she left her home in another state, in her case New York, and moved to South Carolina to live by the beach. They hit it off.
"He had nice legs," Yanklowski joked, "even though one was a little wobbly at the time."
Fitzpatrick's leg was hurting the day they met, but he wasn't worried about it, Yanklowski said. Neither was she. "I was like, it's just a pain in the leg."
As the couple got to know each other and fell in love, they realized Fitzpatrick's pain was a sign of something serious. The muscle weakness that started in his leg spread to other parts of his body. Within a few months he went from walking normally to being bedridden. In early August, Fitzpatrick was rushed to a local hospital, unable to breathe. Doctors put him on a ventilator and sent him to MUSC.
Dee Ford, M.D., medical director of MUSC's Medical Intensive Care Unit, said Fitzpatrick was essentially paralyzed when he arrived. "We embarked on an incredibly extensive workup of what exactly his diagnosis was."
Yanklowski came to Charleston to be by Fitzpatrick's side, staying in hotels and at the Hope House, a hospitality house for people with loved ones in the hospital.
MUSC doctors and nurses got to know the couple as Fitzpatrick went through a series of treatments, including aggressive chemotherapy and plasmapheresis. Plasmapheresis involves removing plasma that contains antibodies that are attacking the immune system and replacing it with healthy plasma.
Ford said Fitzpatrick improved slightly at one point but quickly relapsed.  Consultation with national and international experts did lead to the identification of a rare antibody, but nothing that could keep his disease from progressing. 
Yanklowski spent most of her free time at MUSC, and the nurses got to know her well. Clinical unit leader Brooke Hendrickson, R.N., said they saw how Yanklowski cared for Fitzpatrick. "Her involvement and love for him are amazing."
Meanwhile, Ford and other MUSC doctors worked to find a name for the devastating disease. "Quite honestly, even to this day, we don't have a specific diagnosis," Ford said. "It's most similar to ALS." 
ALS is amyotrophic lateral sclerosis, also known as Lou Gehrig's disease. It's a neurological disorder that causes degeneration of nerve cells in the spinal cord and brain. In most cases there's no known cause. There is also no cure. The average survival time is three to four years, but Fitzpatrick's disease progressed much more quickly than that.
"He went on life support in August of 2014," Ford said. Seven months later, he was still on a ventilator. "All the nerves in his muscles died," Ford said.
A special valve allowed Fitzpatrick to talk, but Ford said he would have lost that ability as time went on.
Fitzpatrick and Yanklowski had to face the reality that his life was coming to an end. "The one thing we kept saying through all of this is that we're still going to take that walk to the jetty," Yanklowski said.
The Medical Intensive Care Unit staff asked a couple of organizations if they could help Fitzpatrick get to the beach. Neither was able to do it.
But Bucko didn't want to give up. "We've taken care of him for the past several months and we've gotten to know him and Kathy and we just wanted to do something for him."
So Bucko started trying to organize the beach trip herself. She found no shortage of support. Nurse manager Janet Byrne jumped in to help, along with fellow nurses Stephanie Pettiet and Hendrickson, the clinical unit leader. 
Soon, dozens of MUSC employees were involved. "I've been here 10 years and I've never done anything like this," Bucko said.
Ford, the Medical Intensive Care Unit director, helped with the planning. "It was a risky operation," she said. "There's no question. There's risk to the patient, there's compliance risk (involving hospital regulations) and there's legal risk."
The planners were pleased to find that hospital leaders, including Medical Center Chief Executive Officer Pat Cawley, Risk Management Director Sheila Scarbrough, Legal Affairs lawyer David McLean and Chief Medical Officer Dan Handel, agreed to help make the beach outing happen. They examined the plans closely and offered advice and assistance.
"I don't know how many other major medical centers would have had their leadership say  'OK, we're going to do this,'" Ford said. "It was inspirational."
Whey they finally told Fitzpatrick and Yanklowski about the trip, the couple was overjoyed. "It was the first time in a long time we'd had happy tears instead of sad tears," Yanklowski said.
On the morning of March 4, Fitzpatrick was dressed in regular clothing instead of a hospital gown for the first time in seven months. A Meducare van, MUSC Health's medical transport service, took Fitzpatrick to the Isle of Palms, a suburb of Charleston. He was carefully wheeled into the borrowed beach house. He received continuous care from staff who volunteered their days off to ensure his safety.
Fitzpatrick stayed inside for a while, looking out a window. Then, Pettiet said he asked to go outside. "We wheeled him to the end of the pier so he could see the beach."
Yanklowski went with him as the 50 or so MUSC employees on hand watched, then gave the couple some time alone. It was their first time at a beach together in months, a chance to feel as normal as they could, Yanklowski said.
"It was just an overwhelmingly perfect day. And I mean perfect. From the moment it began to the moment it ended. He was on such a high."
The MUSC employees were on a high as well. Hendrickson, the clinical unit leader, said being part of the team there made her proud. "Kathy and John say it was their best day. It was probably one of our unit's best days too."
Ford agreed. "I hope words can convey how meaningful it was to the staff and doctors. It's very powerful that we could get past all of the barriers to help someone achieve a last wish."
Bucko said Fitzpatrick was the perfect patient for the outing. The Medical Intensive Care Unit treats patients with multi-organ failure, and most are medically too unstable to consider such a trip. "You can't take them off hospital property," Bucko said. "Even though John was on life support, he'd been stable for a long time, so we decided we'll do it for him. It's a day I'll never forget."
Yanklowski said Fitzpatrick knew his days were dwindling. "I guess I hope he can take some of these memories with him. I know I will carry them with me," Yanklowski said.
Fitzpatrick died peacefully last night surrounded by loved ones.
About the Author