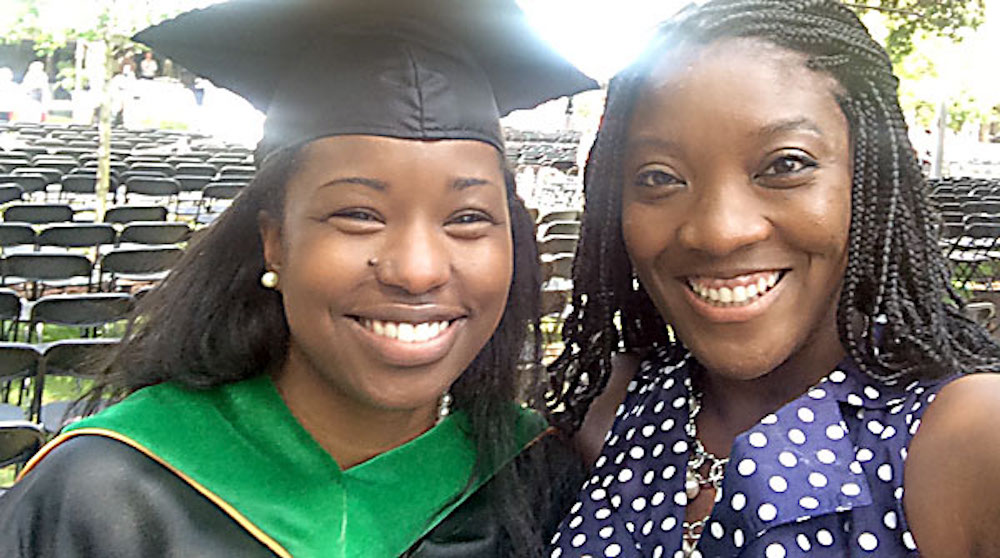 Cynthia Grady, M.D., is in the middle of one of the more challenging things she's ever done. "I don't think I've ever worked this hard in my life."
But Grady loves every minute of her residency in Obstetrics and Gynecology at the Louisiana State University Health Sciences Center. In fact, she enjoys it so much that she's using some of the free time she has between shifts at the hospital to help other students who want to follow in her footsteps. She and her best friend, Ja'Pel Sumpter, M.D., have started a website called The Paved Path to show them the way. 
"My goal is to help students who would have difficulty getting into medical school," Grady said. "Traditionally, that has been students who are underrepresented in medicine in general - minority and financially disadvantaged students."
Grady knows what it's like to go to a small university that doesn't send many students to medical school. She was a molecular biology major with a premedical concentration at Winston-Salem State University, a historically black school in North Carolina. "It was such a small school that it wasn't, quote, 'prepared to help students get into med school,'" Grady said.
She loved it, though, and found a group of friends, including Sumpter, who were also interested in medicine. They worked together to figure out the steps they needed to take to get into medical school.
"I didn't know exactly what I needed to do at certain times," Grady said. "If I'd had more guidance in areas like knowing which courses I needed to take to prepare for the MCAT (Medical College Admissions Test), it would have been an easier transition. 
"My saving grace was the fact that what I didn't know, I wasn't afraid to ask," Grady said. She reached out to nearby Wake Forest University, which has a medical school and a diversity recruiter who helped Grady and her classmates. 
With the combined support of friends and faculty at Winston-Salem State and doctors and counselors at Wake Forest, Grady was accepted to the University of Pittsburgh School of Medicine while Sumpter went to the Medical University of South Carolina. The women stayed in close touch and took a year off during medical school. Grady used the time to pursue her interest in research through her school's Clinical Scientist Training Program, and Sumpter studied at the Johns Hopkins School of Public Health.
"We both had a lot more time than we normally had in medical school. During that year off, we sat down and thought about other things we could do," Grady said. "The idea for The Paved Path came from that."
The women went on to earn their medical degrees, but didn't forget about the website they'd dreamed up. They convinced leaders at Sumpter's medical school, MUSC, to help create and fund The Paved Path. The chief executive officer of MUSC Medical Center, Pat Cawley, M.D., said it's in sync with the institution's goal of increasing diversity in the physician workforce.
The resulting website, https://paved.path.musc.edu, offers ways for undergraduates to start building their medical school applications early, talk with medical school faculty and students and learn about their academic options. It also can connect them with diversity and admission offices. "I'd like for it to be their one-stop shop for all things related to preparing for and getting accepted into medical school," Grady said. 
Helping others is in Grady's blood. She grew up in a family that ran a community service organization for children and senior citizens, and her mother worked with teenage mothers at an alternative high school. "I guess just being surrounded by that for so long influenced me pretty heavily in wanting to be an advocate for my community."
That advocacy continues through The Paved Path. Over time, Grady hopes the non-profit site will grow to help students interested in other health-related programs such as dentistry and pharmacy. "All of these programs are places where typically underrepresented students aren't able to get their foot into the door." 
She wants to open that door for more students like her and Sumpter – people with the intelligence, determination and energy to become doctors who just need a little guidance. "We're in it for the long run."
About the Author