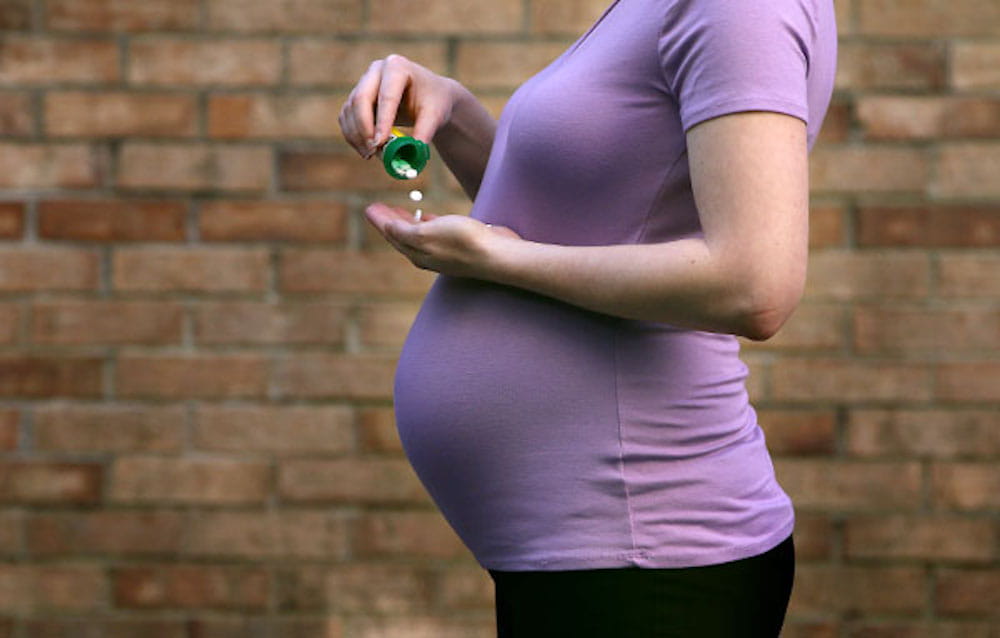 It's an excruciating sight: a newborn baby, going through withdrawal from opioids. The tiny child cries uncontrollably, vomits, runs a fever and suffers seizures.
It's happening to a skyrocketing number of babies. In fact, the National Institute on Drug Abuse reports that in the U.S., a baby is born suffering from opioid withdrawal every 25 minutes.
Researchers at the Medical University of South Carolina are looking for ways to prevent that, and they've had some success in a small study. Psychiatrist Constance Guille, M.D., directs the MUSC Health Women's Reproductive Behavioral Health Clinic. "In our small sample, we worked with eight women and had an 80 percent reduction in their prescription opioid use," Guille said.
The pregnant women were taking oxycodone or hydrocodone and most also were taking a benzodiazepine such as Klonopin, Ativan or Xanax.
"There was either a motor vehicle accident that caused chronic pain or they had a procedure for something and were prescribed these medications, and they worked really well for acute pain, but then the medication was never stopped," Guille said. "There's not a whole lot of benefit for their pain except they know if they stop taking it, they're going to feel horrible from withdrawal."
The researchers took a two-pronged approach. They focused on educating the women about the risks of chronic opioid use and teaching them techniques to cope with pain.
The risks include having an addicted baby and giving birth prematurely, and may go beyond that. "We've seen some data that suggests there's also increased risk of preterm birth, poor fetal growth and fetal malformations," Guille said.
Combine that with data showing no clear benefit from chronic opioid use, Guille said, and the choice became easier for the women. "If there's a lot of risk and very little benefit, it makes sense to try to come off these medications. They're surprised they can actually do it. They realize the medication was preventing withdrawal and not actually treating pain which makes it easier to come off."
The other part of the study's treatment, cognitive behavioral therapy, focused on the women's mental health. "Through therapy, you can help people cope better with pain, reduce the severity of their pain experiences and increase their functioning," said Guille, who's an assistant professor with the Department of Psychiatry and Behavioral Services.
"A lot of people have a pain experience, and their thoughts automatically jump to a really negative place like, 'This is terrible, my life is ruined because of my pain.' They get in this state where they think their pain is the worst possible outcome, what we call catastrophizing from this one pain event. We help people understand that line of thinking leads them to a bad place and how to have a more realistic and accurate interpretation of their pain, so that their mood and behavior is then less negative or poor."
Her team also taught the women to take it easy, even on days they felt energetic, so they wouldn't wear themselves out and end up in pain the next day.
So far, the women in her study have either stayed off opioids or stayed at a lower level than when they started.
Guille said the next step is to test the treatments on a larger group with funding from the Doris Duke Foundation. "We want to work with a larger group of pregnant women throughout the state who have this problem. We want to make sure it's helpful for maternal pain, and it's reducing risks for mom and baby. We also want to see if women are staying off these medications in the long run."
If the treatments continue to work, Guille said it will show insurers that this type of therapy should be covered.
Her work is part of a larger effort to explore safe ways to help pregnant women either quit or reduce usage of painkillers. A recent study out of the University of Tennessee Medical Center found that when about 300 women went through detox from opioids while pregnant, it didn't hurt their fetuses.
While reducing opioid use may be the right choice for most pregnant women, there are exceptions, Guille said. "Sometimes it's actually appropriate to continue their medication. If somebody has a really severe pain condition and can't function without medications and shows benefit from being on the medication, we'd continue that medication."
She encourages everyone to keep in mind that opioids are designed to treat acute pain, not chronic pain, and be honest when talking with their doctors. "The more up front they are, the better able we are to help them figure out the treatment that's going to benefit them the most.
"There's a lot of external judgment of pregnant women and mothers for a whole host of things, and medication or opioid use during pregnancy is just another thing they're judged on," Guille said. "We want to support their interest in making positive health changes, not make them feel badly."
For more information about treatment for opioid use during pregnancy, contact program coordinator Edie Douglas at 843-792-0403.
About the Author