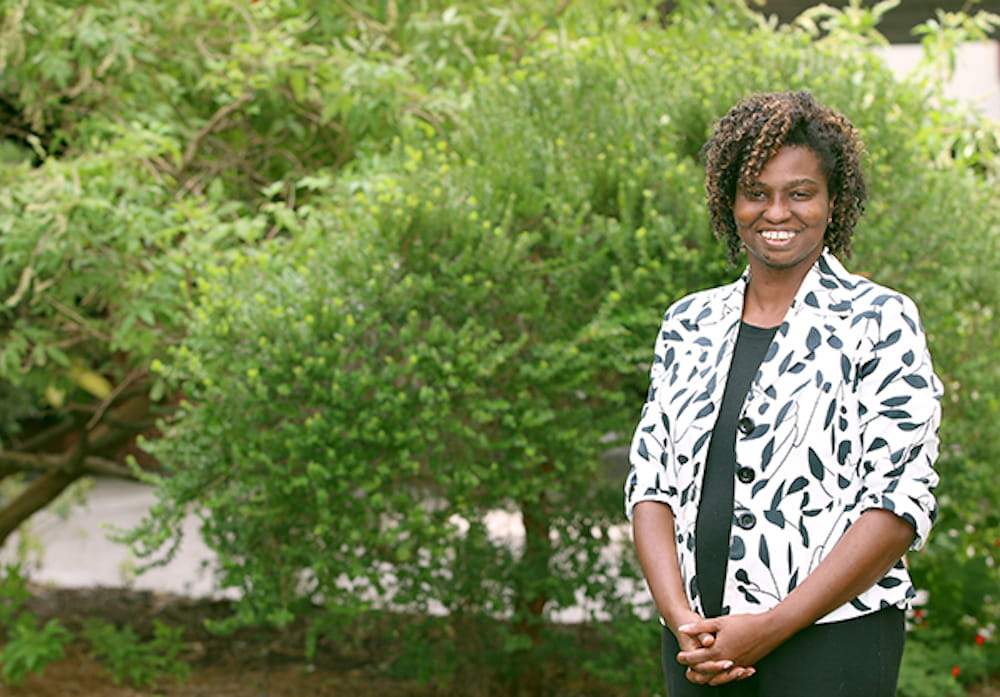 There are some things you can't unsee, like watching your mother being stabbed 37 times and dying in your arms.
Danielle Richardson, now a mother herself with six children, was 16 when she heard her stepfather storm into the house mad at 2 a.m. and begin attacking her mother. She and her younger brothers ran out to help, but it was too late.
A neighbor came over and administered CPR while she tried to patch the worst of her mother's wounds with sheets and towels. She watched her 'die' twice and be brought back. "I was holding her in my arms. We talked. I promised her I would look after my brothers. I sang songs to her. As children, we were taught our Bible verses. I repeated Psalm 23 over and over. She didn't die alone."
Looking back, Richardson, who's now 42, is amazed at her composure.
"When you get put in a situation and it's a do-or-die, you get incredible strength to do whatever it takes to get it done."
Richardson is one of the featured speakers at the Medical University of South Carolina's third annual "Do No Harm" Domestic Violence Awareness rally Oct. 26 at 11:30 a.m. at MUSC's Horseshoe. Other speakers include South Carolina Attorney General Alan Wilson, Charleston City Police Chief Greg Mullen, Doug Warner of Liza's Life Line and Kathy Gill-Hopple, RN, MUSC Health SANE (sexual assault nursing examiner) program director.
Gill-Hopple said it's important to host the event because often people are unaware of the resources that exist to support victims. "Often, health care providers are afraid to talk about it because of discomfort with how to respond or not knowing what to say or do.  Every opportunity that we have to talk about it will help break down those walls."
The MUSC Forensic Nurse Examiner Program provides education throughout the community and state, promotes awareness and provides leadership among other health care providers, law enforcement, first responders and the judicial professions regarding domestic violence and sexual assault.
Progress is being made. MUSC's domestic violence steering committee has spearheaded two initiatives: rewriting the adult abuse and neglect policy (C7A) to require mandatory screening of all patients and provide a framework for response; and bringing on social workers to address victims' violence issues. "We are still working on systemwide education and coordinated responses."
Survivors such as Richardson are essential to breaking the silence, she said. "Danielle puts the humanity into the issue. She has lived a remarkable story and helps us all to understand it can happen to anyone, and we should all be willing to step out of our comfort zone to help."
As a child survivor of domestic violence, Richardson knows how critical it is to break the silence. The bottom line of what she endured: "You never recover from that. You just find ways to cope with it."
Though she lost her mother June 18, 1991, the abuse started way before then. It was something no one talked about in the family. It's one reason Richardson started Goodbye Abuse Ministry and works with MUSC's National Crime Victims Research and Treatment Center to encourage others to seek help sooner. Richardson said it takes too long for many victims to get help. That's true for her. She only sought out help when one of her daughters, who was 8 at the time, lost her father, who was killed in a home invasion.
She couldn't stand the thought of her daughter, Zykerria, going through what she had. Richardson got them involved with MUSC's Crime Victims Center where they joined a support group. Richardson also sought out private therapy for herself.
"She was the reason I started the quest on getting healed. I needed to find a way I could heal, so I could help her heal."
Healing is a long slow process. Richardson said not only did she and her three younger brothers witness their mother's death, they were in the middle of the fight, trying to break it up to save her life. The emotional scars take a long time to heal.
"My stepfather was an alcoholic and he abused drugs. He was real controlling and a jealous person. There was always something going on – an argument in the house and fights. By us witnessing all those things that happened during that era, there was no support. There was no domestic violence awareness. It was a private family matter that we kept to ourselves. It was a bit embarrassing to say, 'My mom got killed by my dad.' We didn't really have an outlet to express ourselves or say what we felt about it."
She found many people didn't want to hear about it or were unsure what to say. As she was trying to process what happened to her mother, her stepfather was arrested and died two weeks later in jail of a heart attack. She and her siblings were orphans, attending their mother's funeral. It was too much to take in.
To this day, it grieves her when she sees news reports about children who are in domestic violence situations, she said. "I want to be a voice. It's not a private family matter anymore when we're ranking in the top 10 in the United States of men killing women by domestic disputes and these children are being orphaned."
Though recent rankings in the study "When Men Murder Women" show the state is improving in its national ranking, dropping from the first position to the fifth, Richardson wants to see the state out of the top 10. The personal toll is too high. While she was lucky she got help and adopted good coping methods, not all of her brothers fared so well. One, who still suffers from post-traumatic stress disorder, is in a mental health prison.
Richardson said she is fortunate that she's a people person. "I just love to help people. That's just me. I love to write – poems and books and songs. I go to counseling now. That's been a great tool for me because I actually get to be around people who have shared the same experience. We all can bond like a family and lean on each other."
Richardson, who belongs to Ebenezer AME church, said it's important to find support. "My church home embraces me with warm hugs and encouraging words. My faith is important. It helps a lot. It makes you want to work harder to get through. You're looking at the bigger picture on the other side. When you've been through the worst thing that can be done to a child – if you can get through this, you can get through anything. With God's grace, you can get through anything."
Her work as a victims' advocate, motivational speaker and author also helps. Her book, "God Heard My Cries: The Deliverance" describes the emotional highs and lows that survivors go through and is a testimony of how she dealt with her mother's death.
Suffering from depression and PTSD can make it hard to reach out for help. She also had to get rid of negative messages she received as a child that she was unworthy and rediscover who she was before the trauma. Finding forgiveness for her step father was the hardest step.
"My mom was a kind, generous and beautiful woman. How can you do this to someone who was so kind and would give the shirt off her back?" she said, explaining it's why she wrote her book in 2012 to capture what she was like. "I want to keep her alive as a person and use the life lessons she taught me before she died that I can use now with my children."
When she sees one of her brothers still suffering the traumatic effects from their childhood, it makes her mad and angry and she has to go back and forgive again, she said.
"What saved me is having my kids," she said of her five girls who range in age from 13 to 20. She has one son, age 7. "I had someone I could take care of and do stuff with. Now that I have my girls, we do lots of stuff together. It's like a big sister hen party when we all get together. I'm making sure to raise my son to treat women as a gentleman would and to not have anger issues."
Statistics show nearly 20 people per minute are physically abused by an intimate partner in the nation. That's 1 in 3 women and 1 in 4 men who have been victims of some form of physical violence by an intimate partner within their lifetime. That means just about everyone knows someone or a friend of someone who is affected by this, she said. She encourages the public to reach out and break the silence and support fundraising efforts that provide resources to victims. For victims, she encourages them to break their isolation.
"You always need to be able to confide in somebody. Somebody needs to know what's going on, whether it's a pastor or a best friend or neighbor. You need to be able to be educated about it. There are a lot of education and prevention tools."
Richardson said recovery is critical to end the abuse.
"There's not a right or wrong way to recover, but some people get stuck. How do you build yourself back to be the happy person you were before the abuse or tragedy happened? Witnessing that stuff as a child, that's not normal. My mom's funeral was the first one I had ever been to. Growing up and not knowing how to cope with that as child and then becoming an adult, you want to help others."
About the Author
Dawn Brazell
Hollings Cancer Center