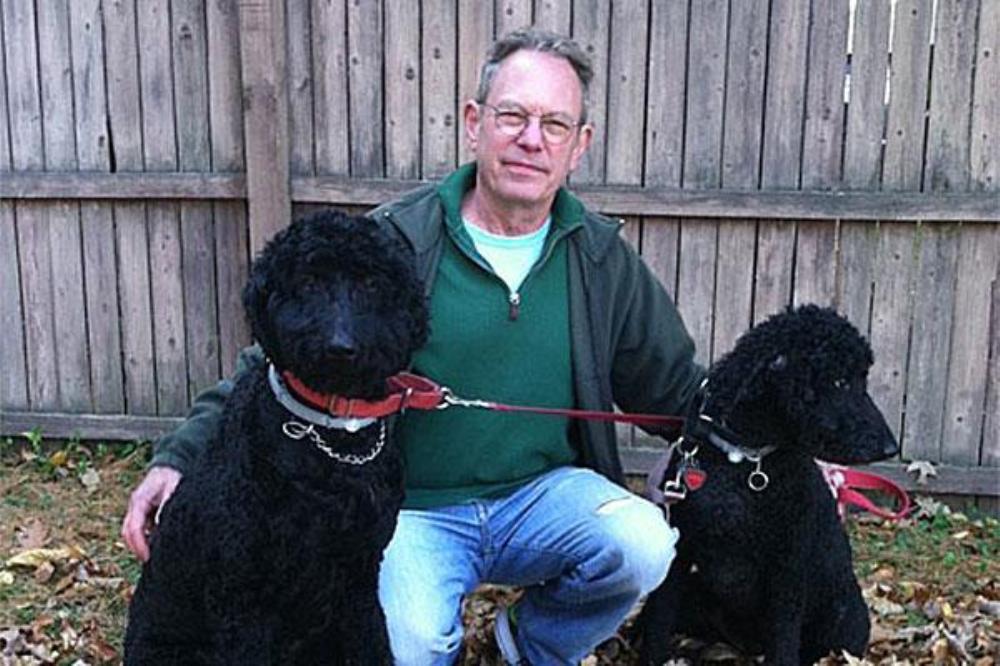 One September morning in 2011, Mark Vail had trouble getting dressed. Then, he poured milk across the kitchen counter instead of into his cereal bowl. Thinking he was just overly tired from a long, tedious auction he'd conducted the day before, the 58-year-old decided to lie down on the sofa. 
When he responded to a question in nonsensible language, his wife, Jane Galyean, realized something was wrong and called 911. Vail had suffered a stroke during the night that left him with aphasia–an inability to communicate caused by damage to specific brain areas. "I felt foggy, like I was in a bubble. I'd lost my peripheral vision and remember thinking that maybe I'd died and was just observing the chaos in the emergency room around me," he said through Galyean, who now acts as his translator.
The effects of Vail's aphasia were immediate and devastating. "Overnight my work as an antiques auctioneer ended. It was impossible to continue running a language-and-number-based business. I couldn't speak or even write simple sentences."
Luckily, they'd recently moved to Johns Island, South Carolina, near the Medical University of South Carolina – one of the few centers in the country with a language and aphasia clinic and a dedicated aphasia research program. 
Leonard Bonilha, M.D., Ph.D., associate professor of neurology and clinic director, said it is an important, multi-disciplinary service that's not available in many regions. "Aphasia is something most people – even those in the medical field – don't understand very well. Patients with chronic language problems may not receive the appropriate follow-up therapy or have access to clinical trials." 
When Galyean called MUSC to find a stroke support group, she was directed to the clinic where a Phase II trial, trans-cranial direct current stimulation to treat aphasia, was underway. "This study evaluates whether speech therapy coupled with brain stimulation through the scalp improves recovery for patients with chronic aphasia like Mark," Bonilha said. 
At first, Vail wasn't sure.
"Initially, I was hesitant because the study involved repeated MRIs, and I know how claustrophobic and uncomfortable they are." He eventually enrolled and soon found that the benefits were worth it. "The MRI technician was great at helping me relax, and it was really good to have so much daily stimulation. I enjoyed challenging myself to get the answers right to the language tests they gave me. Everything helped."
Bonilha agrees that patients benefit even if they receive a placebo. "First, they're helping others. I can't stress enough what a huge service participants do for everyone else with similar conditions. Plus, they get extensive speech therapy that is not available to many stroke survivors. Outside of this trial, most patients don't receive such intensive therapy. Also, people in trials tend to benefit from the social interaction. They become part of our group and we try to create an enjoyable, welcoming and supportive environment."
The MUSC Language and Aphasia Clinic is now in an even better position to help people with chronic communication deficits like Vail, thanks to a new National Institutes of Health grant award establishing the Center for Study of Aphasia Recovery (C-STAR) – the most recent fruit of a long-standing collaboration between aphasia researchers at MUSC and the University of South Carolina (USC).
"We've worked in close collaboration for several years with Dr. Julius Fridriksson at USC, who pioneered many aspects of aphasia research in South Carolina. Together, MUSC and USC have formed a unique, statewide network for aphasia care," Bonilha said. 
The C-STAR grant includes multiple studies aimed at improving aphasia treatment by increasing understanding of the brain's structure and its functional recovery after stroke. Bonilha, a co-principal investigator with Fridriksson, will direct the Predictor of Outcome of Language Rehabilitation (POLAR) study under C-STAR. "This study will evaluate the outcomes of speech therapy in stroke patients with chronic aphasia to see whether specific types of speech therapy are more effective for some patients than others based on the type of communication deficits they have." 
From the medical research side, Bonilha and his colleagues are excited to continue their work to define new evidence to guide clinical practice and improve outcomes and quality of life for people with chronic language disorders. From the patient perspective, Vail would say to others who find themselves in a similar situation, "Even though it may be uncomfortable, try to get into as many programs, studies and support groups as you can to help re-fire your brain. It made me feel less isolated and more self confident."
About the Author