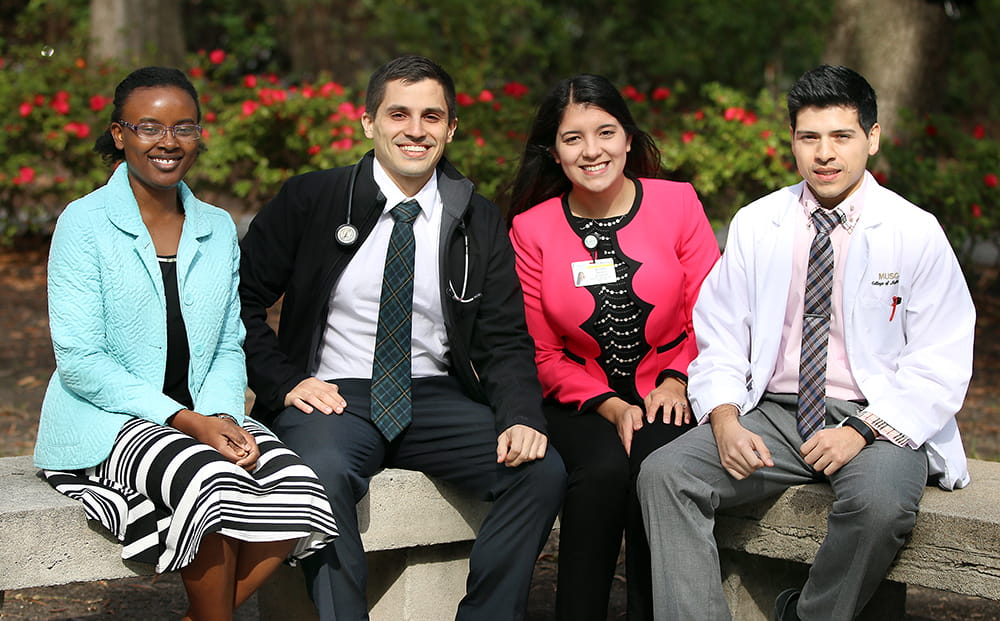 Medical student Javier Laguillo speaks his patients' language on Spanish Night at the MUSC CARES Medical Clinic in more ways than one. "I was 6 when my family moved from Puerto Rico to Denver," he said. "It was a pretty drastic transition here."
So he knows something about what the patients who come to the monthly Spanish Night at the clinic are facing; people such as Ignacio Bautista, a gardener from Mexico who suffers from stomach pain. 
"The clinic has helped me greatly and I am very grateful for it," Bautista said in the waiting room at January's Spanish Night. "It has been helpful economically because it's free, and it keeps me healthy so I can work."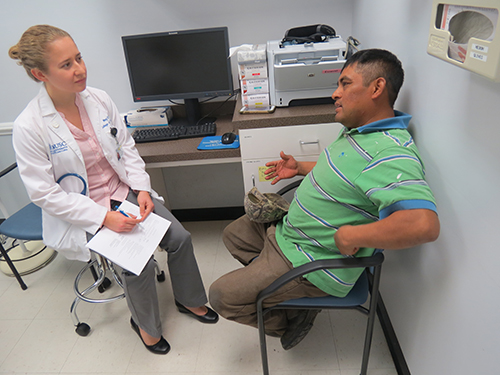 The CARES Clinic is a nonprofit group that offers free basic health care, including blood pressure checks, diabetes care, flu tests and immunizations. Medical, pharmacy and physician assistant students from the Medical University of South Carolina volunteer there along with licensed doctors. It's an after-hours clinic, open in the evenings three times a week. 
Once a month, the clinic is staffed with students who speak Spanish and a doctor who is certified as a Spanish interpreter to care for patients who speak only Spanish.
Laguillo helped make that happen. "I started volunteering here at the clinic as a pre-clinical student," he said. "I was part of the CARES class. It's an elective class you can take on the side. I didn't really know what the CARES class was, but I knew that you could see patients and practice." 
He quickly noticed the need for more Spanish speakers like himself at the Mount Pleasant clinic. "Before Spanish Night, Spanish-speaking people would come in and not know any English. Though translation was available by phone, there is not good service here, and we would have to use our cell phones because there are no phones in the rooms. We lost connection all the time. So there was definitely a need for this," Laguillo said.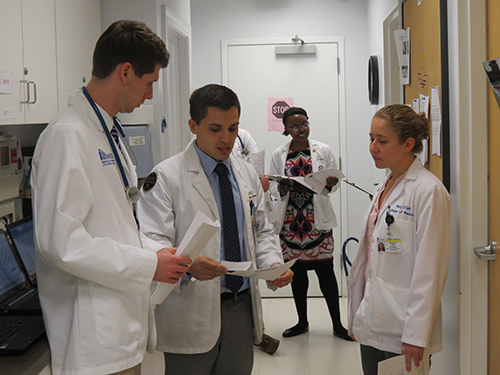 He worked with fellow MUSC students Michelle Ascanio, Carlos Sanchez and Elizabeth Ogunrinde to make Spanish Night a big success. "People are traveling from all over the Lowcountry to get here," Laguillo said. "We often see little commuter groups where a bunch of people come in together. This level of success would not have happened if it wasn't for all the effort of everybody dedicating their free time to make this happen."
Laguillo sees it as a continuation of the way he grew up in the U.S. His family moved from Colorado to Arizona when he was young, and his mother and father worked to help the low-income population there. "My parents were community medicine doctors in Tucson, and they took care of mostly underserved populations. So any time I went to see them at work, it was always almost exclusively these kinds of populations."
CARES clinic student director of operations Celeste Jilich applauds Laguillo's drive to go beyond what's expected of an already busy doctor-in-training. A previous incarnation of Spanish Night failed, but Laguillo was determined to keep that from happening again. "Students like Javier are so invaluable, because they do not let what has always been done in the past limit them or prevent them from expanding the clinic in innovative ways."
She also sees Spanish Night as an important part of MUSC. "Spanish Night is an invaluable opportunity to provide comprehensive and culturally competent health care to our patients, regardless of national origin, first language, socioeconomic status, race or ethnicity."
Clinic director Anita Ramsetty, M.D., agreed. "On Spanish Night, patients speak in their native language directly to providers, most often without translators. It provides them with the same level of interpersonal interaction and care that patients who speak English expect when they walk into a health care center in this country." 
Laguillo said the clinic has the potential to keep growing.
"It's something MUSC is going to need moving forward, because we are seeing all those numbers increase on Hispanic patients, and people come here who literally only speak Spanish. We want to provide an opportunity to recruit caregivers who speak Spanish and are able to treat Spanish-speaking patients."
He'd like to see more resources dedicated to Spanish Night and see the program increase to two nights a month. 
"I think this clinic is an awesome resource to have," Laguillo said, "not just on Spanish Night, but the other times the clinic is open as well."
The CARES clinic is always in need of volunteers. "If you're a doctor and you speak Spanish, we would love to have you. If you're a doctor and you don't speak Spanish, the CARES clinic would love to have you, particularly internal medicine and family docs. If you're a student, this is a great opportunity to get better at clinical stuff. If you're not familiar with Spanish or if you're only slightly familiar with Spanish and getting better at that if you come to our nights specifically."
Since Laguillo has experienced how hard not knowing the native language in a new country can be, he can personally relate to the concerns of patients he meets on Spanish Night. 
"That experience helps me empathize more with the Spanish-speaking patients who are coming from Mexico or Puerto Rico or Cuba or any part of Latin America," said Laguillo. "The diversity helps strengthen us as caregivers."