A new gene therapy is bringing hope to patients suffering from sickle cell disease after researchers at Necker Children's Hospital in Paris say a teenager there has been cured. The therapy is currently in clinical trials in France and the United States, including at MUSC.
Julie Kanter, M.D., director of sickle cell research at MUSC and a primary investigator on the U.S. trial sponsored by Bluebird Bio, the same Massachusetts biotech company conducting the French trial, isn't quite ready to use the "C" word, but she is optimistic. "Based on our results so far, this is a disease-modifying therapy rather than a cure," she explained. "I believe the patient in France may be cured. But here in the U.S., we've treated seven patients, and the French patient has had some better results for reasons that we don't yet understand."
Javonte Scott is one person excited about the prospects of a new treatment option. At 24, he's grown accustomed to life with sickle cell, but that doesn't mean it's been easy. He was only able to attend 30 days of high school his senior year, but nonetheless graduated in the top 20 percent of his class. "I basically had to teach myself a lot of the material," he said.
In college, Scott consistently makes the dean's list, despite being hospitalized several times over the course of a semester. He said graduating will take him longer than the typical student because of his attendance, but he is nonetheless committed.
It's easy to see why the promise of a cure for sickle cell disease is raising some hopes, Scott's not least of all. More than 100,000 people in the United States, the vast majority of them African-American, live with the hereditary blood disorder and another 2 to 3 million carry the sickle cell trait. Individuals with the disease have abnormally shaped hemoglobin that can clog blood vessels, depriving the body of oxygen and causing a host of symptoms ranging from dizziness and fatigue to organ failure and severe pain akin to frostbite.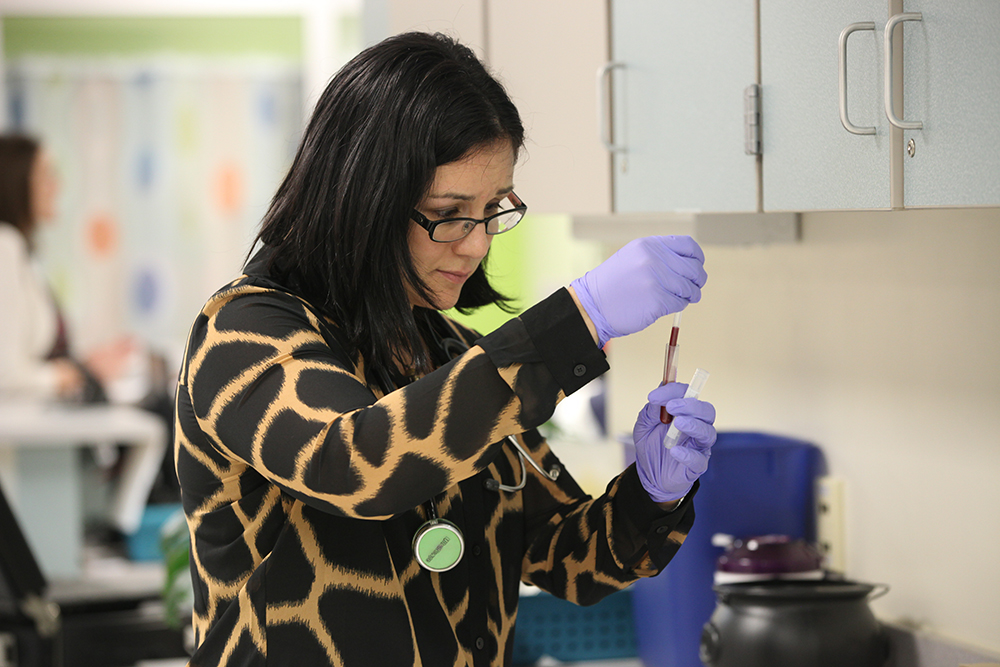 Kanter said currently the only proven cure is a bone marrow transplant, with the best results coming from a matched donor.
"The best match is usually a full sibling," she explained. "There's a 25 percent chance a full sibling will be a match. If a patient doesn't have a sibling, then we look through the National Marrow Donor Program donor pool for a match."
Cure rates are upward of 95 percent for patients with a sibling match. For donors who are a match but not related to the patient, the cure rate is closer to 75 percent. But fewer than one in 10 patients ends up finding a match. And, even when they do, bone marrow transplants entail serious risks: graft failure, infection, organ failure and graft-versus-host disease – a condition that results when a patient's immune system attacks their new bone marrow.
Scott said he is excited to hear about the new gene therapy that is in the news and hopes it may eventually mean help for him. "It would be worth it to me if it meant living one day without sickle cell disease."
Kanter said there are several potential benefits of gene therapy over a bone marrow transplant. "For one, finding a match is not an issue, because everyone is their own donor."
Here's how it works. First, stem cells are harvested from a patient's own bone marrow. Those stem cells are given a retrovirus that contains genes for a therapeutic hemoglobin called T87Q – a process called transduction. Then, the transduced cells are infused back into the patient where they hopefully begin producing T87Q en masse.
Hemoglobin T87Q mimics the natural anti-sickling properties of fetal hemoglobin, which most – but not all – individuals convert into adult hemoglobin before one year of age.
"Individuals that retain 30 percent or more of fetal hemoglobin are usually asymptomatic, even when they have sickle cell disease," Kanter said. "And some people are just born that way."
The hope is that through gene therapy, doctors like Kanter can give patients the same natural resistance to sickle cell disease that some people are born with. Not all patients who have undergone the therapy have met the 30 percent threshold, but even patients making as little as 10 percent therapeutic hemoglobin after the transplant have shown some clinical benefits, as presented at the American Society of Hematology in December 2016.  
"It's too early to tell how significant those benefits are, but the patients are having a lot less pain," Kanter said.
Though she's hopeful, she said even if the treatment is approved by the FDA, the process of scaling it will be a long time coming. Currently, it's also prohibitively expensive. "It's a complicated process, and to ensure quality, at least in the short term, this treatment will only be offered at designated centers," she explained. "If things go well, MUSC will likely be one of those centers, given that we're a participant in the phase I study."
But that's the big picture, years down the road.  A handful of patients enrolled in the early studies won't have to wait that long. When asked about what that might mean to him, Scott said he prays the therapy turns out to be a cure. "But I will be eternally grateful if it offers any improvement for people with sickle cell disease."
About the Author