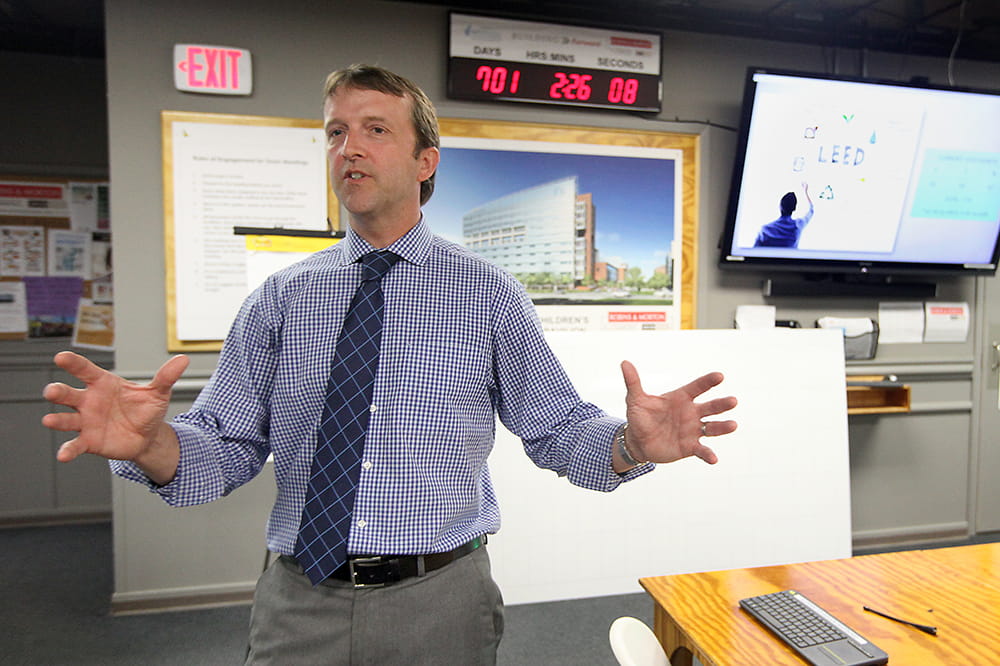 On an electronic board beneath the words "Building Forward" is a countdown: 700 days, 2 hours, five minutes and seven seconds. The update flashes in command central for the construction of the $385 million Shawn Jenkins Children's Hospital and Pearl Tourville Women's Pavilion, a reminder of the pressing deadline for its completion in 2019.
It's there for a hustling crew of more than 200 workers on average who flow through the site making the magic happen. It's people like John Sion, senior project manager at the Medical University of South Carolina. He describes it like a second spouse. "That's literally what my wife calls it. I go home thinking about it, and I wake up sometimes having dreams about this project. It's great. It's an absolute passion of mine. I eat, live and breathe this project."
They have 30 months to put up this 11-story, 625,000 square foot hospital being built at the corner of Courtenay Drive and Calhoun Street. There's a joy in watching it go up so fast, Sion says, amid walls of charts tracking the progress.
"There's nothing like seeing the framing go up. It changes so quickly. They'll do one level in less than two weeks, and it'll look two stories taller. Once they put those main framing members up, there's like 30 welders behind them continuing to weld columns. This is one of the heaviest steel jobs, without a doubt, that this area has seen."
It's a complex undertaking.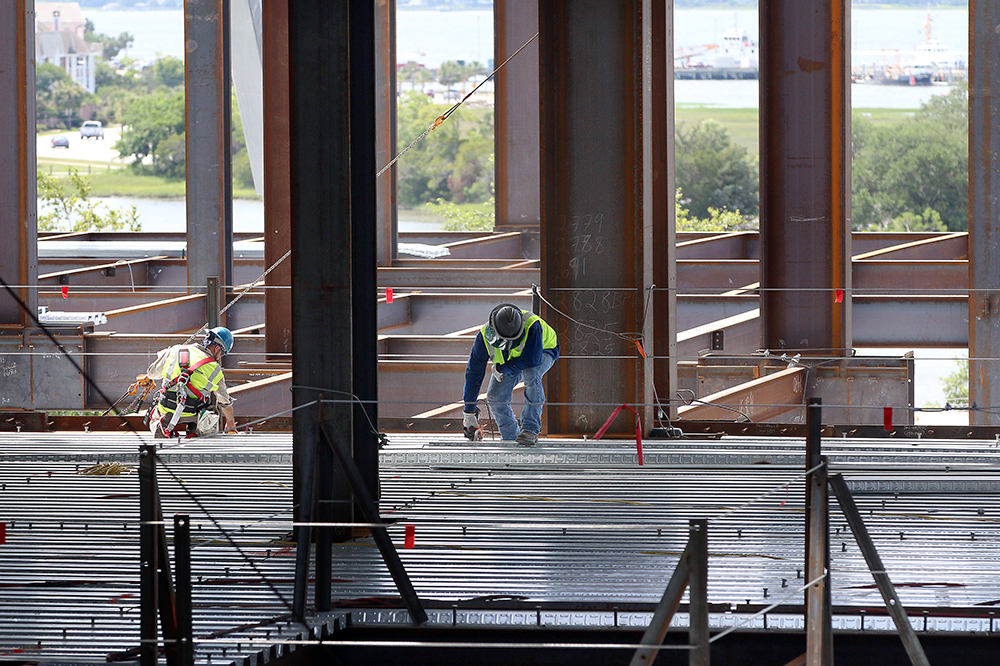 The hospital will have about 6,000 tons of steel and 21,000 cubic yards of concrete. It will have more than 55 miles of mechanical and plumbing piping, more than 710 miles of electrical wiring and 160 miles of electrical conduit. To help with this, sections are assembled off-site in a North Charleston warehouse. Helping with this process are 25 modelers from across the nation who consult virtually to coordinate how all the pieces and parts will fit together, performing "collision" checks to ensure the smooth flow of all the plumbing and wiring. Sion says the sections are prebuilt and then brought on-site, which greatly speeds the process.
"All day, every day, all they do is 3-D modeling of what's overhead in the ceilings that you never see. They draw every stick of conduit for wiring, every duct work, every support steel for a boom – you name it – everything is modeled, even the hangers for seismic support when the building's shaking. It's exciting what they're doing out there."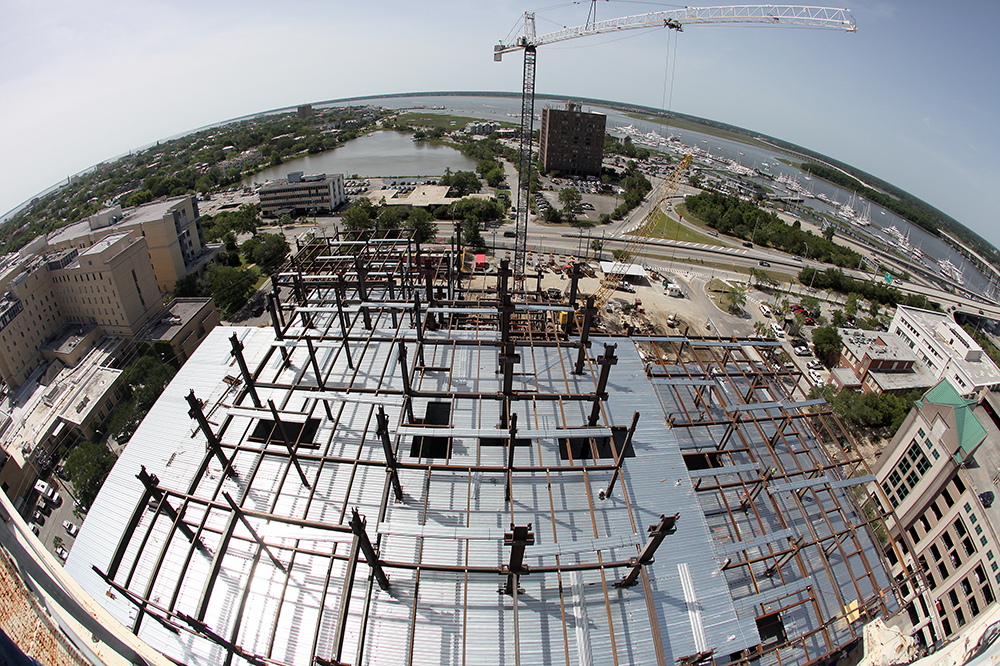 Instead of being the typical facilities-led project, the hospital from the start has been a clinically-directed project, he says. "We all figured out how to work together. Watching it unfold was absolutely eye-opening seeing all those doctors, nurses and families pulled into those design meetings. Being part of a clinically-led project was truly amazing. Family members dictated how this place was done."
Another guiding mission: employ small, minority and female-owned businesses, a goal MUSC has been able to achieve with almost 40 percent of subcontractors falling into those categories for this project. It helped MUSC became the 2017 recipient of the Project of the Year Award from the South Carolina Chapter of the National Association of Minority Contractors.
Sion says it's just one of many factors that makes the building of such an iconic landmark worthwhile. "To me, it's a once in a lifetime opportunity. I'm confident I'll never do something this unique again."
Proud Father
That's exactly how Michael Smith feels, too. A frequent face on the construction site, Smith owns SmithCo Services LLC and handles quality control and inspections for the project. He recently was on site at 3 a.m. to do concrete testing. With 25 years in the Army as a construction manager, Smith brings that experience to this job. He does everything from testing the concrete when it's delivered to quality and safety inspections on electrical and plumbing work.
"It's a way of me giving back and using my expertise," he says. "We're proud to be part of the project. I know this will help a lot of people from all over. The kids are going to love this. This hospital is totally different. It'll be like a home away from home and won't be such a burden on the parents," he says of the amenities designed for the new hospital that will ease parents' stays. He also likes the special features planned, such as a rooftop atrium and natural play areas to help families rest and heal.
Smith knows from personal experience how much this is needed.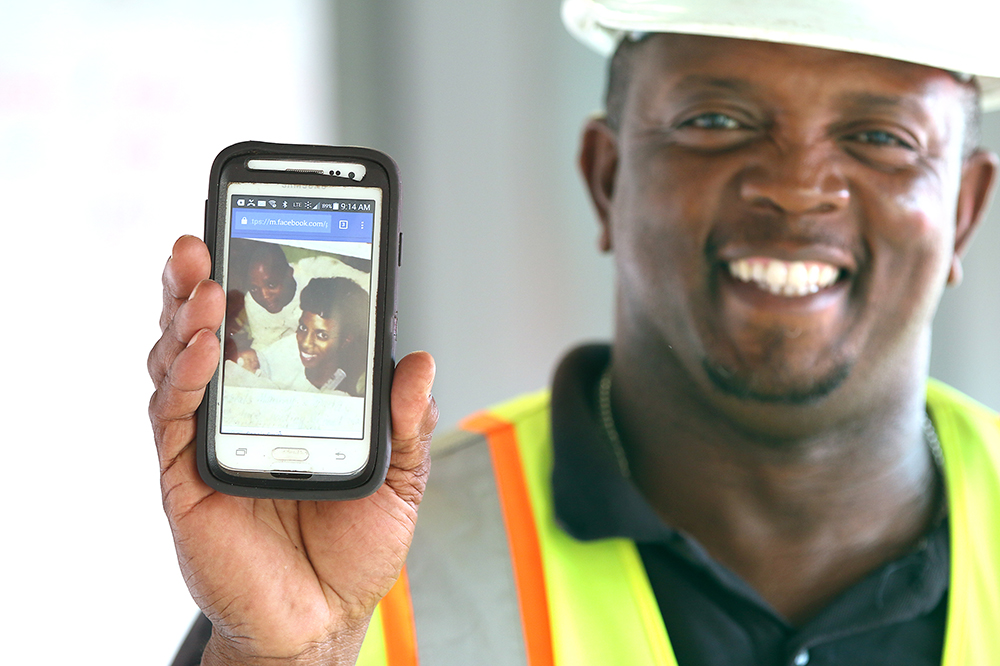 Twenty-two years ago, one of his six children was born prematurely with an esophagus that wasn't fully developed. Experiencing difficulty breathing, his son had to be hospitalized at MUSC at three months of age. "They gave me their expertise, and this is my way of giving back. By the grace of God, he's 22, and you could never tell what happened to him."
Quality control is an essential part of the job. "I take this very seriously because of the condition of the kids who will be in this hospital. I want this to be just right," he says, adding that the experience of almost losing his son affected him in a profound way. "When my son got sick, it changed the way I thought about helping people. That was an experience that wakes you up."
Smith has two employees but likes to handle most of the jobs himself. "It's a small business. I'm here every day, all day. I can do it the way I know it needs to be done. The attention to detail is very important with a hospital of this magnitude," he says. "There's a strong team spirit. I talk to our contractors here, and, if there's something that needs to be done, they jump right on it. It reminds me of what it was like for me in the military."
Smith looks over the construction site. Sparks fly as welders straddle steel beams, and it's hard to hear amid a cacophony of beeping construction equipment. It's all music to his ears.
"I'm looking forward to standing in front of the project, striking a proud stance with arms crossed and saying, 'Yeah, this is the finished project, and I was part of it!' It's so nice to be a part of something that is so much bigger than me," Smith says.
It's all about the kids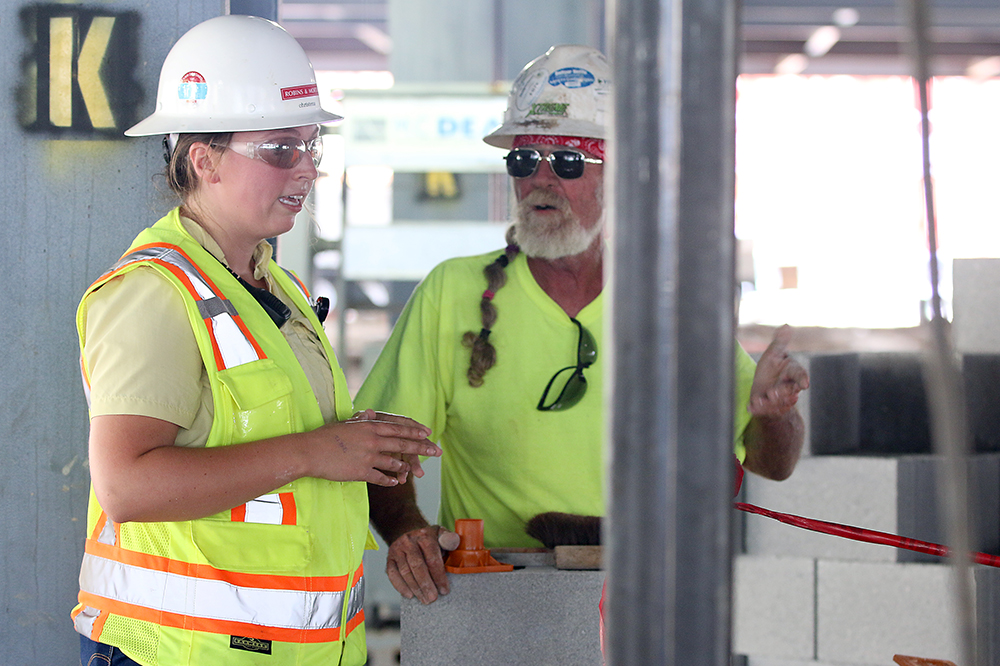 Though the skills needed on a construction project this big are diverse, including crane operators who obviously have no fear of heights, when asked what makes this project so special, the common thread among workers is the kids – even for those who don't have them. That's how Christena Holcombe, 26, a project engineer with Robins & Morton construction company, feels. She's the only woman sitting in a room of suppliers who are talking about load delivery transfers. A subcontractor cracks a joke about his awesome blue monster truck, and the group laughs. The team is discussing the use of a new software system to track deliveries; everyone weighs in on the new system.
This is Holcombe's fifth move to do a project. Of all the places she's been, Charleston is her favorite. The Vanderbilt University graduate says she likes the energy of working out in the field and does get some pushback as a woman, but she takes it in stride. "It's what you make of it. If you earn respect, you get it."
Serving as a sort of master air traffic controller, Holcombe deals with a variety of contractors and subcontractors and enjoys the energy of interacting with people constantly. The workers are craftsmen and know she sees them as such, she says. "I learn so much from all of them." This is her first children's hospital project. "There's no better cause in the world than working for kids and women," she says.
It's a draw for Tiffany Smalls, too, who keeps watch over the entrance of the gatehouse and manages all the hustle-bustle of the construction site. No one gets on-site without her checking them in. Smalls, a mother of three boys, says she needed a job about six months ago and applied. "I didn't realize I would be on the site," she says, grinning. "I like the fellows. I feel like I can rule them out here. I'm running the show."
And rule she does. Leadership has made it clear she's in charge of everyone who has to badge in or out. At first her husband was a little "iffy" about her new role, but he sees how much she's grown into the job. Everyone on-site respects her, and she can't be the mom of three boys without knowing a bit about gatekeeping.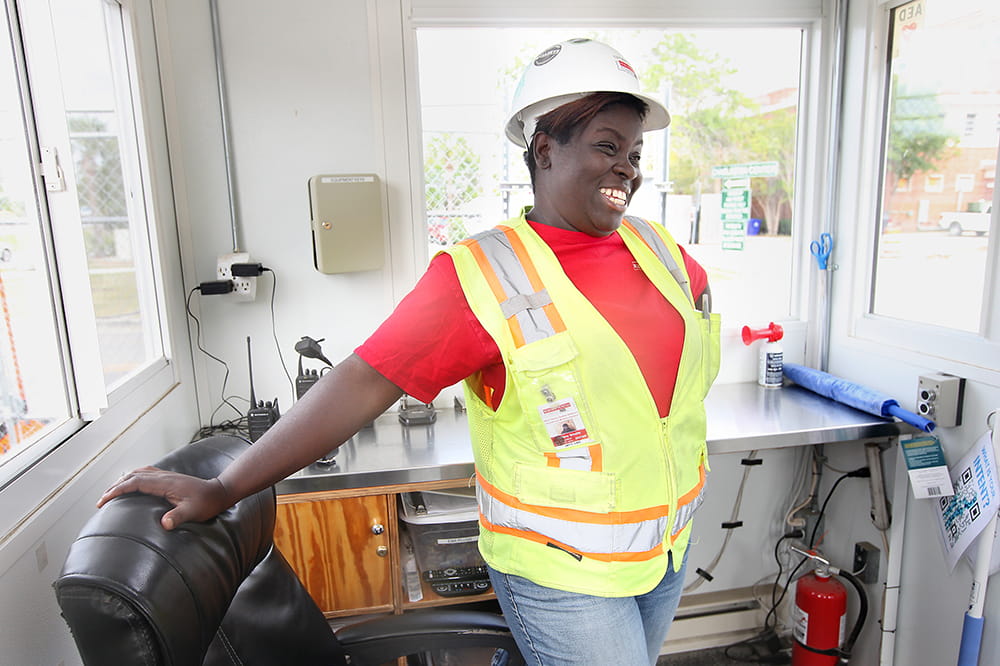 Smalls says she enjoys coordinating traffic, enforcing safety guidelines and seeing the bustling energy of a job site this large. "I'd love to be out in the field working," she says, grinning. She's been surprised by how the job has changed her. "I'm becoming a leader. I see myself differently than I used to. This is more face to face involved with the job, which I love."
Like others on-site, the project has personal meaning to her. Her now 15-year-old son was a preemie and weighed only two pounds when he was born. He was refusing to eat, so they had to bring him back to MUSC Children's Hospital where he stayed for three weeks until they could get him to thrive. She's grateful for what they did for her son and for others.
One of her favorite things to do is watch the television screen in the workers' dining area when she's on break. It displays the success stories of children who have been helped at MUSC's Children's Hospital. "It's like, 'Oh, wow' to hear their stories. I love kids."
So does Gregory Parris, a project manager with SteelFab Inc., who is assisting with this project. A father of two young daughters, Parris got to know the MUSC Children's Hospital very well when his daughter, Avery, now 2, contracted a virus last year. They brought her in for hypoglycemia, low blood sugar, after she had been sick for a week but no medicines seemed to be helping. She was treated for the symptoms and saw a pulmonologist for asthma issues and an immunologist and speech therapist.
When Parris heard about the new children's hospital project, he knew he had to be involved in some way. Having been involved with other key construction projects at MUSC, including the Ashley River Tower in 2008 and the Drug Discovery and Bioengineering buildings, he was very excited about what he knows will be an iconic landmark downtown. It's one of the biggest projects he's been involved with, he says, adding that the steel beams they are providing can weigh close to 400 pounds and span 3 stories in height. "It's going to be top of the line."
And, the finished hospital will be a vital community resource to serve other parents, some of whom like him, may not expect to need it, but will be so glad to have it.
Sion echoes that feeling. Two of his three daughters have been helped by MUSC Children's Hospital. His seven-year-old daughter had an infection and had to get care for four days. "You don't really think about needing to use the care until something comes up. My 9-year-old also had to come into the ED a few weeks ago and is fine now. It's just weird being out here building this and having to use their services as this happens."
A job perk for him is how closely he has to work with the pediatric nurses and doctors. "These are passionate folks. I've never dealt with more compassionate, down-to-Earth, caring folks than the people in the Children's Hospital. I think you have to be a pretty special person to work in the pediatrics world. Each time I come in, I'm interacting with them. It makes you even more proud to be part of this."
About the Author