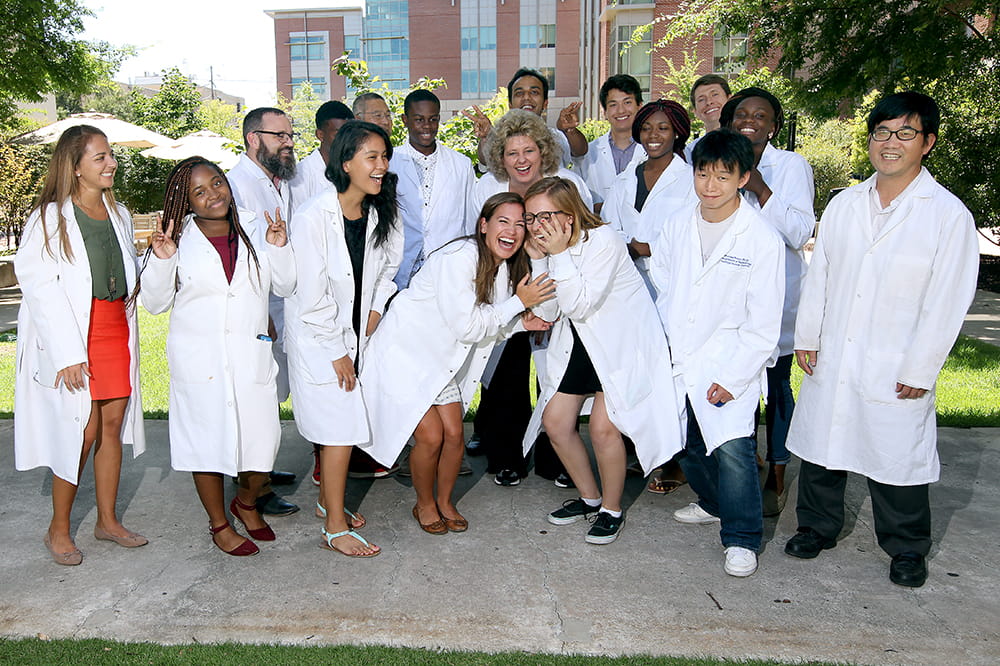 Burke High School junior and honor student Angel Bryant may pursue a different career based on a summer spent as a research lab intern at the Medical University of South Carolina. "When I first came here, I wanted to do mass communication. But since I've come here I think I've changed my decision, because this is very interesting – trying to find a cure for something that people say can't be cured," she said.
Angel was one of about 20 interns working this summer in the Broome Translational Medicine and Nanotherapeutic Laboratory run by scientist Ann-Marie Broome. The lab looks for new ways to approach hard-to-treat diseases using nanoparticles to deliver designer drugs. It's complex work, but Broome is anything but dismissive of the young scientists' efforts.
"Students, especially those with limited opportunities to observe and participate in STEM research, develop a passion for science and pursue careers in a STEM field when exposed early to hands-on and minds-on activities related to real-life scenarios, such as solving drug delivery problems for cancer patients," Broome said. "The students are curious and enthusiastic and bring vitality to the lab." STEM stands for science, technology, engineering and math.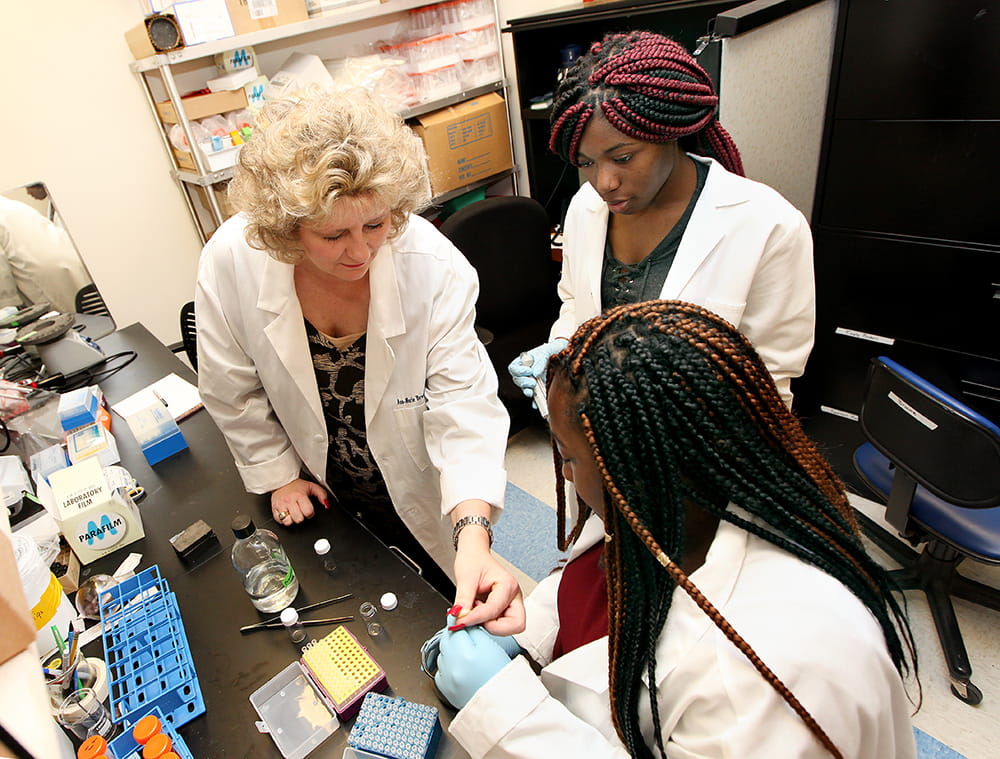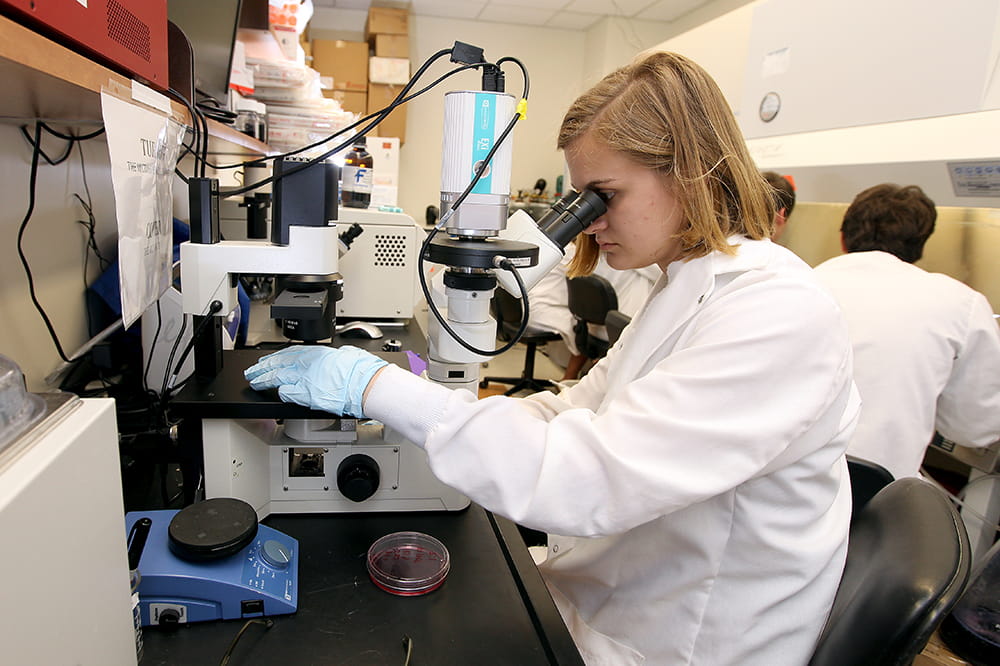 The interns are teenagers and young adults who come from high school, college and even medical school to work with professional researchers for several weeks. Some are already well-positioned for careers in science. Kendall Cole is a senior at the Governor's School for Science and Mathematics, which requires students to be involved in research over the summer. She described what she's been working on in Broome's lab.
"My specific project is working with a drug called resveratrol and its effects on endothelial cells that surround brain tumors in a tumor microenvironment," Kendall said. "We're studying how the drug could lead to cell death in endothelial cells, which could starve brain tumors."
Her classmate, Daniela Ramos Mendoza, said her project involves the cell-killing efficiency of a modified standard of care chemotherapeutic, temozolomide, in glioblastoma cells. Yes, it's complicated, she said. "I was not familiar with any of it. We have to do a lot of tissue culture. A whole lot of splitting, plating, and treating of the cells."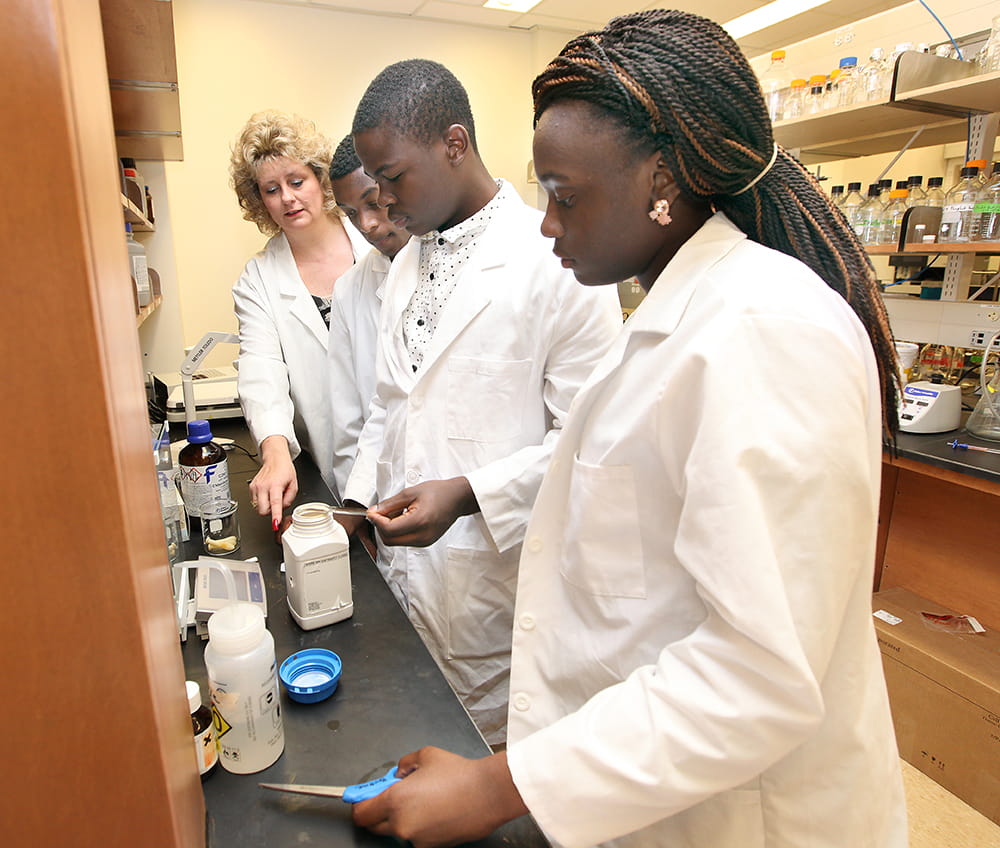 Other interns are interested in working directly with patients one day. Steven White, a junior at Burke High School, wants to be a dentist and loved the chance to see the science behind the scenes. "It's really cool. I didn't know science could go this deep and this far, actually finding cures to help someone else. I've done so much so far, making cells and dividing cells." Steven also got to visit the James B. Edwards College of Dental Medicine for a glimpse of what may lie ahead for him academically.
Intern Adriannah Drolapas, a Wofford College junior, plans to become a physician assistant or nurse. "We've been working with cancer drugs and I shadowed a doctor in the pediatric oncology wing. There was a child there with a brain tumor, and we're using those brain tumor cells in the lab. It just made an impression on me. It was inspiring."
Academic Magnet High School student Karl Pless hopes his internship will help him as he pursues a career in medicine. "Dr. Broome's lab has been teaching me how to create nanoparticles and test them in cells, which has been really cool, for targeting specific areas of the body."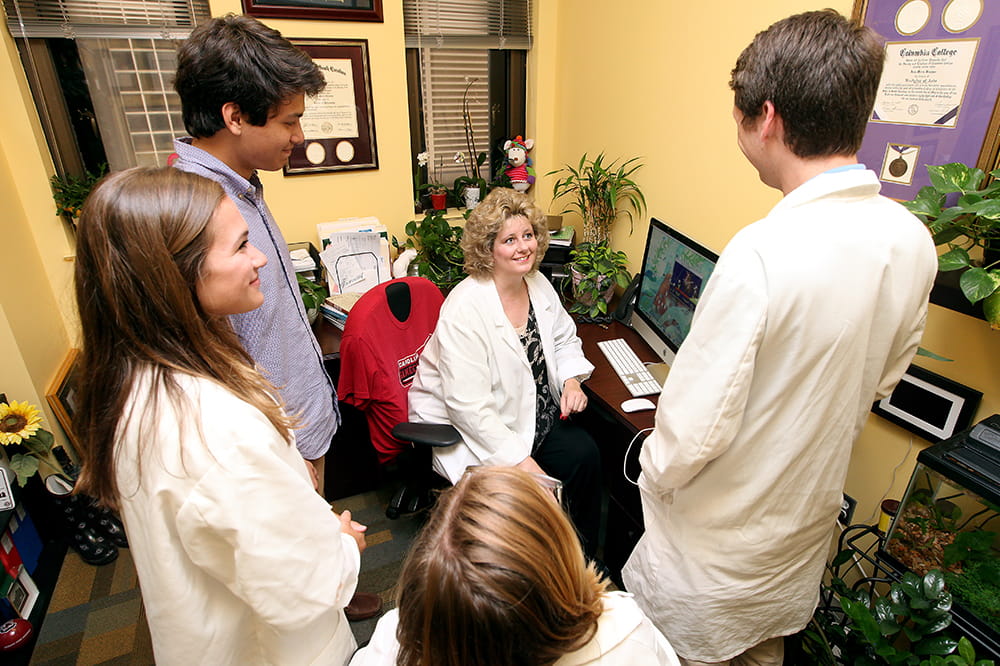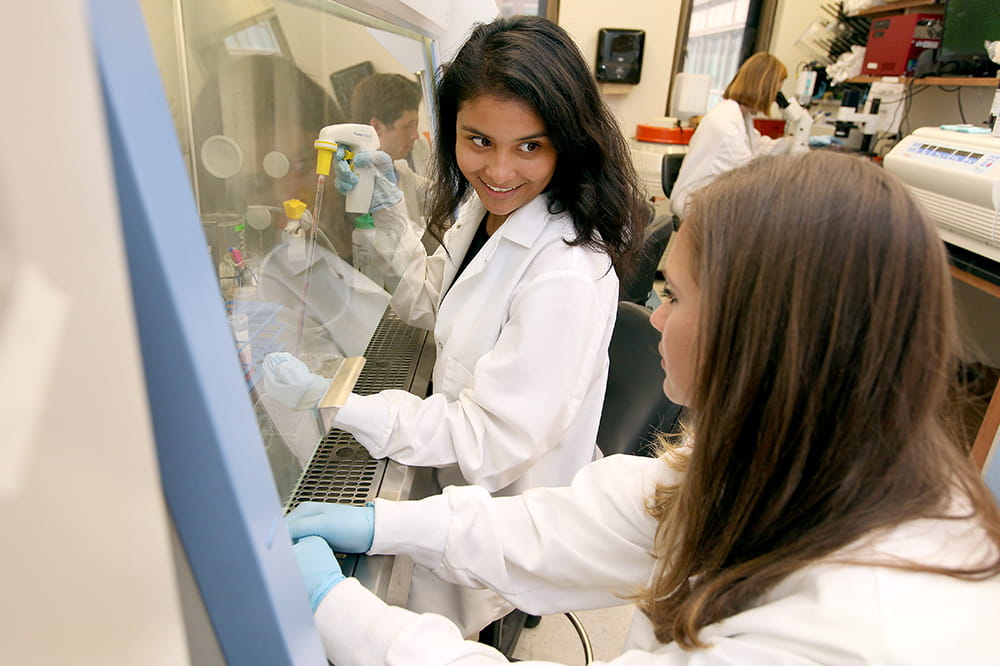 Broome said the interns require teaching and training at first, but quickly become acclimated to the activities and flow in the lab. "They contribute meaningful results and many are part of national and local presentations as well as future publications," she said. "All aspects of the process encourage them to consider careers in science. But I'm especially interested in giving them opportunities to participate."
The interns learn basic techniques and how to maintain a lab. Then they choose projects to work on with teams that include a postdoctoral fellow, medical student, undergraduate student and high school student. "Students even attended clinical rotations to see why we really conduct research in my lab, to improve patient outcomes by getting our research products from the bench top to the clinic," Broome said.
The summer internship program in Broome's lab includes students from the South Carolina Continuing Umbrella of Research Experience Summer Research Program, the MUSC Summer Health Professionals Fellowship, the South Carolina Governor's School for Science and Mathematics, the MUSC Summer Undergraduate Research Program and the Academic Magnet High School Senior Research Thesis Program. Each program has specific eligibility requirements. Broome said the process is quite competitive for a limited number of available slots.
Other labs on the MUSC campus work with summer interns as well, but Broome's lab takes the largest number of students. "I absolutely love having the students in my lab," she said. "They create a special energy that is contagious and encourage the rest of the group to perform at their best. Each one is a hard worker and has contributed to the general success of the lab. It is always bitter sweet when their programs come to an end."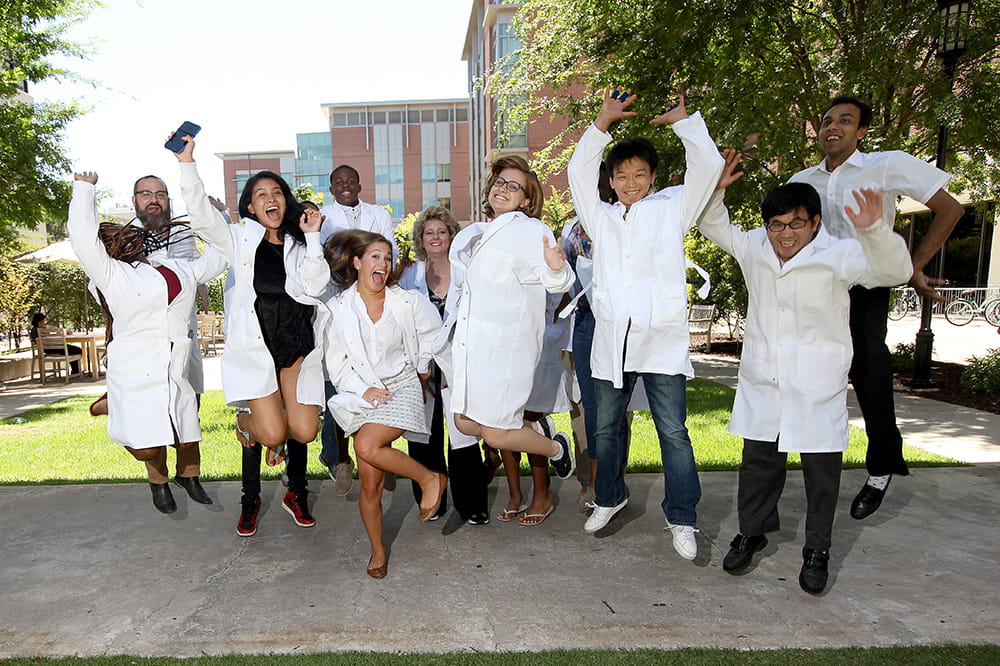 But some of those programs don't come to an end when the summer's over. "The vast majority end up returning to the lab throughout the year," Broome said. "For instance, SC CURE students from Burke High School are committed to the lab for this year and next summer," she said. The Burke students take two courses at school focused on cancer taught by scientists from MUSC and the MUSC Hollings Cancer Center. They compete with other Burke students for their summer internships at MUSC. There's a nice payoff: at least 15 MUSC college credits.
Medical student and Broome lab intern Hiers Rainwater has enjoyed working with the younger students. "It's been really interesting to see how capable they are. They're very dedicated, very focused. It's been great to show them the ropes, and in turn they're teaching me. The more you're exposed to the real aspects of science, the better. It's not just making volcanoes at the science fair. It gives them a sense of dedication, more purpose in life, and maybe the chance to do something that has real benefit for other people."
Broome agreed. "I hope that the students develop an appreciation for the true nature of science and experimentation. I also hope they see our passion and take it to heart. Discovery and solutions for clinical challenges come from many sources. I wouldn't be surprised if one day one or many of my proteges makes a critical impact on health care and disease. We're like a factory, churning out future scientists at all levels."