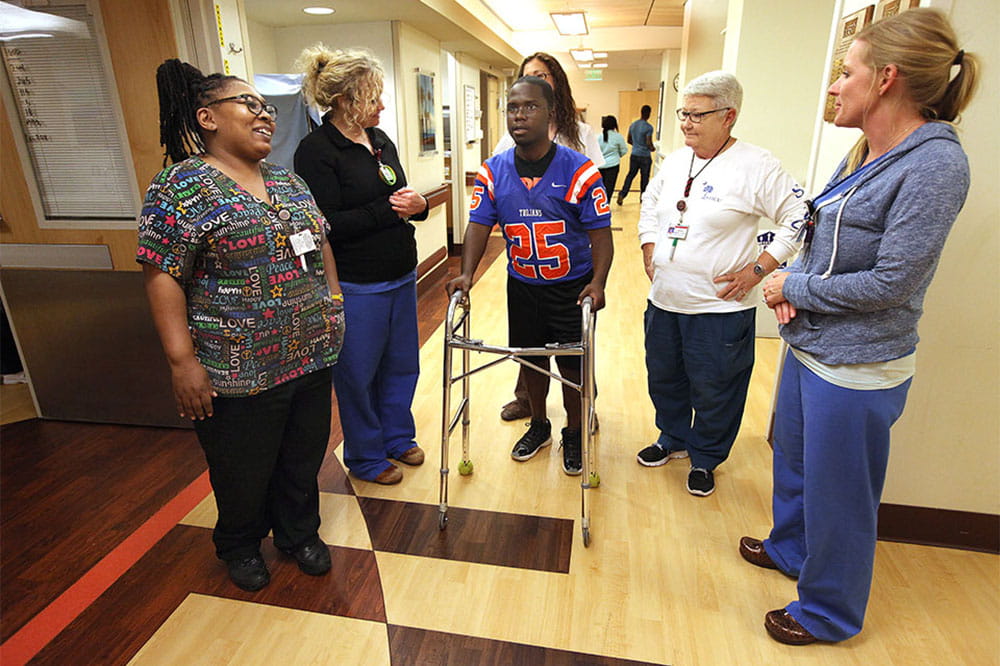 Clinical trial experts Valerie Durkalski-Mauldin, Yuko Palesch and their team of data specialists at the Medical University of South Carolina are about to help patients across the country get better care in emergency departments. "We have a strong track record and we have the expertise in designing and coordinating trials in this area," Durkalski-Mauldin said.
She and Palesch co-direct the Data Coordination Unit at MUSC, which has been selected to serve as the lead data coordinating center for a national clinical trial network focusing on diseases and injuries that send people to emergency departments. The network is funded by the National Institutes of Health.
"Trials conducted within the network will look at everything from traumatic brain injury to heart attack," Palesch said.
SIREN,  or the Strategies to Innovate EmeRgENcy Care Clinical Trials Network, is funded by the National Institutes of Health. There's a good reason the DCU was picked for a key role, according to John Vena. He's a professor and founding chairman of the MUSC Department of Public Health Sciences, of which the DCU is part.
"The DCU is one of the leading and best programs in the world in the conduct, management and analysis of medical research conducted at multiple sites that tests the effectiveness and safety of medical practice — interventions like medicines and procedures," Vena said. "These clinical trials are conducted in collaboration with medical centers throughout the USA and the world. We applaud their mission, skills and hard work."
The DCU will work with a clinical coordinating center at the University of Michigan and up to 11 clinical research centers around the United States, known as SIREN hubs. MUSC Health may become a "spoke" for one of those hubs, meaning that its doctors and patients could become involved in SIREN's clinical trials.   Durkalski-Mauldin said the trials conducted by SIREN will involve multiple hospitals and involve neurologists, neurosurgeons, cardiologists and emergency department doctors. "The network will help us to be better at finding out if a treatment's going to work or not. It will speed up getting results from the clinical trials, because we're going to have an established infrastructure to start the trials quicker."
SIREN's goal is to advance emergency medicine by studying new treatments. The trials will focus on conditions that include: 
Spinal cord injury
Traumatic brain injury
Seizures 
Acute respiratory distress
Cardiac arrest
Trauma
Pulmonary embolism
Palesch said the first SIREN study will focus on traumatic brain injury, which affects an estimated 1.7 million Americans every year. "The funding for that will probably start in the end of 2017. That's going to be a multi-center study looking at a treatment that increases the amount of oxygen that the blood can carry for severe TBI.  The study, led by a neurosurgeon in Minnesota, will try to determine whether this treatment could eventually improve their outcome if given early on."
SIREN's five key areas of emphasis are neurology, cardiology, respiratory care, hematology and trauma. The trials will focus not only on the care patients get in hospitals but also the treatment they get from emergency medical response teams that arrive after 911 calls.
MUSC's DCU has about 30 faculty and staff. They have designed and coordinated more than 60 multi-center clinical trials and serve as the statistical and data coordinating center for the NIH-funded StrokeNet network and the Acute Liver Failure Study Group. 
Those trials have involved more than 400 health care institutions in North America, South America, Europe, Australia and Asia, Durkalski-Mauldin said. "We love the research part, just pushing the science. We collaborate with clinicians around the world who want to do research and find new treatments for their patients."
The interim chair of the MUSC Health Department of Emergency Medicine, Edward Jauch, said the DCU is also good at collaborating with doctors. "I have worked with the DCU faculty and staff for over 20 years and my experience in working with them was part of my decision to come to MUSC," he said.
"They always go out of their way to work with physician scientists, who quite frankly, are not always the easiest bunch to deal with," he said.  "The DCU faculty and staff bend over backward to truly understand the clinical issue being studied rather than just look at the data as numbers. They are very engaged at all levels of study development, conduct and analysis, and bring creative ways to address challenges in study design and conduct."