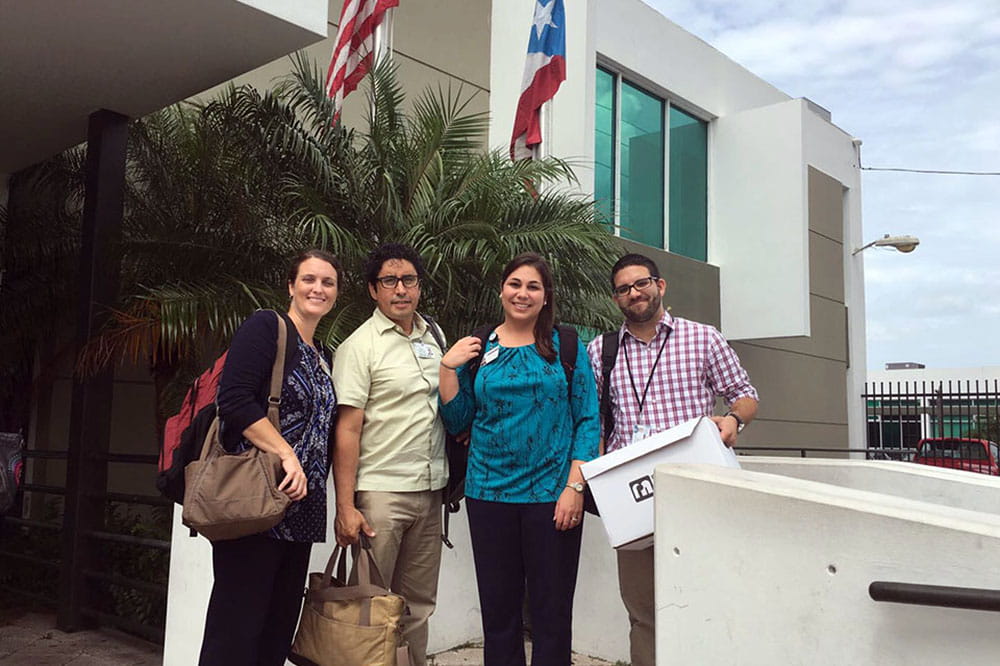 Rosaura Orengo-Aguayo has returned to the island where she grew up, Puerto Rico, for the first time since Hurricane Maria devastated the U.S. territory. The Medical University of South Carolina assistant professor and psychologist is there with three colleagues to give trauma-focused workshops to teachers, so those teachers can take care of themselves and help their students recover once the public schools finally reopen. 
Orengo-Aguayo knows from speaking with her own family that the September 20 storm has taken a huge toll. "The day the hurricane hit, I remember speaking to my mom one last time, and her saying, 'Honey, this is bad.'"
She was right. Puerto Rico is still mostly without electricity, and food and water are hard to come by in some places. Orengo-Aguayo's mom survived, along with the rest of her family, but life is difficult. So Orengo-Aguayo has headed home to use the expertise she's honed at MUSC's National Crime Victims Research and Treatment Center and the Mental Health Disparities and Diversity Program to help with the island's recovery.
"I happened to receive a message from a friend who's a fellow psychologist who works at Harvard. She was visiting family in Puerto Rico when the hurricane hit and got stuck there. She and her husband went to the command center, where the governor and all chiefs of staff are working to rebuild Puerto Rico, to offer their help."
Her friend was connected with the secretary of Puerto Rico's education department, Julia Keleher, and an assistant who works with Keleher. "The staff member told my friend that what they really need is a comprehensive plan to help teachers and students in Puerto Rico recover, post-Hurricane Maria."
Orengo-Aguayo's friend then sent a text message to her. "She said, 'I have a task for you if you're up for it.'"
Orengo-Aguayo was, along with fellow psychologists Michael de Arellano, Regan Stewart and psychology intern Freddie Pastrana-Rivera. The bilingual mental health experts, who are part of the MUSC Department of Psychiatry and Behavioral Sciences, say the project fits perfectly with the objectives of a grant they already had that will fund the work.
"This effort is being made possible by leveraging a $1.6 million, 4-year grant, awarded in 2016 by the Substance Abuse and Mental Health Services Administration and the National Child Traumatic Stress Network," Orengo-Aguayo said. "This grant is focused on serving trauma-exposed children from traditionally underserved populations in the United States and its territories."
De Arellano said in Puerto Rico, they will work with teachers and school staff from seven regions, representing more than 1,000 schools. "We're going to be training them in components of psychological first aid," he said. "Self-care, education about trauma and trauma-related problems. Here are some things you can do to care for yourself, and here are tools to help care for kids and families."
He said Puerto Rico's education secretary plans to reopen schools the week after that training takes place. The hope is that it will restore some sense of normalcy to children who have endured weeks of stress, and the teachers can help the students recover.
Orengo-Aguayo described what they expected to encounter. "Right now, what life looks like for these kids is, No. 1, they all know at least one person who has lost everything, and they've never experienced this. No. 2, they're waking up to a new reality, where they have to go with grandma or grandpa or mom to wash clothes in a river if they even have access to that. No. 3, some have little access to food. No clean water. There's chaos, a lack of safety."
The MUSC team is based in San Juan. Thanks to the Puerto Rican education secretary, they're allowed to stay in a hotel where first responders and other relief workers are being housed. They also have a car with a full tank of gas and food and water. 
But that doesn't mean it will be easy, de Arellano said. "The first week we're going to do half-day trainings in different parts of the island. That's going to pose some challenges, because you can't get around easily. The next week, we'll do work with the federally qualified health center and a couple of churches, meeting with them and figuring out what their needs are. We'll support them with training and tools they can use."
Orengo-Aguayo, who left Puerto Rico to earn her doctorate in clinical psychology at the University of Iowa and came to MUSC in 2015, said the churches are an important part of life on an island where the majority of people identify as Christian. 
"I'm a believer. I think God has prepared me for a time like this, 100 percent, and I feel ready. I have a very strong support network here, and I feel like my support network is holding me so I can help hold Puerto Rico," Orengo-Aguayo said.
That network will help her carry out her secondary mission on the trip: seeing her family and delivering some essential supplies. "My mother, my father, my brother and my in-laws and grandmothers are all living in Puerto Rico."
All are safe, but conditions are difficult. "Unfortunately, I only have stable communication with my mother. The rest of my family members, it's either through occasional texts or someone who tells us something about them."
Orengo-Aguayo collected donations to buy some essential items she took with her. "My grandmother lives in an elderly home in the mountains in Caguas, and they don't have basic living or medical supplies. So part of my trip is taking basic necessities and antibiotics to them."
Orengo-Aguayo, Stewart and Pastrana-Rivera left for Puerto Rico on Saturday. De Arellano joined them Monday. He called it an honor to help some of the most vulnerable storm survivors, school children, recover from the hurricane. 
Orengo-Aguayo said she feels lucky. "It's been surreal. I feel very much like this is a way for me to give back to my country. This has been a phenomenal example of what good collaboration between academia and the real world should look like."