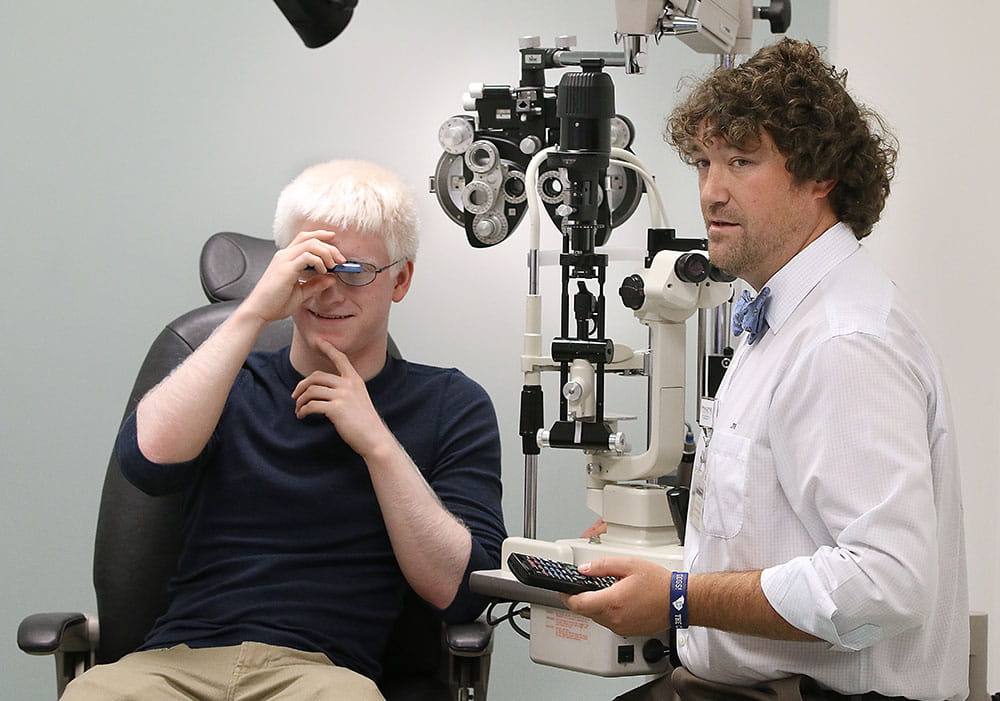 People often recall many of the significant milestones they reached while on the road to becoming an adult. Whether it was paying their first bill or casting their first ballot, those experiences, in many cases, will forever be etched in their memories.
Christopher Depace, a focused and determined freshman at Trident Technical College, recently experienced one such milestone — one that will change his life and that of many others.
Depace has ocular albinism and congenital nystagmus, a condition that primarily affects the eyes. It results from the inability of cells in the eyes to produce normal amounts of pigment and a constant ocular movement. This disease has the power to restrict his ability to live like an average young adult, but Depace is determined that won't happen, said James Hill, OD, assistant professor and director of Low Vision Services at MUSC's Storm Eye Institute.
"Chris is being fitted with a new bioptic telescope, so he will have the opportunity to obtain his restricted drivers license."
That is a very big deal. In fact, Depace will be the SEI's first bioptic telescope patient to get his driver's license in South Carolina.
The bioptic system combines prescription eyeglasses with a miniature telescope that is mounted toward the top of the eyeglass lens. It operates in much the same way as binoculars, enlarging images. However, the greatest value the bioptic telescope offers the visually impaired when driving is the ability to see things farther away. The carrier, or prescription eyewear lens portion, provides general vision, while the telescope aids in the quick spotting of detail.
Patients, Hill explained, rely on their own vision approximately 95 percent of the time. When using the bioptic telescope, the driver quickly glances through it so he or she can see things like traffic lights, street signs and objects at a distance in finer detail. Think of it like a quick glance in the rear view mirror, he said.
"Chris is not dependent on the telescope while driving. He would only look through it slightly, unless his vision should significantly change.
"It would correct my vision," Depace added, "helping me to see the road signs and lights — things that are in the distance."
The South Carolina acuity standard for a normal-seeing person requires that the person must have a best corrected Snellen acuity of 20/70, or if one eye is blind, the other must score 20/40 best corrected. With a bioptic, a patient can have a visual acuity of 20/120 but must be able to read 20/40 or better through the telescope and have a normal visual field.
With Depace being the first SEI bioptic telescope patient to try to get his driver's license in the state, Hill was able to shed light on the unpaved path for many patients who would like to have availed themselves of this opportunity in the past.
"A person with a vision impairment could use a bioptic telescope while driving but would have to have the same visual acuity as someone with normal vision. Most of the Southeastern states, including North Carolina, Georgia and Florida, already had a driving law allowing someone visually impaired to get a restricted license. However, there was no pathway in South Carolina for someone looking to obtain a bioptic license."
It took three consecutive legislative sessions to reach success. Thanks to the efforts of a few motivated people who worked with state legislators to craft appropriate language for South Carolina, it finally was passed in June of 2016, retroactive to the beginning of 2016.
According to the South Carolina Department of Motor Vehicles, when one is attempting to obtain a typical restricted driver's license, they must have held their beginner's permit for more than 180 days, have completed a driver's education course, be enrolled in school and have practiced driving with a licensed parent or guardian for 40 hours. The maximum cost is $13.50.
For those like Depace trying to obtain their bioptic restricted licenses in South Carolina, there are ten times the number of steps, and the maximum cost is roughly $7,000. The requirements include intense training, which may or may not be covered by medical insurance.
Hill explained. "Currently, for those without insurance, we try to get them into the South Carolina Commission for the Blind vocational rehab program. When they are then a client, then they're financially helped with some of the cost for the device and training. We have two patients who have gone this route, including Chris. Also, if the patient is experiencing insurmountable financial hardship, Ocutech, the vendor, has the ability to help with the retail price."
Depace and his doctor agree that his ability to obtain his license will radically change his life.
"I'll be able to get from point A to point B without relying on my parents or public transportation. The freedom to be able to go to job interviews and getting to hang out with my friends makes it all worth it," Depace said.
Hill nodded in agreement. "This will create an avenue for independence; it opens doors for individuals with low vision. Not everyone with visual loss will be a candidate to drive with a bioptic telescope, but for those who do qualify this is truly life changing."
Low vision affects almost 135 billion people globally and results from common eye diseases such as cataracts, macular degeneration, diabetic retinopathy and retinitis pigmentation.
Depace is aware of the many obstacles he may face in his lifetime, but he's determined to live his life without fear of the unknown. He's grateful that his experience may pave the way for others as well.
"I see a good future for the people who want to try after me. I didn't just do it for myself, I did it for other people as well. This was meant to help me and other people who want to move on in their lives in a responsible manner."
While Depace has already faced and surmounted many challenges in his young life, he sums-up his personal philosophy optimistically.
"Don't let anything stop you from what you want to do in life, regardless of your disability. There's always a loophole around it. There's always a way."
About the Author
Sydni Edwards