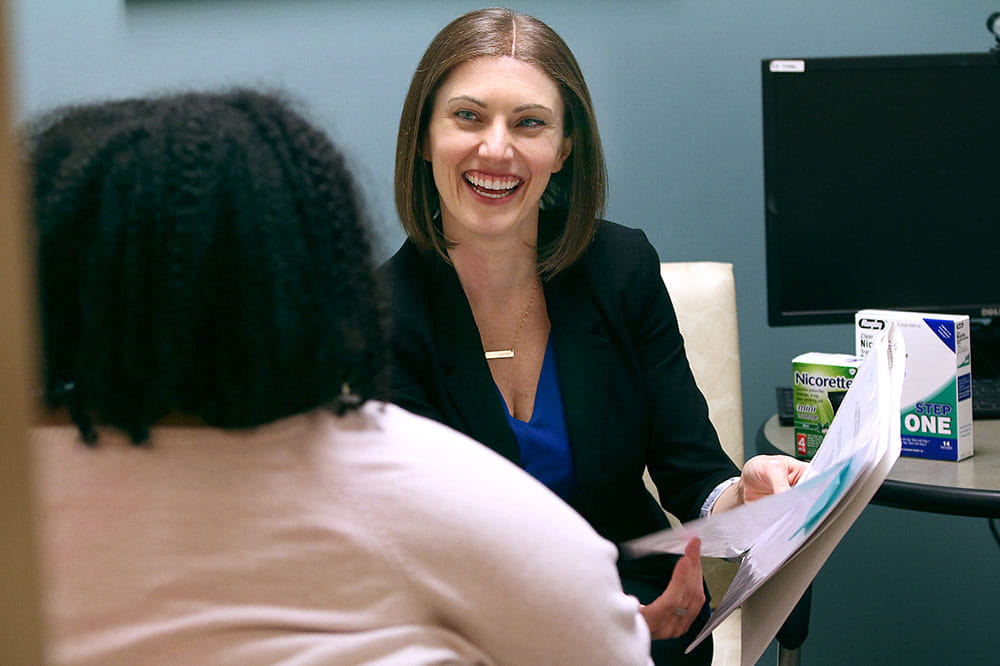 Researcher Alana Rojewski, Ph.D., faces some of the toughest patients. They are over 55, have a long-standing smoking history and are considered at risk for developing lung cancer.
Odds are, they know smoking is bad for them, she said. It's also likely most want to quit but haven't had success. That's why Rojewski, a researcher in the Department of Public Health Sciences at the Medical University of South Carolina (MUSC), won't give up. In fact, she's made a career out of it.
Thanks to a nearly $900,000 career development award from the National Cancer Institute (NCI), Tobacco Treatment in the Context of Lung Cancer Screening, Rojewski is exploring more effective ways to help this population. Her work focuses on tobacco treatment for cancer patients. Specifically, she'll be examining the benefits of a technology-based tobacco treatment intervention in a new clinical trial for smokers in the Lung Cancer Screening Program at the MUSC Hollings Cancer Center. The trial is expected to open for enrollment this fall. 
The Lung Cancer Screening Program helps diagnose patients at earlier, more treatable stages. Annual screening includes low-dose computed tomography for eligible patients between the ages of 55 and 77 and who have a 30 pack-year history of smoking (one pack a day for 30 years, two packs a day for 15 years, etc.). Rojewski's primary mentor, Benjamin Toll, Ph.D., serves as co-director of the program.
Traditional quit methods include counseling and/or nicotine replacement therapy (NRT), like gum and the patch. Rojewski hopes this new tailored intervention for screening patients will minimize cancer occurrence and mortality rates for those at higher risk of developing lung cancer.
The study will have two arms, with one group receiving a brief counseling session at the time of lung cancer screening, which is the standard intervention. In addition to counseling, the other group will receive NRT and "gain-framed" text messaging that emphasizes the benefits of quitting as opposed to the harmful effects of smoking.
"Engaging high-risk individuals, like those in screening programs, with a tobacco expert and making cessation resources available after screening is crucial to the effectiveness of tobacco treatment," says Rojewski. Continued smoking, particularly for groups at higher risk of developing cancer, can cause worse clinical outcomes and lower survival rates.
An assessment of NCI-designated Cancer Centers showed 58.6 percent had a tobacco treatment service like Hollings' within the center, but 20.7 percent reported no program or being unsure about affiliated tobacco treatment programs, while another 20.7 percent reported a program within the healthcare system or affiliated university to which patients could be referred.
Eventually, Rojewski wants to broaden the reach of her research even further. "Ideally, we would like to establish a treatment protocol for those at greater risk that can be implemented in cancer centers across the country," she says.
As a clinical researcher, Rojewski is well aware of the implications of smoking for those who may have already received a cancer diagnosis.
"It's never too late to quit smoking," says Rojewski of her patients. Smoking cessation is just as important for those with any type of cancer.
According to Rojewski, cancer patients may feel it is not worth the struggle to quit because they are already sick, but quitting may be the best thing they can do to improve treatment outcomes. When you quit smoking, you lower the risk of developing a second primary cancer and increase the effectiveness of cancer treatment, including chemotherapy, radiation and surgery.
Rojewksi encourages patients to seek out help. The MUSC Health Tobacco Treatment Program and HCC team are available to connect patients with a smoking cessation counselor or identify other methods to help them quit. She hopes the study will identify which methods are most effective in supporting high-risk smokers who are trying to quit and to expand tobacco treatment services among screening programs.
About the Author