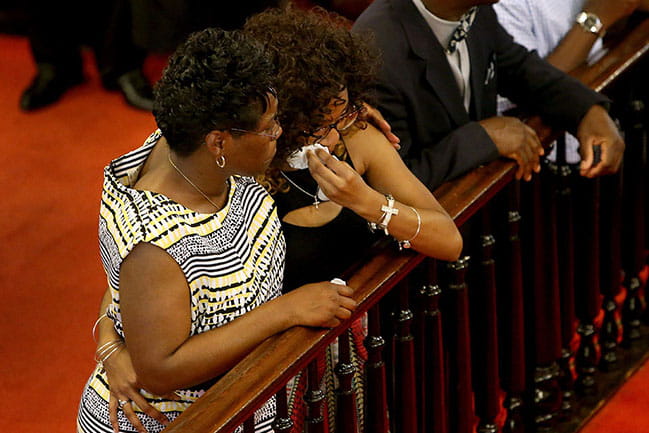 Carla Jones didn't seek leadership. It sought her.
Grateful for the many opportunities presented to her to share her gifts and make a difference in the lives of others, she always ensures at the end of the day that God receives the glory. These days, she takes little for granted, striving every day to be a better version of herself – her special brand of dedication and kindness a calling of sorts.
The supervisor of MUSC accounts receivable believes words have power, and she chooses hers carefully, with the purpose of building up the lives of those she comes into contact with. Colleagues say she's that person that no matter how hard she works or how much she accomplishes, she will not accept the credit alone. Still, her work does not go unrecognized. This month, MUSC honors her many contributions during National Women's History Month.
Whether it's her career, family or church, Jones believes you can only make it through with the help of others. And when it comes to life's challenges or tragedies, she said, you have to pull together and get through. She would know. Over a recent period of 19 months, that belief was vigorously tested, as she faced unimaginable loss, relied on her faith and proved her mettle.
For the firm resolve and calm demeanor that define her, she credits the strong presence of Jesus in her life, as well as the influence of her parents, who were her most important role models, she said.
It's hard to miss the fact that family is everything to her. She and her daughter, Nikki Croker, have an especially warm and loving bond. She also fondly describes her childhood with five sisters. The fifth of six girls born to a Lowcountry AME preacher and his wife, the sisters were close to both parents. Jones frequently quotes many pearls of wisdom her mother and father shared over the years.   
Her dad adored his daughters and often joked he had "none for Uncle Sam." They lived in downtown Charleston, right around the corner from Emanuel AME church. And while they typically attended the churches their dad pastored, when it was going to be a long day or late evening of programs, the girls would attend Mother Emanuel instead.
As youngsters, their favorite trick was grabbing a program and skipping out before the service was over, until one day, they realized they couldn't pull anything over on their dad. After he asked them to describe in detail a sermon they'd missed, they made sure to stay and visit the pastor after the service to prove they were there.
Jones especially loved the time she spent with her dad doing math homework and visiting the bank. "Dad would come home and take me to South Carolina National Bank with him on Fridays. We would stand in line holding hands. At that time, men dominated the bank. I believe he was preparing me for banking."
She did indeed go into banking. And one day, as he was slowing down, he turned over his finances to her and the responsibility of making sure her mother had what she needed. It was as if he knew all along that someday he, too, would need her help.
When she lost her dad in the last days of 2014, she was heartbroken. Six months later, her heart would break again.
A church of her own
In 1985, Jones joined Mother Emanuel. In 1988, she was married there. By the time she was in her early 40s, she was tapped for a position of leadership. People, she said, often saw things in her that she didn't see in herself.
"I remember when my pastor asked me to be a class leader, and in the AME church, that is looked upon with great respect. I always thought that was for an older person who was rich in their walk with God. I remember telling Pastor Smith at the time, 'That is not for me.' But he told me he wanted me to try. Some women were old enough to be my grandmothers, but they welcomed me. They embraced me and told me they want me to be their class leader."
That was just the beginning. To this day, the many leadership hats she wears means you can find her at church several times a week. In addition to being the Christian education director for the district, she also serves on the Mother Emanuel senior steward board; A.W. Holman usher board; the leadership team of the LIFE women's ministry, a group she founded in 2009 that meets monthly; and the community advisory board for the Mother Emanuel Empowerment Center that was created after the mass shooting in 2015.
A great Mother weeps
It was Wednesday, June 17, 2015, and Jones had just left her MUSC office bound for the quarterly conference at the church. It had been a long day, but little did she know, it was about to get much longer.
That night, like normal, she strolled the hallways, embraced friends, tied up loose ends for an upcoming program and sat amongst her church family. Ninety minutes later, things would be anything but normal.
As Christian education director for the AME Church Edisto District, Jones was up to her elbows, preparing for a Christian education convention, where in two days, 500 attendees would descend upon Baptist Hill High School. She'd arranged for her pastor, the Rev. Clementa Pinckney, to be the worship leader for the day. Before heading out, she stopped to chat with Wilhelmenia Boston, the youth choir director, about what the kids would wear to sing at Friday's event.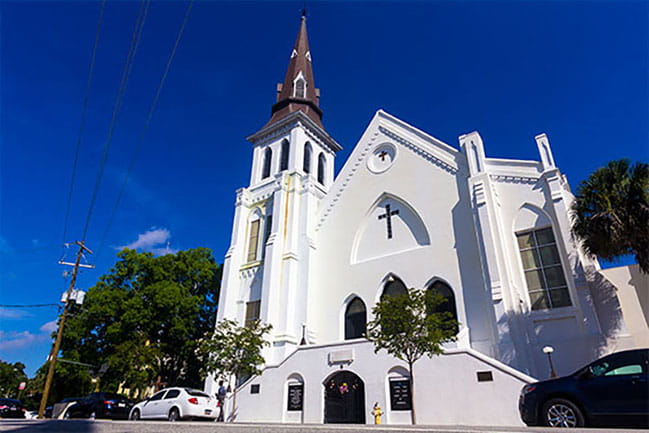 As she prepared to exit, her friend, the Rev. Myra Thompson, asked if she was staying for the Bible study that would start at 8 o'clock. She would be teaching that night and was excited about the lesson. No, Jones told her, she would have to miss — it was already 7:30, and she was meeting her daughter at Walmart to pick up the water for Friday and then head home to Summerville. Those would be the last words she would speak to her friend.
Just after 9 p.m., with cars filled with cases of water, Jones followed her daughter home. While getting off her I-26 exit, she answered a call from Boston, who told her that something bad had happened at the church. She sounded terrified, and Jones told her she would make some calls to find out what was happening. The few people she reached didn't know anything, but finally she reached Carolyn Singleton who said there were more than just a few ambulances, fire trucks and police cars at the church.
"I kept saying, 'I've got to go back, I've got to go back.' And she told me, 'Don't you go back. You've got to go home. Do not turn around.'"
Jones arrived home in a panic, running across the lawn to get inside. "Nikki kept asking me what was wrong. Not knowing was the worst. I turned on the TV. I kept seeing more and more EMS and fire trucks; I knew it had to be something really bad. There were just too many emergency people. I kept saying, 'I just left there. I just left there.' I was broken."
She stared in disbelief. The news described a scene of horror, with reports that eight people had been killed. This was her church family. Her phone started ringing off the hook. People, she later discovered, wanting to make sure she was OK. But she was too shocked to leave the TV.
"I know who I left there," she told her daughter. "I just want to know is everybody OK? Who is hurt? Nikki said, 'Mom, you have to answer your phone. People know you're at church all the time. They're worried.'"
Normally, she would have been there. The fact she wasn't was not lost on her. Jones immediately called Cynthia Hurd, but didn't get an answer. She wouldn't know until the next day that Hurd was among the nine who were murdered by a young male visitor.
"He stayed until the very end, and as they prayed with heads bowed and eyes closed, that is when he did what he did," she said of the shooter, wiping away tears.
The process of healing
Even in her grief, her Christian education convention went on as planned, but without the choir or the Rev. Pinckney, who had been one of nine murdered that night.
A day later, members of the congregation met with the Rev. Norvel Goff at Burke High School, to make decisions, talk about what had happened and just embrace one another.
Jones posed an important question to the presiding elder.
"I asked him who we, the members of the congregation, should reach out to — like mental health counselors — to be there for us in case someone is broken, or it gets to a place beyond a spiritual thing or a mental or emotionally charged situation. I told him we needed to envision what that was going to look like. 'Who is there to help us,' I asked? 'This is different. All of us feel this hurt.'"
The elder put her in charge of that task and instructed her to work with the Department of Mental Health to ensure people could find the resources for help. That became her charge for the foreseeable future, one she took to heart.
Within the hour, the decision was made that the congregation would return to the church the next day — four days after the massacre, Father's Day. She was still grieving the beloved father she'd lost less than six months before. It would be her first Father's Day without him. Still, as difficult as it was, she and her daughter were in the sanctuary on Sunday.
While attending Columbia College, Jones' daughter had worked for the Rev. Pinckney, and the families were close. Jones would speak at his funeral.
Monday, she returned to work. She didn't want to be bombarded, but she didn't want to reject the love and concern people were feeling. That strength and generosity of spirit didn't surprise her colleagues. Her signature concern for others makes her an effective manager. She's been in her current supervisory role for five years and the department for 18. In the recent Press Ganey survey, her unit moved from tier three to tier two. Her supervisor, Sherry Smith, said she credits a lot of that improvement to Jones for helping build confidence and trust within the team in a very calming way.
"Carla has a quiet and kind spirit and has a way about her that she can build other's confidence up through her words and deeds. Carla is a preacher's daughter, and within that quiet and kind spirit there is also a strength in her that you cannot imagine until you see it in action."
And see it in action she did. Smith had two long-term members of the church, Jones and Cynthia Smalls, on her team. "As the news started trickling in that there had been a shooting at Mother Emanuel Church, I didn't know if our friends and coworkers were involved, but I knew Carla was likely there. I was afraid to text Carla that night, afraid she couldn't answer. In the days that followed, I admired the strength, courage and love that both Carla and Cynthia showed during their own immense pain, in helping their church family and community try and heal from this senseless act of violence."    
Jones would call on that strength and courage once more. Nearing the one-year anniversary of the Mother Emanuel tragedy, Jones' sister Marsha died. Nineteen days later, her mother passed. It had been a heartbreaking year and a half, but she stood firm in faith and family.
"My parents, later in their lives, talked about death. My dad would say, 'The day will come when we will no longer be here.' I would say, 'Oh Dad, we don't have to have this conversation.' Then one day, I matured and listened to what they said. It helped me deal with their deaths. I loved my dad, and I loved my mom, and because I was so close to them, I thought that losing them would have destroyed me."
But instead, she holds tightly to their teachings. "You never let go of those things — memories I will forever cherish in my heart, family traditions. Some days are hard, but all my tears are not because I'm sad. Some days I hear things and see things that remind me of my mother, my sister and my father that bring me such joy. That's why it's so important to me to be my better self. In the end, I always try to be the kind of woman that my daughter is proud of."