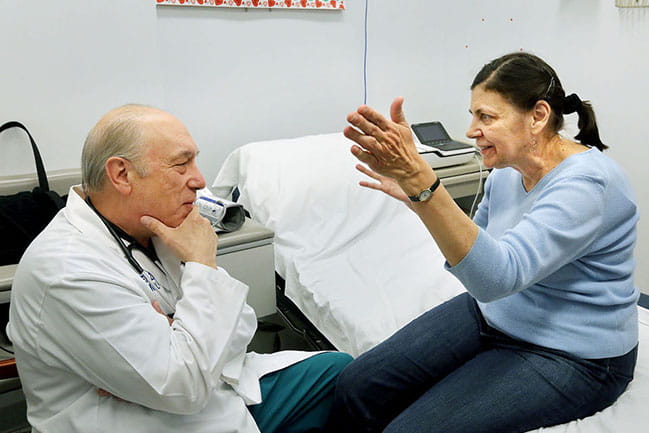 Mary Jane Lapinski catches a flight to Charleston, South Carolina, five times a year from her home in northern Virginia to take part in a clinical trial testing whether cells created with material from donor hearts can help people suffering from a form of heart failure.
"No other place is doing this, and I think stem cells are the wave of the future," Lapinski says during an appointment at the Medical University of South Carolina, where the trial is scheduled to continue through August of 2019. It's for people who have heart failure with preserved ejection fraction, or HFpEF, pronounced heff peff.
Researchers need more people to sign up for the study, which is taking place at both MUSC and the nearby Ralph H. Johnson VA Medical Center. (See the bottom of this story for contact information.)
Cardiologist Michael Zile, who works at both sites, is directing the trial. "You've gotten better," he says while examining Lapinski. "I don't know whether you've gotten the placebo."
Neither does Lapinski. It's a double blinded trial, meaning neither the patients nor the researchers know who's getting the treatment and who's getting a placebo. Data managers know the truth, but it won't be revealed until after the trial is finished.
Lapinski thinks she's getting the real deal — cardiosphere-derived cells, CDCs, which come from the muscle tissue of donor hearts. They're made by the biotech company Capricor. The CDCs are being infused into the hearts of some study participants to see if the cell treatment is safe, practical and helps them feel better. The rest get a placebo, or sham, infusion, to give the researchers a basis for comparison.
Lapinski's optimism is clear. "I always had a skipped heartbeat," she says. "About two weeks after the infusion, it went away, and I've never had it come back."
She knows it could be the placebo effect, which means just thinking you're getting a treatment makes you feel better. But Lapinski is willing to take that chance. She'll try almost anything to fight the progressive heart condition that makes her tired, affects her breathing and could be deadly.
Living with HFpEF can be discouraging, she says. At one point, a doctor bluntly told her, "You know we have absolutely no effective treatments.' I thought, 'That's not good enough for me.'"
An estimated 3 million Americans are in the same boat, suffering from HFpEF. It can be caused by high blood pressure, ischemia, aging, aortic stenosis, diabetes and other factors.
Some of those Americans are military veterans, so the Department of Defense is part of the quest for a cure. It's funding the heart cell therapy trial at MUSC and the Charleston VA, plus some related research at Cedars-Sinai Heart Institute, with a $10 million grant. The grant is tied to the Congressionally Directed Medical Research Programs, a federal effort to boost research that has the potential to have a big impact.
The trial at MUSC and the VA is testing a process developed and tested at Cedars-Sinai. That process was written up in the Journal of American College of Cardiology Basic and Translational Science. That's where Lapinski came across it. After reading it, she reached out to a doctor at Cedars-Sinai, who told her about the Charleston trial.
"You really have to be your own advocate," she says. She decided to spend her own money to travel to and from her study visits, as she's done in previous trials in other states.
The Charleston study is led by Zile, a professor of medicine at MUSC and director of cardiology at the Ralph H. Johnson VA Medical Center, and fellow professors and heart specialists Sheldon Litwin and Valerian Fernandes.
Lapinski hopes that even if she's getting the placebo in her trial, her participation will help in the quest for a HFpEF treatment that works. "Everybody's been great and the care has been wonderful."
To find out about enrolling in the cardiac cell trial for HFpEF, email MUSC nurse coordinator Lindsey Stewart or call 843-792-1238.