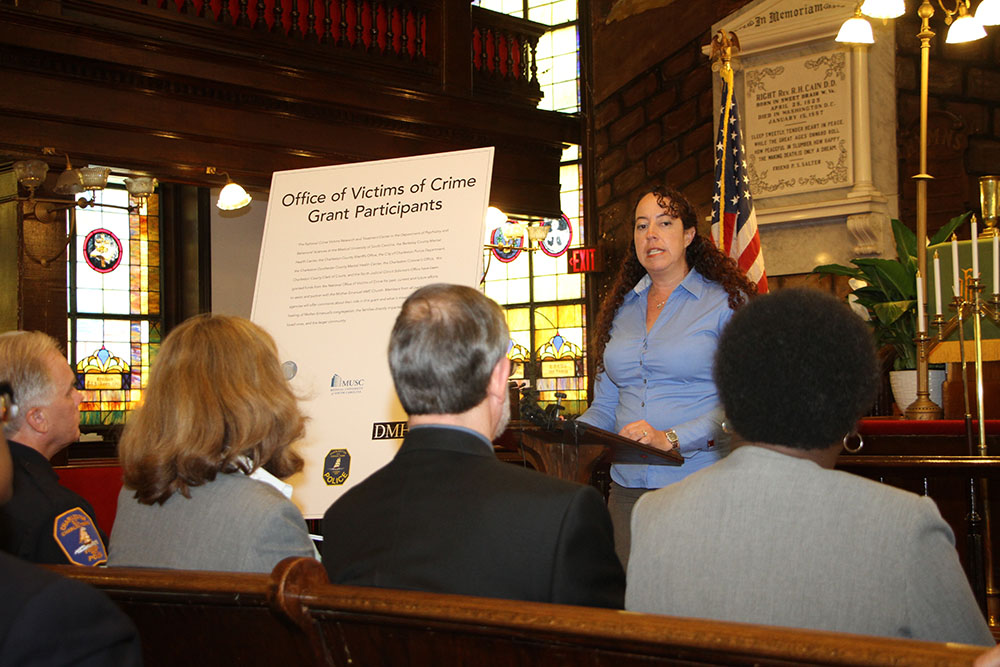 With monikers like the Holy City, Friendliest City and Most Polite City, Charleston has earned many special distinctions. But until June 17, 2015, when worshippers at Emanuel AME Church were murdered by a stranger they had welcomed into their Bible study, a site of mass violence was not one of them. While anguish quickly gripped the community, Charlestonians came together and demonstrated remarkable resilience and a united front. 
As the third anniversary of the Mother Emanuel tragedy approaches, the church and community continue to heal. Alyssa Rheingold, Ph.D., director of clinical operations for MUSC's National Crime Victims Research and Treatment Center within the Department of Psychiatry and Behavioral Sciences, has been part of that process. She was involved in the immediate aftermath of the tragedy, helping the church community pick up the pieces, and she continues to offer treatment, intervention and support services through her work with the Mother Emanuel Community Resiliency Project, an initiative the NCVC is integrally involved in with other community partners. Recently, she was invited to speak about her experience at a prestigious national conference. 
An expert on providing mental health services like grief and trauma counseling to victims and survivors of violent crimes, Rheingold has spent the last 18 years helping those who have lost loved ones try to return to normal lives. In addition to her work at the NCVC, she is involved in community efforts, serving on a sexual assault protection task force for the City of Charleston Police Department and collaborating with retired Charleston Police Chief Greg Mullins on a number of other grants and activities. She works closely with the Charleston Dorchester Mental Health Center and runs a support group for homicide survivors with the Charleston County Sherriff's victim services department.
Her expertise in this type of specialized work led to her ability to more seamlessly provide ongoing care to those affected by the Emanuel shootings. In fact, she said, it was the experienced team combined with longstanding community relationships that allowed those leading the effort to meet the horrific challenge. 
"When the Emanuel shooting occurred," she said, "one of the strengths in how our community responded was the fact that our community leaders were all very well connected with each other and had established very good connections through many collaborative activities." 
Within the first few days, the joint team effort of CDMHC and NCVC began working with Carla Jones, a class and program leader at Mother Emanuel and supervisor of MUSC accounts receivable, to determine what mental health services the church needed. Jones had been tasked by the presiding elder to work with mental health experts to ensure the congregation had the necessary resources.  
"We worked with Carla and went and met with family members and church members early on to help with the immediate recovery. We attended all the funerals. I felt confident and inspired to work with folks who are just so resilient. The human spirit is so resilient."
Once the FBI left, the team continued the family assistance center, established support groups and provided early intervention work and ongoing mental health and grief counseling for families, survivors and church members. 
"I was proud we had that expertise," she said. "Experts from all over the country called to ask how they could help, who or what they could do or send in response. It was a good feeling to be able to say to them, 'We've got this.'  We already worked with homicide survivors and our community, so we could say 'Here are things you can expect and things to do to bolster recovery."  
Rheingold continues to work with the Mother Emanuel Empowerment Center and the Resiliency Project. After experiencing something so visible, so targeted, she explained, it's natural that some members of the church would still be suffering. 
"Traumatic loss, such as by a homicide or horrific event like the hate crime at the church, can impede upon normal grief recovery," she said. "It can delay it, extend or protract it and make it more intense for much longer. It's very common that two or three years out people are still struggling pretty intensely."
Rheingold's inexhaustible work earned her a national reputation and the invitation, along with Mullin and former Mayor Joseph Riley, to participate in the Southeastern Psychological Association's annual meeting. The subject of the panel discussion, Charleston's response to the Emanuel AME shooting, focused on the community's concerted effort to improve mental health services. The audience listened intently as Rheingold shared how Charleston faced its worst day in recent history and how the church and city were able to triumph, giving credit to many. 
"The reason things worked so well," she told them, "was because leaders collaborated very well. They took responsibility. They provided leadership from the very first moment and were on top of things rather than being reactive."
Crime in South Carolina 
While statistically the Mother Emanuel tragedy was an isolated event, Rheingold said that South Carolina, alarmingly, is no stranger to crime. In fact, she added, it's a leader in violent crime, having surpassed the nation's violent crime rate every year since 1975. That includes crimes such as murder, domestic violence, physical and sexual assault, home invasion, convenience store robberies and gang violence. The list is long and criminals are active. 
South Carolina is ranked 5th in the nation for domestic violence and in the Top 10 for homicides. 2015 saw violent crimes catapult South Carolina to the No.11 spot, with Charleston County responsible for 1,788, the third highest number in the state. In addition, Dorchester and Berkeley County reported an additional 1,181, totaling nearly 3,000 reported violent crimes in the Tri-county area. Seventy-nine of these were murders.
Victims of deaths by violent crime, Rheingold said, include not only the person murdered, but also the survivors. Rheingold explained that a murder leaves behind seven to 10 close relatives, as well as friends, neighbors and colleagues. In the case of the Emanuel Nine shooting, many reports claim there were nine victims. In reality, she said, there were five survivors in the church that night who are also victims — plus family members, the congregation, friends — all victims. As such, the number of individuals dealing with the unexpected, violent loss of a loved one is far greater than people might realize. 
Rheingold said that close to one in ten people in the United States have lost loved ones to violent deaths, and these survivors are at a significantly higher risk of developing significant trauma-related psychological distress including post-traumatic stress, depression, prolonged grief reactions and substance abuse. It's important, she said, to intervene early and provide mental health counseling to bolster recovery. 
Last year, the NCVC helped approximately 1,000 victims of crime or other traumatic events in the Tri-county area, offering comprehensive services to this particularly vulnerable population. Recently, Rheingold received a $730,000 Victims of Crime Act grant that enables her to expand this valuable work. This is the 15th consecutive year she has been awarded the competitive VOCA grant.
Takes a special type of person
As a young professional, she didn't set out to work with this underserved population, but it has become her passion.  
In graduate school, she focused on anxiety disorders. While finishing her Ph.D. in clinical psychology, she applied to the yearlong Charleston Consortium Internship Program, a joint endeavor between MUSC and Ralph H. Johnson Veterans Affairs Medical Center, because it offered rotations concentrating on post-traumatic stress disorder and trauma. This allowed her to work with the Crime Victims Center and VA PTSD clinic. It was then she decided to shift her personal trajectory and continue to work more with this population. She stayed on at MUSC as a postdoctoral fellow to do child and adult trauma research and ultimately became a faculty member.  
"During my work, I fell in love with this population," she said of homicide survivors and victims of crime in general. "This population is very underserved. Nearly 18 years ago, our center was asked by the Charleston County Sheriff's Office to co-lead a support group. I hadn't worked with that population before, but I thought, 'I'll give it a try.' The homicide survivors touched my heart because they are in such need of services and are often overlooked."
Rheingold explained that people don't want to think about what it would be like to have a loved one murdered. Often, even with all their pain, survivors have no one to turn to.
"It's such a horrific thought," she said. "No one wants to put themselves in those shoes. The suddenness and horrific nature of that type of loss is difficult for people to wrap their heads around. They don't know what to say, so often, they say nothing. And, for professionals, it's a hard population to work with — there is such intense raw pain.  As a clinician, you have to be able to sit with it. So I think providers shy away from working with that type of raw pain." 
She was personally drawn to it, she said, mostly because she wanted to help people who are in such need. 
"It provides me with meaning and purpose to help people who might not otherwise have had the opportunity to grow and recover from the lowest points in life into one of strength and resilience. I've sort of always been interested in helping underserved folks — folks who need but don't often get care."  
Rheingold calls the VOCA grants "a huge win for our state and our community," as they've increased her ability to reach and help more victims and allow the NCVC to serve those who otherwise wouldn't have been able to access care. 
The grant supports the NCVC's wide range of programs, including the office-based mental health clinic; English- and Spanish-language community-based outreach programs; a clinic for homicide survivors; a clinic for sexual assault victims; and an outreach program that serves Hispanic victims of crime. Services are available at MUSC, in the community, in churches and libraries, at schools, via telehealth — wherever it's safe, she said. Plus, the program has state vehicles and a team of volunteers who can pick up patients and bring them into the clinic, which makes a big difference, she said.
Rheingold does a combination of research and clinical work and wears a number of hats. But it's important to her to always maintain a small caseload, so she gets to work one on one with patients.
"That piece is most rewarding for me — seeing victims come in with such significant distress and being able to connect with them and help them on their journeys. Saying goodbye is hard, but at the same time, I know they're on their way. They will always be impacted by what happened to them; it's part of their life stories. But to see them grow and recover and have a more positive hopeful future journey, that in itself fuels my reserve pool. Working with this population, taking home all these stories, can be really tough.  But it's what gives me the day-to-day strength to do it."
About the Author