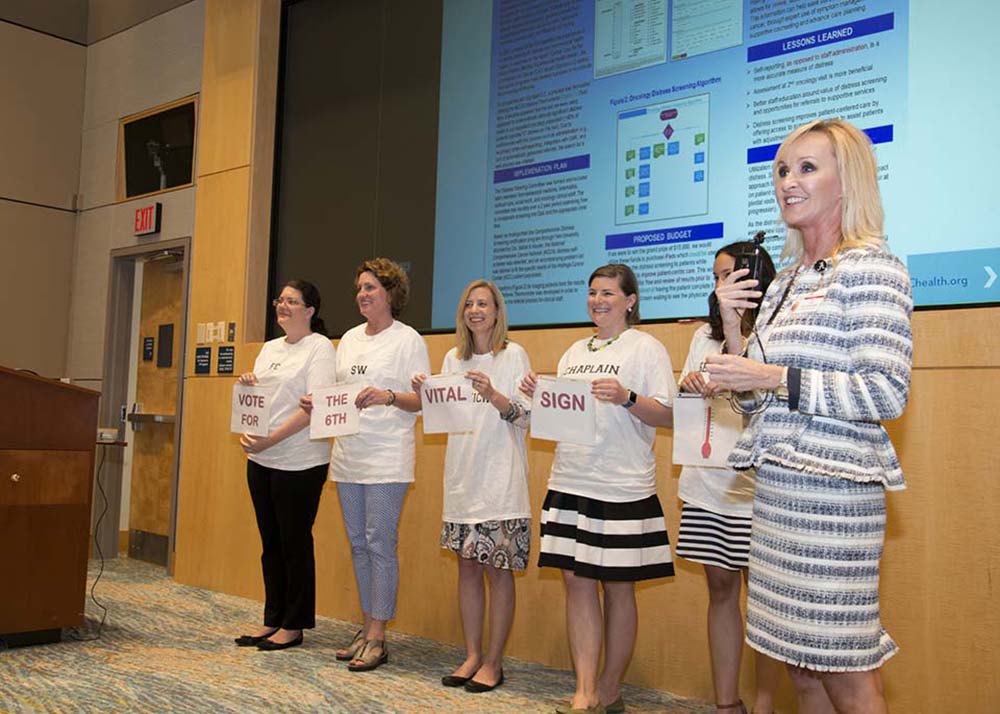 With reality TV shows like "Real Housewives" and "Southern Charm" reportedly not adding to the American brain trust, there is one particular bright spot in the lineup — ABC's "Shark Tank." With terms like IPO, capital and leverage bandied about every week by experts known as "sharks," this business show not only has improved the finance and investment vocabularies of its viewers but also the lives of those fortunate enough to have had their innovative business ideas funded by the billionaire sharks. And as it hits its 10th season and 200th episode this fall, it continues to reel in contenders and viewers.
Now, MUSC has its own Shark Tank, thanks to one of the hit show's biggest fans — Michael Caputo, chief information officer for MUSC. "I love 'Shark Tank,'" he said with a hearty laugh. "Seeing those people come forward with their ideas and their companies and products, trying to figure out how their product is going to meet a need or niche – not just an investment, but to have people purchase their products. I love seeing people's ideas. They're great ideas. It helps me think bigger with some of the issues we deal with. I love that." 
During each episode of "Shark Tank," entrepreneurs hope to entice one or more of the five sharks to invest in them by presenting ingenious ideas and offering up a specific stake in their companies. The ultimate goal: increasing sales or profits and building recognition with the show's millions of viewers.
Having been tasked by Patrick Cawley, M.D., CEO of MUSC Health, as the champion of the Innovation Pillar goal at the beginning of the year, Caputo wanted to do something novel to raise awareness about innovation at MUSC and infuse the culture enterprise-wide with the notion that everyone — no matter where they work or what they do – has the ability to be innovative. And while his plan was to inspire MUSC to think bigger, even he had no idea just how big the first year would be.
Caputo envisioned something similar to the show and conceptualized an innovation summit that would include a two-day event complete with a speaker, booths featuring innovation vendors, food trucks and games and, most importantly, teams that would create and present idea posters with competitors who would move on to an actual Shark Tank competition. 
They challenged prospective participants to develop or mainstream fundable ideas. Caputo thought the event would attract perhaps as many as a dozen inventive ideas. Thirty-nine teams actually rose to the challenge. 
Alexandra O'Brien, director of innovation and business development, planned the event and served as the emcee. She explained that when MUSC Health care members plan goals for the fiscal year, they choose from pillar goals such as finance, growth, quality, people and innovation.
If someone chose the innovation pillar goal, they had to become part of an innovation team and choose a champion, execute an idea campaign for a specific area, test or launch an innovation initiative, document the value proposition and lessons learned, then finally, prepare and present a compelling poster. More than 200 picked the innovation goal. Teams were created and ideas thrown in hats and picked. The winning team would receive $15,000.   
On Wednesday, May 2, Innovation Station was the place to hear keynote speaker Laura Corder of the South Carolina Department of Commerce and check out posters and presentations. More than 325 people filtered through to take part in the day's events and vote at the IS kiosk for their favorite project. Four teams were selected to compete: Open Mic, Capturing the Sixth Vital Sign, Ambulatory Care - Best Practices, and Giving What's Possible. The teams had until 9:30 the next morning to prepare their presentations for the judges, who, like on the show, would scrutinize each idea and lob tough questions at the would-be entrepreneurs.  
On May 3, guests packed the auditorium to hear the presentations. Each team had 20 minutes to wow Cawley and the other five judges — MUSC president David Cole, M.D., FACS; Jesse Goodwin, Ph.D., chief innovation officer; Sarah Bacik, chief strategy and business development officer; David Mahvi, M.D., director and R. Todd Watkins, DDS, a serial entrepreneur known for creating companies and schools. They had 10 minutes to sell their ideas and 10 to endure the judges' grilling.
"The questions were really good. Tough," said O'Brien. "The judges all have ties to innovation and know their stuff. Dr. Mahvi asked in detail about the products — just like the real 'Shark Tank.'" 
Distress tool takes top honor
While all four ideas received high marks, Hollings Cancer Center's Capturing the 6th Vital Sign team was declared the winner for designing an inventive distress-screening questionnaire that will help cancer patients experience a much more holistic and compassionate experience — $15,000 goes a long way in launching efforts.
Tara Lock, the administrator for Oncology Integrated Centers of Clinical Excellence, served as the team champion. "We're very proud of that little tool," she said.  
She explained that one of the accreditation requirements in oncology is to monitor patients' distress. They don't tell you how to do it, she said, just that you have to do it. She was part of the team tasked with figuring out the best way to accomplish this. Team members envisioned an electronic tool, and information technology specialist Laura Cole helped them put a prototype together. Once it was ready, they needed to determine the best ways in which to use the information. 
"That's where the referrals come in," Lock said. "If, for instance, someone had a high concern about their financial burden, we now had a referral over to the financial counselor to help that patient." 
She said before that it was essentially tribal knowledge — unwritten information that only a select few knew about. 
"We didn't have a standardized path for a patient to get to the social worker or the chaplain – it was by happenstance. Now we, with this tool, have a coordinated effort so all patients will be screened, and all patients who have needs like that — no matter what point in their care — we now have a mechanism to send a message to the support services: This patient needs you."
Lock said that what the Hollings team does really well is cancer care. 
"We know what we're doing and do it well. However, we don't tend to ask patients about the other things that impact their care. It hasn't been in our wheelhouse. Docs do their things. Nurses do their thing. But who is doing supportive care, and where are they? We have them, but what are we doing to help? The doctor can do everything right, but if that patient can't get here, and we didn't know that, then shame on us." 
HCC, she explained, is now in the business of caring for the entire patient.   
"That means helping patients get here. Helping them get home. Helping them get their meds, with their faith issues, with their behavioral health. If a patient has a survivable disease but they can't get here, they don't have insurance or copays are too high, that's going to prevent their care. We should know about it, because there are other options for them." 
It's not enough to provide medicine, surgery and radiation, she said. Patients shouldn't be on their own to figure out what they don't know. 
"We can do better, because we know better. That's the impetus for this tool, and that's the passion we all have about it, because it's so hard to see and deliver half of the equation. Opening this up to the whole patient and helping them overcome barriers to receiving care is so cool, because it's the right thing to do." 
An annual Shark Tank 
The event was a success. Caputo was thrilled for the winners and contenders. He believes MUSC will actually see many of the projects come to fruition. 
When it was all said and done, O'Brien particularly enjoyed seeing the whole MUSC community come together and get excited about innovation. 
"We had so much participation, and there was constant traffic. This event elevated the scope of innovation at MUSC and paved the way for more people to potentially get involved." 
Caputo agreed. "This event made innovation more mainstream in a sense. A lot of people just thought of innovation as something that is done in certain departments, but this showed that anyone can get involved. Departments that made it to the Shark Tank have nothing to do with innovation as we typically think about it a MUSC."
His view on innovation is simple. "Like Dr. Cole says, 'We all have to own innovation.' We don't necessarily get up every day and think, 'We have to be innovative today!' For me, what seemed like an exciting new way to do innovation was to localize it and let leaders and teams put their own spin on it. What made it real was to have some sort of an outcome and create an environment where people who don't typically consider themselves to be innovative get to be innovative. I saw very proud teams exchanging ideas and information with other folks." 
The results, he said, exceeded his expectations — from the quantity of projects that were presented and proposals that were brought forward to the great variation in the types of ideas that were generated. He'd like to see it become an annual event. 
"People are now aware of the event and how much fun it was. I would love to see us do it again next year with even more participation across the enterprise. It would be fun to engage students and have each college do its own competition and have the best from each college participate. Again, making it local. If we can get the students, staff and faculty engaged, I think that would bring innovation into the mainstream of what we're doing and talking about here at MUSC." 
About the Author