Only 2 years old, Jack Jeffrey is too young to have his own Twitter account.
But he already has a bunch of followers. In fact, he had followers before he had even come into this world.
Jack was born at the Medical University of South Carolina's Children's Hospital on Jan. 4, 2016 with a congenital diaphragmatic hernia (CDH), essentially a hole in the diaphragm, the muscular partition separating the abdomen from the chest area. Since the two areas aren't separated as they should be, the abdominal organs, such as the intestines, stomach and liver, can move into the lung area, preventing the lungs from properly developing.
Well before Jack was born, however, his parents Erica and Drew had worked closely with MUSC's pediatric palliative care team to prepare for his arrival. Palliative care is a medical specialty focused on improving quality of life and providing comfort for any patient in a life-threatening condition.  Most people relate palliative care to end-of-life situations, but, as in young Jack's case, it can be involved at the beginning of life as well, says Hanna Epstein, a pediatric nurse practitioner on the palliative care team.
What made Jack's case particularly unique was the fact that Epstein and Erica Jeffrey are friends who had worked together at the Children's Hospital for years before Erica and Drew decided to move to Colorado. It was in Denver during an ultrasound about 12 weeks into Erica's pregnancy when the hernia was discovered. Drew, who works at Boeing's Charleston site, had yet to relocate. In researching the best place for Jack's care, Erica and Drew chose MUSC. She was able to return to her position as a nurse in the pediatric cardiac intensive care unit. 
"In addition to medical expertise for Jack, we knew there was going to be a lot of love and support at MUSC from Erica's friends and former work family. We also had a unique connection to the palliative care team, who we wanted involved in Jack's care, since Erica and Hanna were old friends, and Erica had previously worked with Conrad in the PCICU," says Drew. Conrad Williams is a pediatric palliative care physician. 
"It was an amazing dynamic, but unfortunate," says Epstein. "You never want to be the one that's taking care of your friend with a baby that's incredibly ill, but we are fortunate in that we are able to sit down with families and spend as much time as them as they need.
Together with Epstein and Williams, Erica and Drew devised birth care plans covering worst-case scenarios, best-case scenarios and everything in between. A lot would depend on the severity of Jack's hernia once he was born. They feared the worst, but hoped for the best.
"Unfortunately, the diagnostics that you can do while CDH babies are in utero aren't really definitive as to how their course is going to be," Erica says, "so really, until they're born and the medical team gets them to the ICU, it is unclear if they're going to do poorly or they're going to do really well."
"I don't remember if they gave us any numbers, but they really didn't know how it was going to go," Drew recalls. "So we knew right then it was going to be a rough go."
The Jeffreys met regularly with Williams or Epstein or sometimes both prior to the birth and devised plans to cover virtually any scenario once Jack arrived. "I think where we helped them most was in talking through best- and worst-case scenarios," Epstein says. "Nobody wants to talk about the possible death of their child before they're even born, but the better we are able to prepare them for those worst-case scenarios, the easier it is for them to make some of the difficult decisions ahead because they have already heard and discussed the possibilities and they are not hearing it for the first time."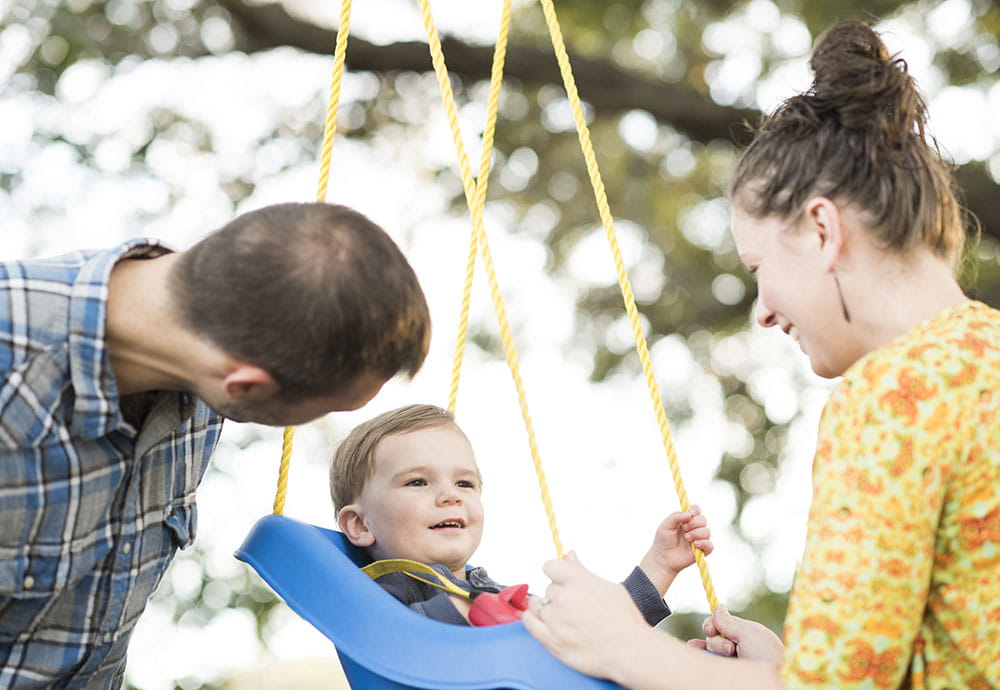 As difficult as that is, Erica and Drew appreciated the level of preparation the palliative care team provided. "it was really important to us to have a game plan," Erica says, "I've seen families in the ICU struggle with and question the incredibly hard decisions they have had to make for their babies. We wanted as much information as we could get ahead of time, so we could be ready. At least as ready as a parent can be for those decisions. The palliative care team helped make this possible. Conrad and Hanna actually came to several of our prenatal appointments and care conferences to provide consistency for us, be a voice for our wishes and questions, and to explain things in layman's terms when needed.  They helped us to make hard decisions and to discuss those decisions with our medical team."
Drew agrees. "Working with them on a care plan, discussing how things could go, it definitely helps a parent be more prepared, as prepared as you can be. That's what that care plan's there for. I made choices for Jack in a rational state of mind instead of in the moment."
Another vital function of the palliative care team is to intervene with other family members, taking the pressure off the parents and allowing them quality time with their child.
"You have family and friends come in from out of town, likely most of them are not medical," Epstein says. "So, they begin asking questions: 'What is going on? Is he going to be okay? Can we go see him? Can someone explain all this to me in English?' So we were able to do exactly that and sit down with both of their families and, explain what was going on with diagrams, talking through best- and worst-case scenarios, answering questions, many of which they didn't feel comfortable asking their kids. They found that incredibly helpful."
Fortunately for Jack, he did not need to go on ECMO when he was born, a good sign. He had surgery four days later, and left the hospital after about seven weeks.
"There were certainly bumps in the road, so I'm not going to say it was smooth as silk, but he had a pretty good hospital course. His CDH was able to be fully repaired, Erica was able to breast-feed, and he is now a rambunctious 2-year-old," Epstein says.
Now he goes to preschool," Erica says. "He's a normal kid. He does everything the other kids in his class do."
And as for the palliative care team? "They were amazing," Erica says. "We need more of them."
Jack's story has a happy ending, but not all cases do. Regardless of the outcome, however, Epstein says she loves what she does. "it's such an intimate relationship that we are able to have with our families, and honestly, being present in the moment and listening is half of it. We are incredibly blessed to be able to do what we do."
About the Author
Jeff Watkins

Keywords: Pediatrics