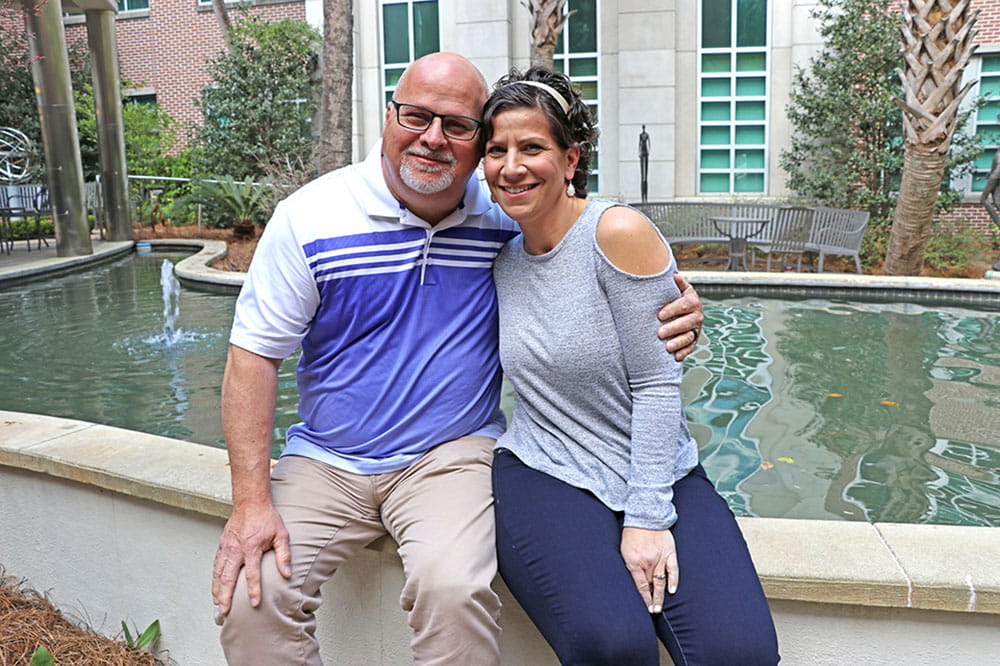 When it comes to her cancer diagnosis, Margie Bear is an open book. That's because the 47-year-old from Pelzer, South Carolina, knows how devastating a cancer diagnosis is and how uplifting it can be to hear how other people have faced it.
In her church, she has been helped by others sharing their stories, and she wants to do the same.
"People would come to me and say, 'I don't know how you have so much joy – how you're doing as well as you are.' I don't know how else to go through it. The mental part, that's half the battle. Staying positive, staying focused on the good. There is good that can come out of every bad situation. I want to know how this can change me for the good."
Bear, who had a double mastectomy, also wants people to know how important it is to research options for their care. She chose to have a nipple-sparing mastectomy using a new surgical approach called Hidden Scar recommended to her by a surgical oncologist at Hollings Cancer Center.
Bear, who was diagnosed in September 2016, said it was overwhelming in the beginning for her. First there was the shock of returning home from the gym and noticing blood in her sports bra. She knew something wasn't right and went in to see her doctor even though it had only been a few months since she had a normal mammogram.
A local oncologist performed an MRI and Bear was diagnosed with stage IIB invasive ductile carcinoma, which was contained to one breast. But as with any diagnosis, Bear and her husband had a lot of questions about the next steps.
"As I'm getting all the information and choices, it was really overwhelming. What kind of procedure would I have? Did I have the BRCA gene?" BRCA, or BReast CAncer gene, mutations may be associated with an increased risk for certain diseases, including breast and ovarian cancer. As part of that research, Bear consulted with surgical oncologist Andrea Abbott at Hollings Cancer Center at the Medical University of South Carolina. Abbott is one of only two Hidden Scar Breast Cancer Surgery trained surgeons in the region.
After meeting with Abbott, Bear felt an instant connection. "She had my records, yet she asked me about my journey, how I got there. She explained a lot about my body and what was happening."
Bear didn't need to look any further. "I instantly felt this is where I should be. I felt like she understood me and where I was coming from better than anyone else could have."
Together, Bear and her husband made the decision to come to MUSC Health for her surgery and reconstruction. After a pre-surgery consult, Abbott was fairly certain she could perform a nipple sparing–mastectomy using the Hidden Scar procedure, which is a minimally–invasive approach to remove the cancerous tissue. Bear had never even heard of the procedure.
For Abbott, it's about giving women control over a seemingly uncontrollable situation.
"It's really important to me that women know that when they have a surgery, they have options. That there are ways that we can minimize the scarring so that every day when they wake up, they don't have to have a visible reminder of their breast cancer," Abbott said.
Hidden Scar Breast Cancer Surgery allows surgeons to remove the cancerous tissue through a single incision made in an inconspicuous area, preserving the natural shape of the breast while reducing visible scarring. Abbott said patients who undergo this approach – available for both lumpectomy and mastectomy procedures – experience optimal clinical and cosmetic outcomes and are at no higher risk of recurrence than patients who undergo any other surgical technique.
Bear said most doctors can't even tell she had reconstruction let alone a double mastectomy. "You literally cannot see the scar." "Every medical professional who sees the work that was done is shocked."
Following her surgery with Abbott and reconstruction surgeon Jason Ulm, assistant professor of surgery at MUSC, Bear returned to upstate South Carolina for her chemotherapy and radiation treatments, knowing her care team at HCC had provided her with what most patients can only hope for – peace of mind.
"I never felt worried. I felt very confident with the care I was getting. It was not just the surgeons, it was even the nurses taking care of me. If I ever had any other reason to come back, I would. I'm so grateful for the care that I have gotten here."
The feeling was mutual for Bear's husband. "We never felt alone in this journey, or that we were just another patient that walked through the door and had a problem."
These days, Bear is cancer free. Aside from routine blood work and follow-ups, she's enjoying time with husband and their grandson, as well as at their church, where they both work.
Bear's husband, Robert, says his wife is now helping others cope with a cancer diagnosis. "Hearing her talk to the ladies that are going through cancer, it's like now, we know the reason this happened and the purpose behind it."
Bear's advice to others is to slow down and take time to appreciate the little things. "The relationships are more important than the tasks. You have to remember this is just a snippet in time. You have to remember you're going to get through it," she said. "There are things you go through where you didn't know how loved you were, the nearness of the Lord. He sees me and what I'm going through."
About the Author
Keywords: Cancer