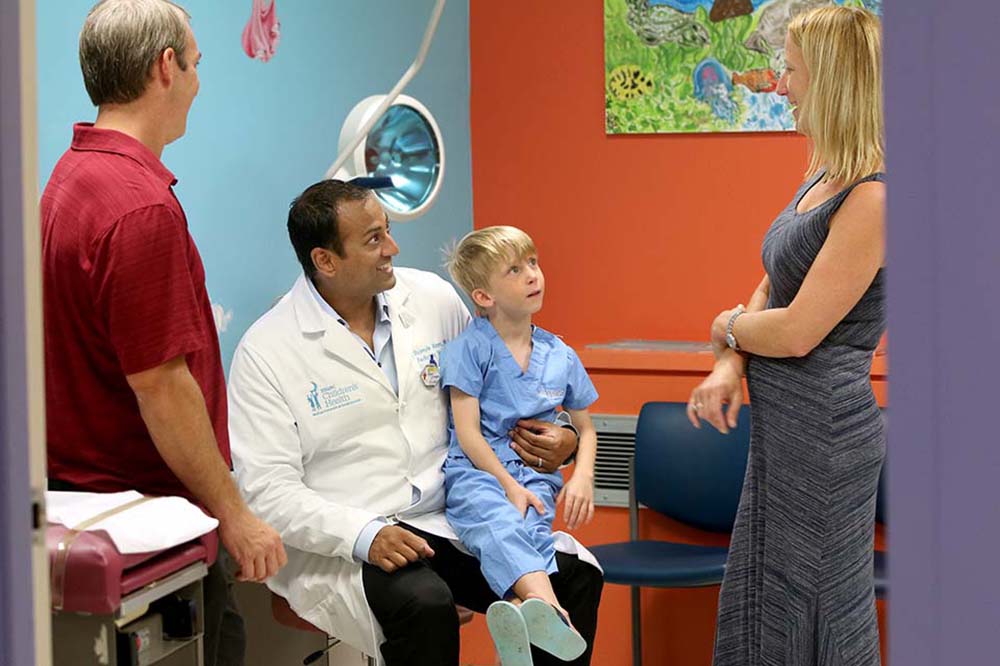 Five-year-old Nicholas "Nico" Tanner has a prank he likes to pull on unsuspecting visitors to Drum Island. He's got a megalodon tooth his parents bought at a gift shop. When his family goes shark tooth hunting, he'll bring along the megalodon tooth, bury it in the sand, then "find" it and run to show it off to amazed beachcombers. And how could they not be taken in by this tow-headed charmer? By outside appearances, Nico is an average rambunctious kid with a bright smile. 
But not all disabilities are visible, said his father, Rhett Tanner. Nico was born with VACTERL association, a series of birth defects that tend to occur together and can include vertebral defects, anal atresia, cardiac defects, tracheo-esophageal fistula, renal anomalies and limb abnormalities. He immediately began undergoing surgeries, enduring five operations before his second birthday. He stabilized for a time, but by age 3 ½  he was nearly in renal failure on the right side, and his urine flowed backward from the bladder to the kidneys. 
That's when Rhett and his wife, Hailey Tanner, attended a Pull-thru Network conference in Orlando, Florida.  The group provides information, support and advocacy for families dealing with bowel and urogenital conditions. At the conference, they realized there were doctors who specialized in the rare conditions affecting their son, and while there, they heard pediatric urologist Shumyle Alam speak. It was a revelation. Alam was talking about bridging the knowledge gap between pediatric urology and adult outcomes to ensure that his pediatric patients could live long, full lives. 
"He talked about seeing our child not only alive but seeing him thriving at 50, 60, 70 years old. He was looking into the far future, not just next month or next year," Rhett said. 
"And that was refreshing," Hailey added. 
The Tanners left the conference with Alam's cell phone number, a personal touch they say is typical of Alam's concern for patients. Alam was practicing at New York-Presbyterian Hospital, where he had built a reconstruction program from scratch. The Tanners — along with families from across the U.S. and even the globe — traveled to New York to seek out his care. 
Alam was always accessible — even when performing surgery on Nico. Though he and the nurses provided regular updates, he told the Tanners to call his phone at any point if they had a question, and he would have someone in the room answer it. 
"His bedside manner was amazing," Hailey said. "You can't teach somebody that kind of stuff. It's part of who he is. It's pretty phenomenal."
But over the past few years, every time they talked or emailed, Hailey would put a bug in Alam's ear about the new MUSC Shawn Jenkins Children's Hospital under construction. It's a chance to get in on the ground floor, she said. Oh, is it snowing in New York? So sorry — it's 75 and sunny here.
The Tanners weren't the only ones who wanted Alam here. Andrew Stec, M.D., director of pediatric urology, and many others at MUSC Health heavily recruited Alam to Stec's team. In September, Alam transferred his practice to MUSC Health with the expectation of helping to develop MUSC's pediatric urology program into a quaternary care center, a hospital that offers highly specialized and advanced care. 
"We were thrilled to recruit Dr. Alam to join our pediatric urology team and expect that he will prove an outstanding addition to the MUSC faculty and Department of Urology," Stec said. "It is obvious upon meeting him that Dr. Alam is driven by a deeply genuine level of care and concern for the well-being of these complex patients.  Our patients, pediatric urology and MUSC Children's Health are all significantly enhanced by having him on board to develop our complex pediatric urologic reconstructive program."
Unlike New York, where he built a program from the ground up, MUSC Children's Health already has all the infrastructure in place, Alam said. "Coming here is like being a kid in a candy store. Everything is here. The pieces are in place. People have done a tremendous amount of really, really impressive work already."
Alam focuses on rebuilding the pelvis and urinary tract. His patients have rare birth defects that most pediatric urologists don't often see. Nico, for example, was born with an imperforate, or incomplete, anus; neurogenic bladder; tethered spinal cord, where the spinal cord attaches to tissue rather than floating freely in the spinal column; and a ventricular septal defect, which has since closed. He has developed a heart murmur as a result of mitral stenosis, or narrowing of the mitral valve leading into the heart's left ventricle, and a subaortic membrane, a growth beneath the aortic valve that obstructs blood flow coming from the left ventricle. Because his patients often have multiple issues, Alam works closely with other pediatric and adult specialists. And because these complex cases are his focus, he is often sought out for assistance. 
"I do a lot of second opinions and third opinions and 19thopinions. A lot of my work is re-operative," he said. 
Alam is also willing to meet with adult patients whose urologists, nephrologists or gastroenterologists don't fully understand the implications of their congenital problems. On the October day when he saw Nico at MUSC, he also had an appointment with a 35-year-old. By meeting with adults, he may be able to offer assistance, and he can also trace their care back to the beginning to see if some procedure was done that shouldn't have been — and that he should stop doing with his patients — or if something wasn't done that should have been. 
"Pediatrics is by definition a myopic field, because we tend to get the patients out by 18. We don't have a true understanding of the implications of what we do now. We have a generalized understanding, for example, if a child has asthma, it's a very good idea to get good control of that asthma, because that adult will have problems with their lungs. We know a 16-year-old shouldn't start smoking. We know childhood obesity is a very big problem socially, economically and medically," he said. "But we don't have that granularity with the conditions I see."
If the child's condition gets progressively worse, some will chalk it up to the natural course of the condition, rather than considering that a different course of action could change the outcome. 
"I don't trade in anecdote. I do try and see patients from all walks of life with these diagnoses to understand what the long-term implications are of the treatment decisions we make," Alam said. 
A big part of why he decided to come to MUSC Health was the accessibility for patients. 
"God didn't necessarily give these patients to families with limitless financial ability," he said. Travel to New York is expensive, even if health insurance will cover the care, and New York itself is difficult to navigate in a wheelchair, Alam said. "I started to see that in New York, my practice was thriving, but I was limited in my ability to grow the practice." 
Charleston is less expensive and more accessible for his patients than Manhattan, he said.
The Tanners are thrilled he's right in their backyard and excited for other families who'll have an easier time traveling to see him. 
"He's definitely a unique one. He's definitely a special individual," Rhett said. "The vision he has for building the program at MUSC and his style of practicing medicine versus the conventional way, I really think it's going to help the hospital thrive and become a destination for this kind of care."