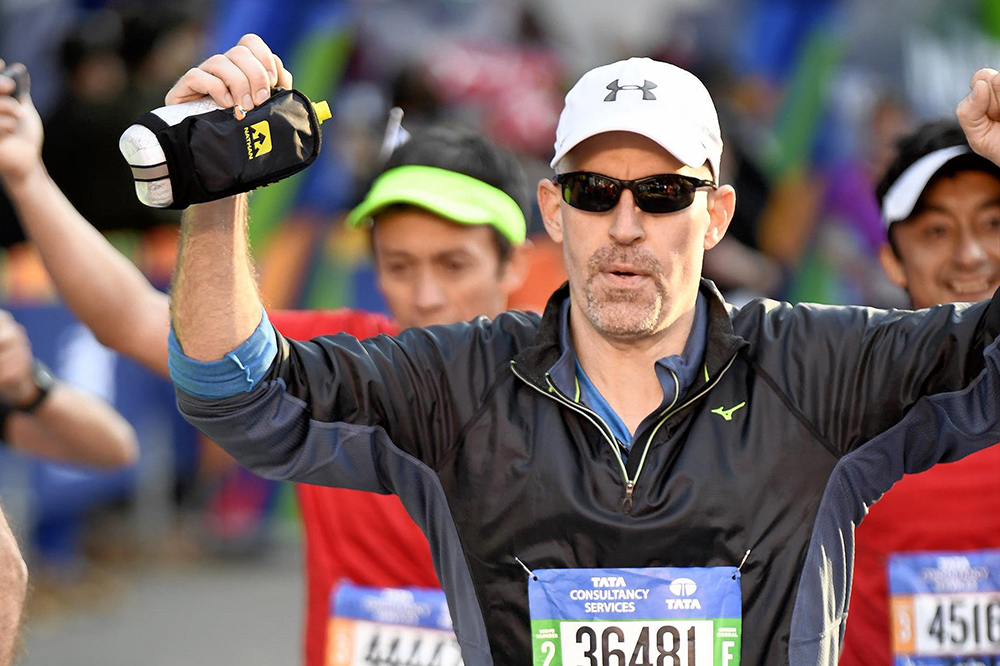 Around mile 12 or so of the TCS New York City Marathon, Mark Semler started to question his grand plan. 
"Seven months of training hadn't convinced me, but at mile 12 I thought, 'What was I thinking? I could be running in foam and still be doing great things for charity,'" he recalled. 
But he wasn't running in foam. Instead of the typical cushy sneakers that absorb the shock of feet hitting the ground, he wore biocompostable sandals he manufactured himself on a 3-D printer. 
Even as the pain of his first marathon began to build, Semler knew there was no doubt he would cross the finish line. The broken pencil he carried guaranteed it. 
Semler, chief executive officer of the Zucker Institute for Applied Neurosciences at MUSC, ran the marathon to raise money for the Nyaka AIDS Orphans Project in Uganda. With a goal of raising $10,000, he raised more than $14,000.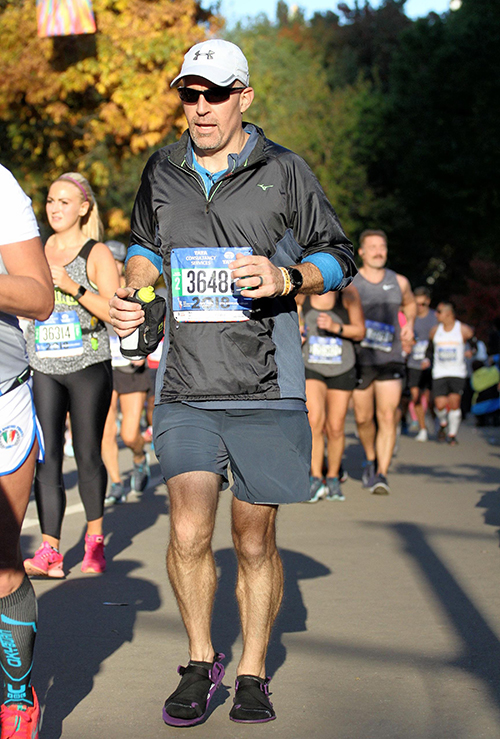 He first heard about the charity when he met Mark Mahoney, a founder of Green Dot Bioplastics and a Nyaka board member who has a house in Charleston. Mahoney and Semler connected on a lot of issues, Semler said, including the needs of the Ugandan charity. 
Nyaka was founded by Twesigye "Jackson" Kaguri, a native Ugandan who saw the terrible impact of HIV/AIDS within his own family. The AIDS epidemic is responsible for orphaning more than 1 million children in Uganda, according to UNICEF. 
Kaguri founded a group of schools that clothe, feed, educate and protect orphans affected by HIV or AIDS. Since its founding, the charity has expanded to create "granny groups" to empower grandmothers raising AIDS orphans and has embarked on community projects to provide clean water, health care and libraries to the villages near the schools. In 2018, the charity absorbed the Edja Foundation, which combats child abuse, sexual assault and domestic violence in sub-Saharan Africa.
Semler felt an immediate connection with the orphans. Though his situation wasn't nearly as dire as those of the children in Uganda who struggle to subsist, he, too, is an orphan. His mother died of a heart attack when he was a high school sophomore, and his father died of cancer when he was a senior. By that time he was 18 and headed to college; he also had extended family to lean on. Still, he set into the world with no safety net, no home to return to. 
Four years ago, when he reached the age his mother had been when she died, he started to look for ways to improve his already healthy lifestyle. "I want to see my grandkids. She didn't get to meet her grandkids," he said of his mother. That's when he adopted a vegan diet and began running half marathons. So when the idea of running the famed New York City Marathon to raise money for the Ugandan charity was presented to him, he jumped at the chance. In addition, he decided to run in shoes that were completely compostable.
Green Dot Bioplastics, based in Kansas, makes the compostable bioplastic, and a German company, BioInspiration, turns the raw material into filament for 3-D printers. But no company actually creates shoes from the material yet, so Semler was on his own to manufacture the shoes. 
Initially he worked with Michael Yost, Ph.D., director of research for general surgery, trauma and critical care surgery at MUSC, to try to 3-D print the sandals. First they tried simply copying an existing running sandal on the market but quickly discovered the 3-D printing process required manual adjustments to the design to ensure the shoes wouldn't fall apart in their hands. And while Semler ended up purchasing a 3-D printer to print the shoes himself, Yost said the experiment was a learning process for using biodegradable filament, which also has medical applications. Using computer-assisted design and trial and error, Semler designed several versions of the shoes, until he landed on the final design. 
Meanwhile, he also had to train. Not only did he have to make the leap from half marathons to a full marathon, but he had to learn an entirely different running style. In barefoot running, which is basically what he would be doing in the sandals, the runner lands on the ball of the foot rather than the heel. It's a different stride that's more efficient but also uses different muscles, Semler said. 
"It was a huge physical challenge to adapt to these sandals, let alone adapting to twice the volume I've ever done," he said.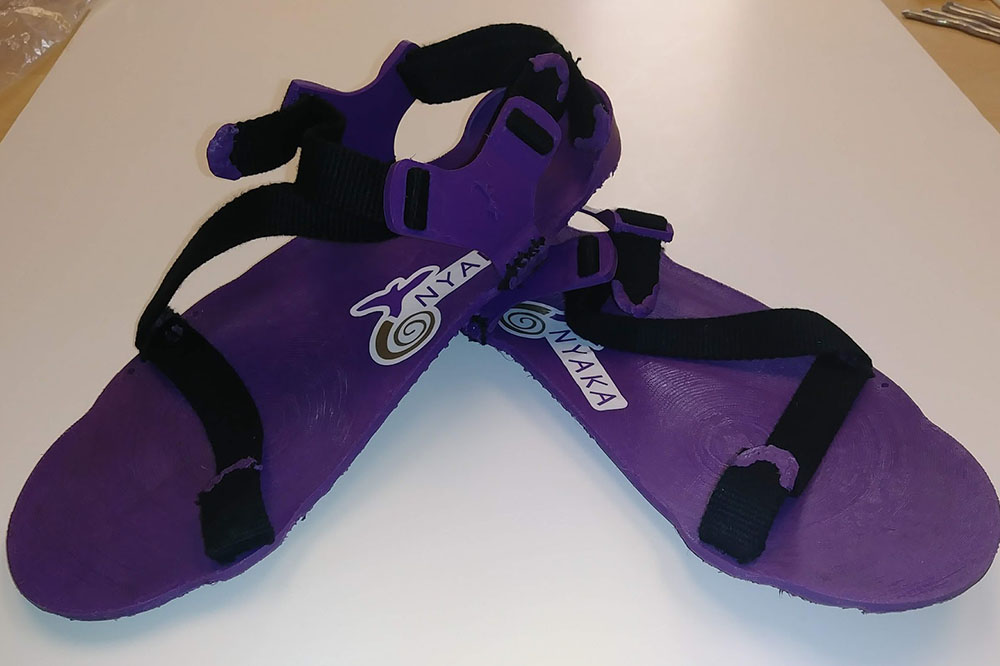 But when he looked down at the feet of his fellow runners on Nov. 4, he knew the impact those compostable sandals could have. Most athletic shoes use ethylene-vinyl acetate (EVA) foam as a shock absorber, but EVA is poorly biodegradable. With some 50,000 runners crossing the finish line, that's more than 100,000 shoes that will still be on this earth 500 to 1,000 years from now, he said. 
"They'll look terrible, but they'll still be here. They will not break down," he said. 
His sandals, on the other hand, will return to dirt within three months, he said. 
Future runners won't have to run in sandals to be environmentally conscientious, though. Scientists are working now to create a biodegradable foam, so people can run with cushy shoes that are environmentally friendly, Semler said. 
Before the marathon, the charity runners got to meet Nyaka's American staff at an event at the Ugandan embassy. There, they watched a documentary that showed the nitty gritty of what the children are facing, Semler said. The documentary moved people, and they wanted to help. 
Semler was especially moved listening to Kaguri tell his story of growing up poor and how his parents were determined that their five children would receive an education. They could afford only one pencil, he said, so they would break it into five pieces, so each child could have a pencil. That fifth of a pencil eventually took Kaguri to Columbia University in New York City,  he explained. As he spoke, he emphasized his story by breaking a pencil into five pieces. Inspired, Semler asked afterward for one of the pieces to carry with him in the race. 
"I carried the fifth of a pencil across the finish line," he said. 
Nyaka has already secured 15 charity bibs for next year's marathon. Training for a marathon is a major commitment, but Semler said he's up for a repeat. 
"I would be honored to run for them again," he said. 
About the Author