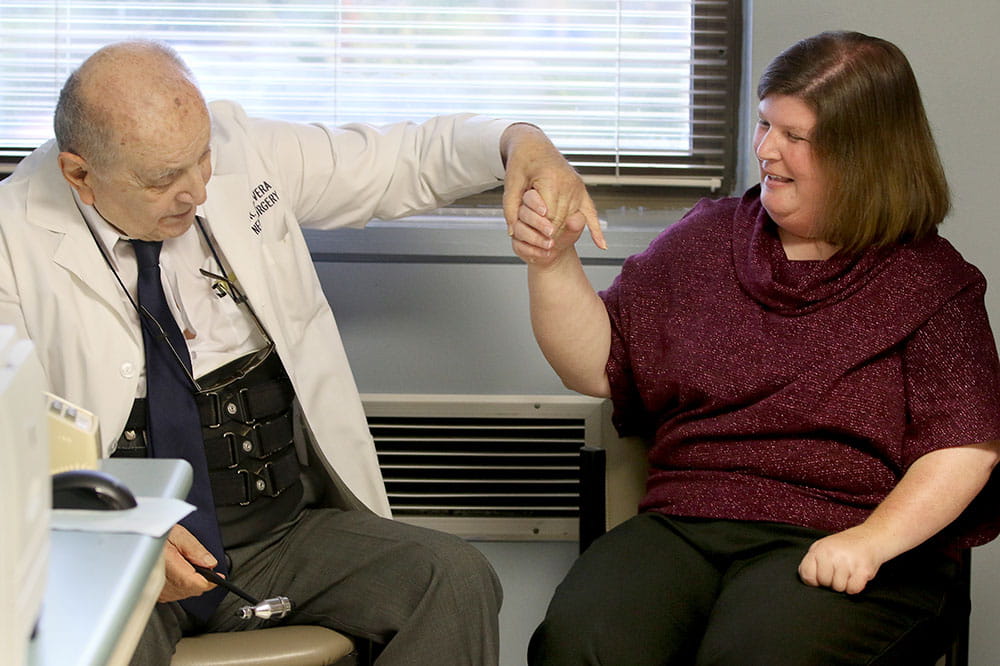 Christina Foxworth has lived a "glass half–full" life.
The Andrews, South Carolina, native lives a normal life. Foxworth drives a car. She cleans and does housework. She helps take care of her young cousin, Hailey Mihalakis, after school. She even works with her mother in the family construction business, answering phone calls and working on the computer.
Thirty-nine years ago, no one could have predicted that she could do these things and more, living with half a brain.
A recent chance encounter brought the neurosurgeon who saved Foxworth's life back together with his patient. Foxworth and her mother, Anita Mansfield, were sitting in the waiting room of a Lowcountry podiatrist's office when she recognized a familiar voice.
"That's Dr. Vera," she whispered to her mom. They approached Cristian Vera, M.D., and his wife, Mara Calderon, Ph.D.
The unexpected meeting left Vera speechless. He hadn't seen his patient in about eight years; it had been 26 years since Foxworth's hemispherectomy surgery.
"Seeing her was both a surprise and remarkable. She's beautiful," said Vera of his former patient at a Nov. 15 neurosurgery checkup at MUSC Health.  "And what is so amazing is that Christina knew me, recognized my accent and voice from memory."
Foxworth's story began weeks before her birth. Her mother was pregnant with her first child in 1978. One Friday, she made an unplanned visit to her obstetrician in downtown Charleston complaining of sickness. Her doctors believed she was suffering from the flu and sent Mansfield home. Some time later, she was rushed to the emergency room with severe pain and Christina was delivered via emergency Cesarean section on Dec. 31
At birth, doctors detected an echo in the baby's heartbeat, possibly caused by the pain and stress Mansfied was suffering from. Her pediatrician referred them to a specialist who suggested they monitor the newborn's development.
Her mother saw changes as Christina grew from infant to toddler. Mansfield noticed that her daughter would drag her left leg when walking and hardly used her left hand which stayed balled in a fist. A brain scan showed a pin–sized hole in the right side of the child's brain. Doctors suspected an in-utero stroke.
By age 2–1/2, Christina was suffering from multiple seizures per hour that caused her to blink her eyes uncontrollably. Medications weren't enough to control them, and the toddler's quality of life was going downhill.
It was then that mother and daughter met Vera and the neurosurgery team at MUSC Health, so the doctors could come up with a plan. Christina was tested to evaluate her epileptic activity. Vera sat down with her mother to review the results.
At the time, a radical procedure was being performed around the country to help patients who suffered from severe seizure disorders. It focused on removing half of a patient's brain or disconnecting it. It was rarely performed in Charleston, but Vera was ready.
He knew that Christina had a chance for a better outcome if the surgery could be performed at a young age so the left hemisphere of her brain could compensate for the loss of the right.
Vera explained what he had in mind: a hemispherectomy and shunt placement, six years later.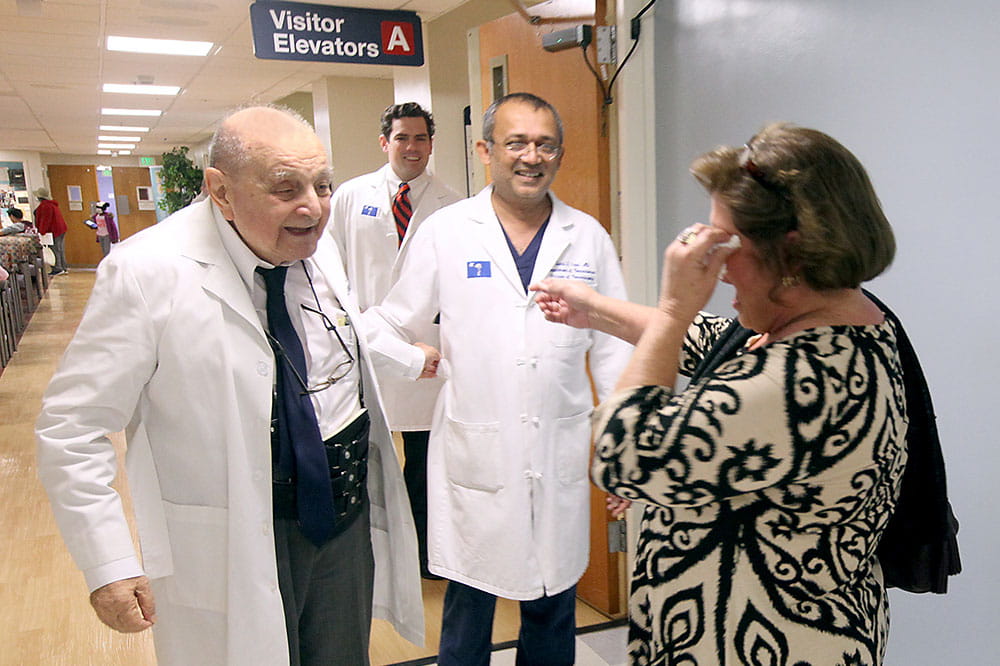 He told Mansfield about surgical risks and complications. There could be speech problems and loss of movement and sensory feeling on one side of her daughter's body. He also discussed post-op expectations, intensive care and rehabilitation therapy — and the possibility of a shortened lifespan for the little girl.
"I told Dr. Vera that the only thing I had focused on was Tina since the day she was born and that she will always be my responsibility," said Mansfield. "She's all that I have, so do what you have to do. We're in your hands, Dr. Vera."
Christina's surgery took 14 hours to complete. Once Vera and his team removed the right hemisphere section, he placed a shunt to regulate drainage of cerebral spinal fluid away from her brain and spinal column.
Mansfield knew there was a chance that Christina might not be able to speak or move right after surgery. But to everyone's surprise, the little girl made an amazing recovery. She was up and around, talking to nurses and remembering the names of family members who visited her in the hospital. Christina spent about a month in recovery and rehabilitation at MUSC Children's Health.
Back home, Mansfield heeded Vera's advice. He told her to treat Christina just like any other child.
Mansfield was also realistic about her daughter's medical needs. Living almost 20 miles west of Georgetown and more than an hour away from MUSC Children's Health, Mansfield knew she needed to be ready for anything.
"I adopted the mindset that I had to be prepared if I wasn't near a hospital like MUSC or the availability of medical specialists during an emergency. It gave me a different perspective about my responsibilities, especially to Christina."
Under her mother's watchful eye, Christina thrived. She went to school, studied and did homework — earning As and Bs. She took special education classes at Georgetown High School, attended music concerts and activities with friends, attended prom and successfully graduated.
"What's incredible about this story is that as physicians, we're trained and educated that certain parts of our brain function for this or that and nothing else. But the brain can do so much more. It can adjust to its surroundings. Christina's life after the surgery — living with her mother, being active in the world has stimulated this. The result is a well-evolved left hemisphere of Christina's brain that has given her the life that she lives today. Her story is enormously significant," Vera said.
Looking ahead, Foxworth is excited that she'll be celebrating her 40th birthday in a special way. She'll be treated by her mom and mom's fiancé at the "Dancing With the Stars Live" show Dec. 31 at the North Charleston Coliseum where she hopes she'll have the time of her life.
Suggest a Story
Have an idea for MUSC Catalyst News? Contact our editorial team and let us know.
About the Author