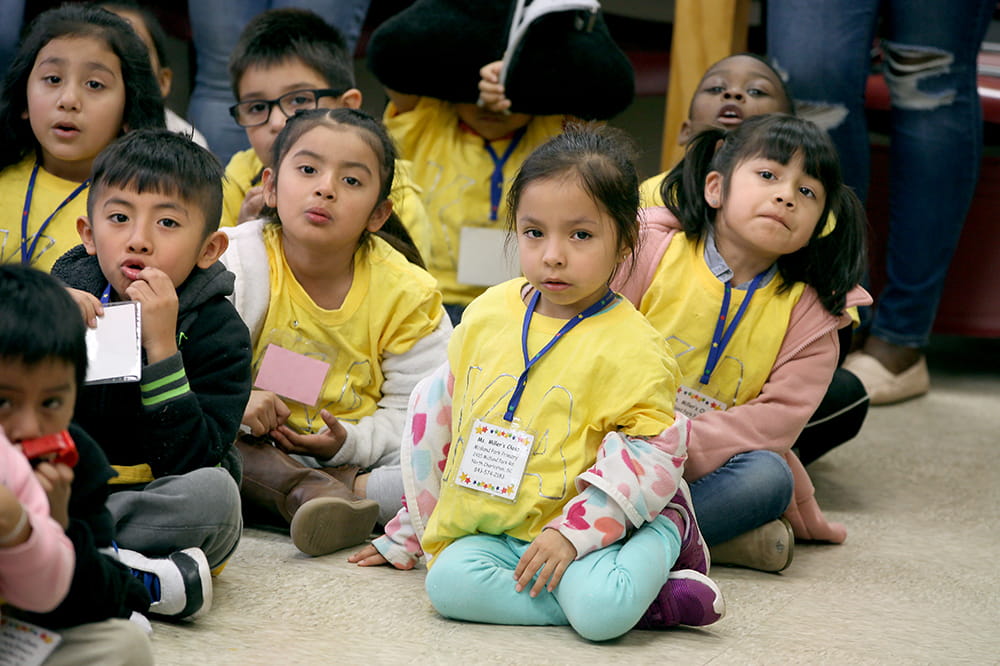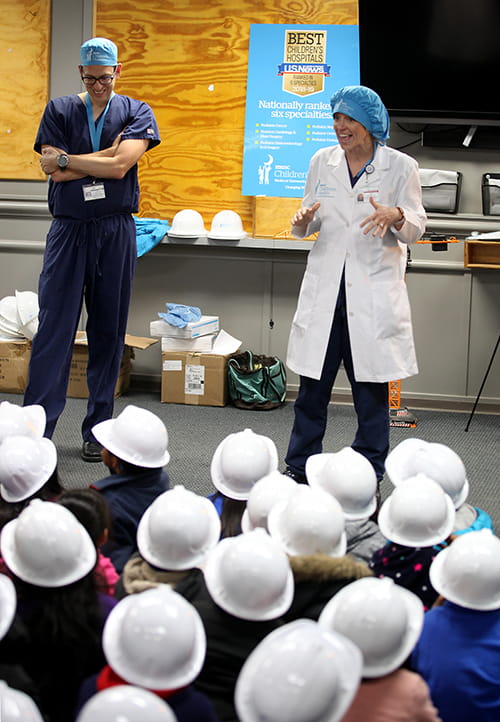 MUSC Children's Health physician assistant Helen Kulseth rustled in her bag and pulled out a tool that most of the 75 or so kindergartners seated in front of her had probably seen at their doctors' offices.
"This one is a special one I use all the time," said Kulseth as she held it up for all to see. Kulseth specializes in ear, nose and throat disorders.

"It's something that's supposed to be for your ears!" a little girl piped up.

"Yes! You're so smart." Kulseth said.

"It's called an otoscope. Can you say otoscope?" Kulseth asked the group.

"OTOSCOPE!" they chorused.
While Kulseth and colleagues from MUSC Children's Health spoke to the group on the first floor of Charleston Center, the construction headquarters for the MUSC Shawn Jenkins Children's Hospital, a construction team from Robins & Morton was upstairs talking to a second group. Almost 150 kindergartners from Midland Park Primary School in North Charleston were visiting Wednesday morning. The medical and construction teams wanted to share with them how they do their jobs and what it takes to tackle a project like the new children's hospital.

"For me, the most important thing is we all work together as a team," said pediatric surgeon Robert Cina.

He said doctors, nurses, respiratory therapists, the cleaning crew, counselors and child life specialists all have a role to play to help kids get better.

"It's not just doctors and nurses," he said. "It's a huge team of people who work together."

Kindergarten teacher Chelsea Golliday said her class prepared for the visit by studying what doctors, nurses and construction workers do. Visiting the hospital fits in with the state standards for learning about community helpers, and it also gets the kids thinking about what they might want to do when they grow up.

"We wanted to get them out into the community to start fueling that thinking and getting them ready to start thinking about their futures and the careers they want to have," she said.

It's also good for them to get a chance to talk to medical professionals outside of a doctor's visit or emergency, she said.

And the kids were ready and excited to share their knowledge. Not only did they correctly identify a stethoscope and a bottle of medicine that Kulseth showed them, but they knew they shouldn't drink any medicine unless it comes from a parent or doctor. They also knew not to stick small items up their noses or in their ears. 
Radiology technologists Lakeisha Williams and Estella Smalls showed up with some X-rays of ribs, a broken arm, a broken leg and the same leg after it healed. Williams told them that if they ever needed an X-ray, all they would have to do is stay still and the technologist would quickly be done.

"It can be kind of scary, but you don't have to be scared. It's just a big camera," she said.

She also relayed a fun fact they could share with their families: From head to toe, people have 206 bones in their bodies.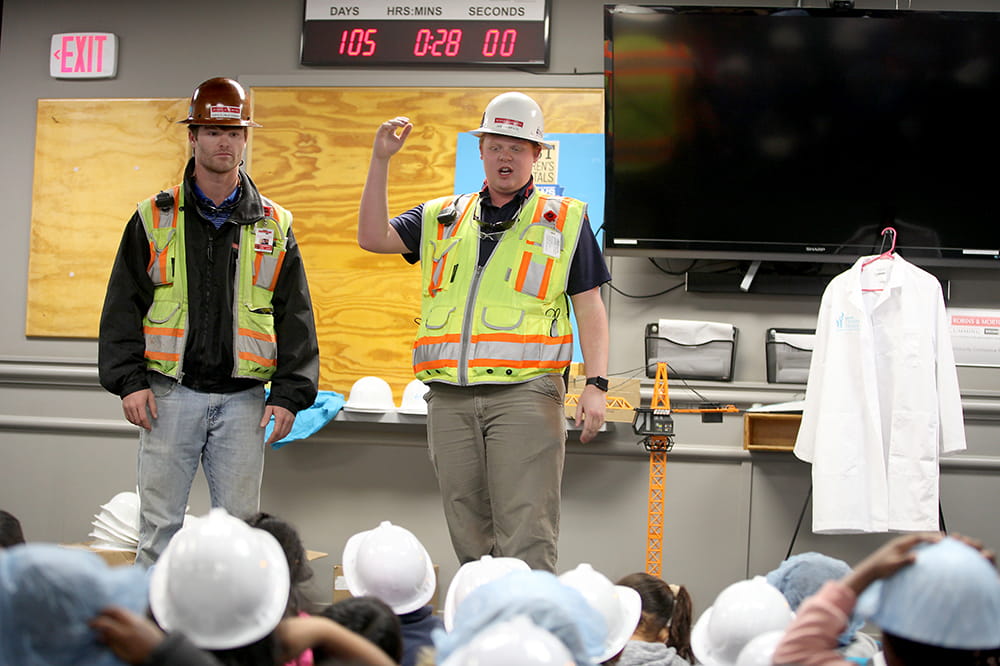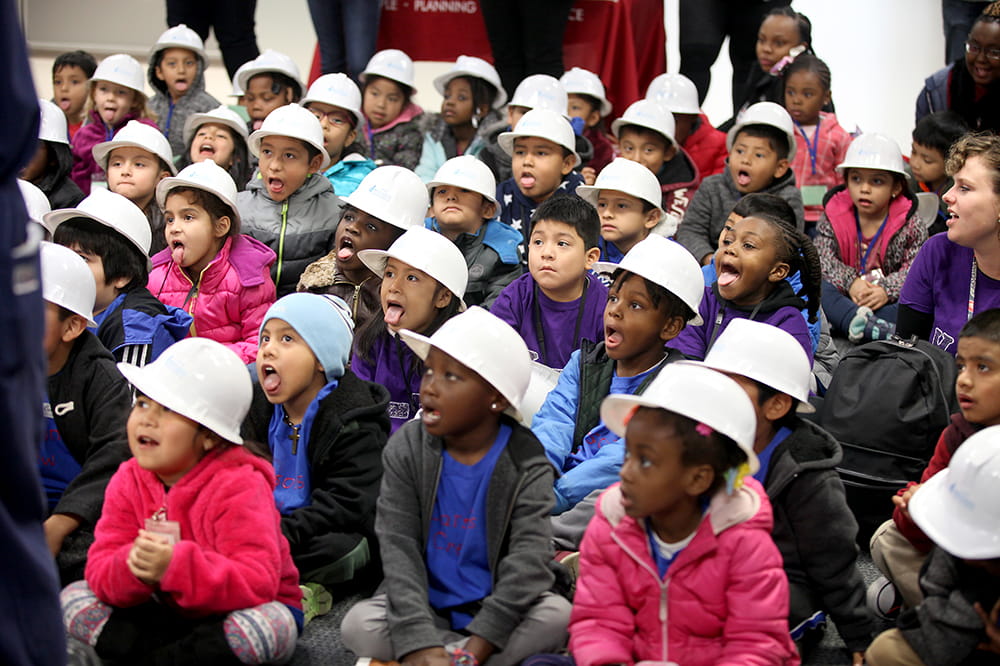 Jake Thompson, a field engineer, and Hunter Picklesimer, a project engineer, both with Robins & Morton, talked about the importance of protective gear like hard hats, safety vests, gloves, safety glasses and boots.

They also talked about how math plays a part in their jobs. The buildings they construct are all based on drawings, Picklesimer explained. To know what goes where, they have to add, subtract, multiple and divide numbers that are included on those drawings, he said.
Probably nothing about the visit topped seeing a forklift up close, though. But not just any forklift – Robins & Morton's 5-ton forklift has a boom that can raise up 45 feet into the air. The kids – and the adults – oohed and aahed and craned their necks as the boom went up and up and up.
The MUSC Shawn Jenkins Children's Hospital and Pearl Tourville Women's Pavilion is scheduled to open in the fall, though construction should be complete in May.
Suggest a Story
Have an idea for MUSC Catalyst News? Contact our editorial team and let us know.